Haven: The Amazon-JPMorgan-Berkshire Healthcare Venture Has a Name
There's been a lot of chatter and speculation as to what the much-discussed health care partnership created by powerhouses Amazon, JPMorgan, and Berkshire is going to consist of and what it might be called.
Drum roll please…It's called HAVEN (and they even have a website, complete with a letter from Chief Executive Officer Atul Gawande, the surgeon, Harvard professor and writer who was announced last June a leader of the venture.)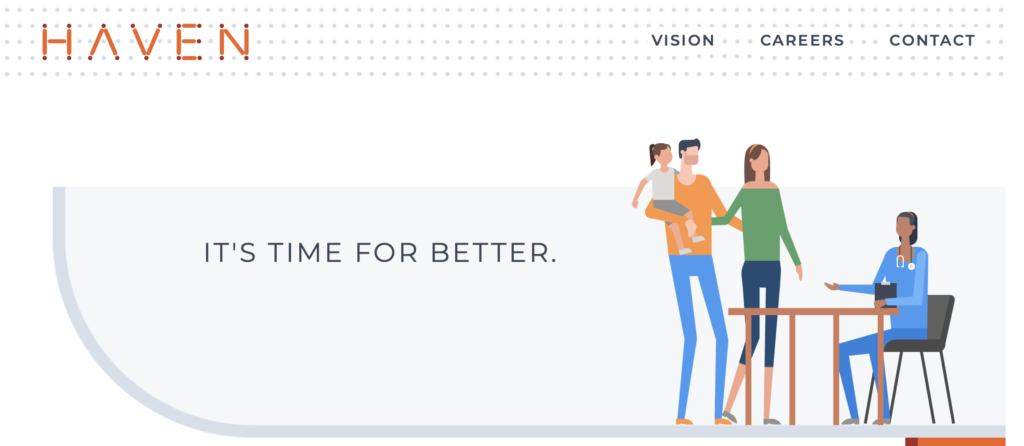 The website reveals the following:
Haven wants to improve access to primary care
Goal is to simplify insurance and make prescription drugs more affordable
Will initially serve 1.2 million employees of Amazon, Berkshire and JPMorgan, though it later plans "to share our innovations and solutions to help others."
The name and website have made plenty of waves. Bloomberg reports:
The website is the most detailed information yet about the year-old, Boston-based venture that has generated excitement in the health-care industry even before details of its plans were made public. It has also raised fears among health insurers, drugmakers and other parts of the industry that the giant companies backing Haven would use their collective power to disrupt established players.

…The companies have characterized the venture as a long-term effort that would be free from profit-making incentives and constraints. Haven will reinvest any surplus into its work, according to the website.
Anything that gigantic Amazon gets involved with has to be watched closely by anyone else in that particular space; now add on not-insignificant-by-a-long-shot JPMorgan and Berkshire and you have an entity that will be closely watched to say the very least. If you thought healthcare consumerism was a force to be reckoned with before, for instance, you can be sure it'll become more and more integral as Haven establishes its footprint.
To keep up, platform modernization and electronification of healthcare payments are more crucial than ever as legacy systems and manually processing EOBs will drive down efficiencies and the ability to stay in the even more competitive healthcare industry.
---
This blog contains forward-looking statements. For more information, click here.