PYMNTS.com & Experian Health Research Collaboration: The Importance of Patient Portals
As we are all aware, the pandemic has drastically changed healthcare -- both in how patients are cared for and how they want to manage their care. This led a PYMNTS.com and Experian Health collaboration to better understand the important of patients portals for scheduling their appointments, receiving their results, and -- most importantly -- paying for their healthcare.
Patient portals are no longer a "nice-to-have," but a must-have. In fact, according to PYMNTS.com & Experian Health's research: Accessing Healthcare: Easing Digital Frictions in the Patient Journey, "61% of patients interested in using the tools say they would switch to a healthcare provider that offers one."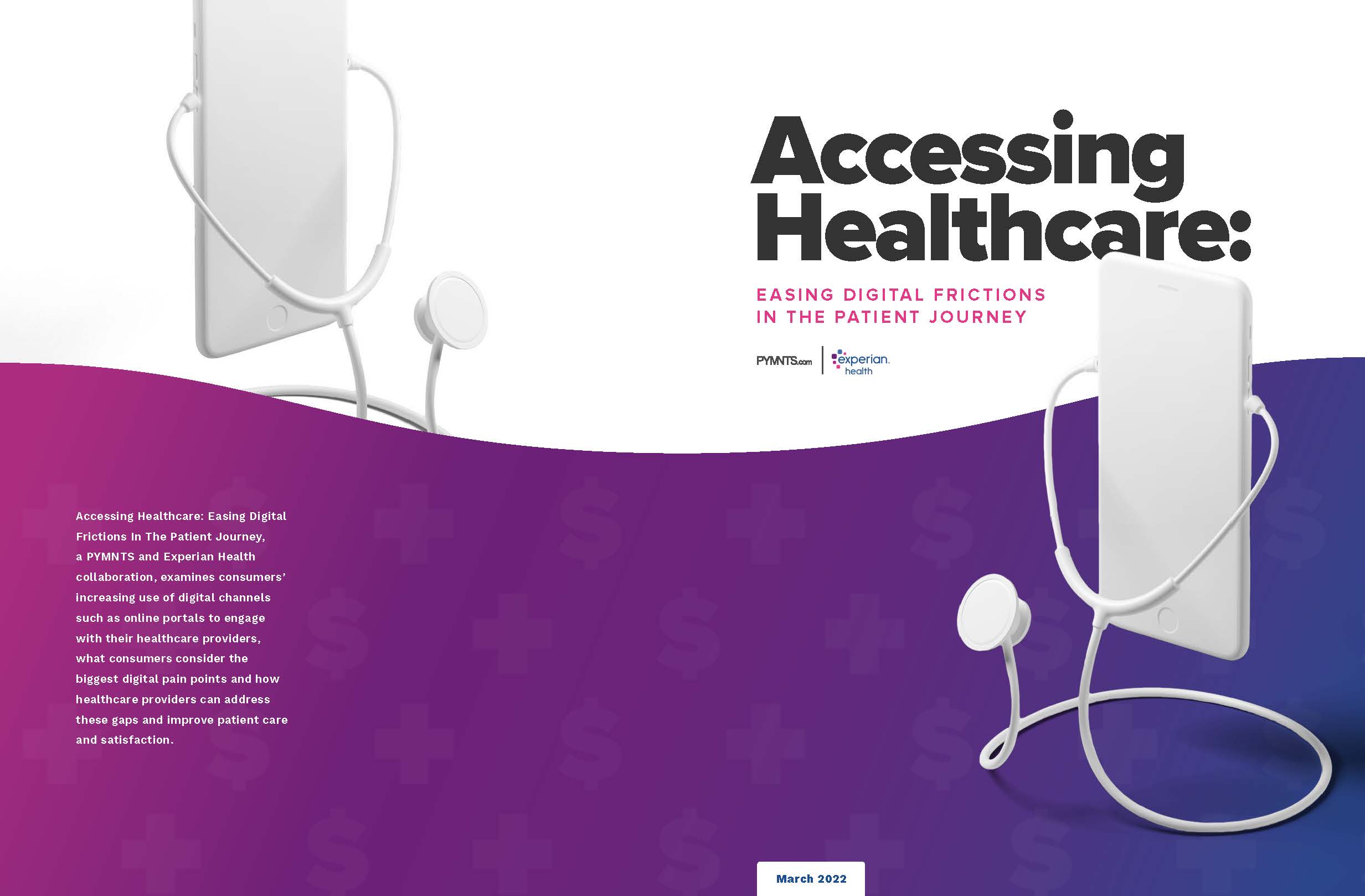 Highlights from the Research
Before we jump into the highlights of the research, it's important for us to understand the methodology. PYMNT.com surveyed 2,333 consumers between January 30, 2022 to January 31, 2022. Respondents were 48 years old on average, 52% were female, and 32% held college degrees. Data was also collected from consumers in different income brackets: 36% of respondents earned more than $100,000 annually, 31% earned between $50,000 and $100,000, and 32% earned less than $50,000.
With an understanding of the sample group, we can now better process the results of the survey.
Scheduling Appointments & Receiving Results
While scheduling appointments online is more convenient -- many consumers choose to do so for other events in their lives like a haircut or car service -- a majority of patients still prefer to schedule with a person; 59.7% prefer to schedule nondigital, and 61.7% partially digital. This may be because a live person can answer any questions the patient may have at the time of scheduling.

Click the image above to enlarge.
While patients prefer to schedule an appointment with a live person, the preferred method for receiving results is overwhelmingly digital. 60.7% prefer to receive their test results digitally from a patient portal.

Click the image above to enlarge.
The majority of patient payments are still made in the provider's office. however, payments through the patient portal has seen major growth, with 24.4% digital-first and 12.3% mostly digital, or over one-third of patients.

Click the image above to enlarge.
Additionally, the research points to a growing issue that is being addressed by the No Surprise Act regarding price transparency.
PYMNTS' research finds that nearly 85% of patients are highly satisfied with their care experience. However, those who did not know cost estimates in advance of medical treatment were less satisfied than other patients.

Our data reveals that 15% of patients mention challenges obtaining accurate cost estimates for appointments and procedures. Patients who do not know how much they would need to pay out of pocket in advance also are less satisfied: Just 78% of patients are satisfied with their family doctors if they do not get an estimate, compared to 88% if they do.
In fact, 21% of digital-first patients report difficulty obtaining accurate cost estimates for appointments.
Resolving the Pricing/Payment Issues of Patient Portals
From the research above, it's clear to see that, while patient portals are a must-have, they are not without their issues. Patients are looking for more transparency when it comes to their healthcare, specifically the costs. As noted in a previously blog post, technology will be key to bring price transparency to patients through portals:
Electronic claims payment coupled with automation of claims communications makes compliance easier for payers while delivering the information members need to manage their financial responsibility. Payers should strive to deliver a single source for plan information, such as deductibles and co-pays, as well as cost estimates in both digital and print manners for members.
Manual claims payment makes delivering a consumer-centric, seamless experience for members nearly impossible to manage. It is vital for RCM to focus on electronification of paper-based and PDF remits and EOBs. By operationalizing AI and machine learning technologies to electronify these payments, revenue cycle management can provide better cost estimates within their portals, increase patient satisfaction, and help facilitate compliance with the No Surprises Act.