Root Cause Analysis Is the Foundation to Denied Claim Analysis
Of course, the best way to handle claim denials is to prevent them in the first place. That's why this recent list of denial prevention strategies from Becker's is something no denial manager should miss. We believe though that it has a problem.
Boiling down denials to a list like this obscures the fact that some of these elements (and their corresponding solutions) are much more elemental to the denial prevention question in the first place.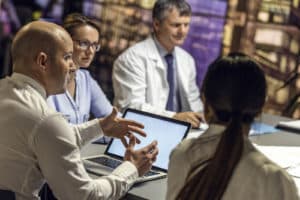 Here's what the list looks like:
Root cause determination
Prioritization (of areas that have the greatest impact on a hospital's bottom line)
Eligibility
Registration data quality
Prior authorization and medical necessity
Effective claims processing
Ongoing analysis across the revenue cycle
If we had to rebuild this list, it wouldn't be a list at all and instead would position root cause determination as the foundation of denial prevention strategies.
What Becker's Gets Right
Becker's correctly highlights the importance of hospital leaders identifying why they have denials in the first place and why it's critical to pay particular attention to:
Patient access and registration
Insufficient documentation
Coding and billing errors
Payer behavior
Utilization/case management
It also highlights critical advice from Carmen Sessoms, associate vice president of the revenue cycle management advisory services program at Nashville, TN-based Change Healthcare:
"When you are trying to look for root cause, key questions to ask yourself are: 'Do I have this data?', 'Is it accessible in a timely manner?' and 'Can I trust it in my decision making?'"
What's At Risk
As the article admits, denials can pose a huge threat to complete and timely reimbursement. Change determined that about 9 percent of their claims (a value of $262 billion) were denied, impacting approximately 3.3 percent of net patient revenue — that boils down to $4.9 million per hospital…and that doesn't even touch on appeal costs.
We might celebrate the fact that 63 percent of denied claims are recovered on the first shot, but that process racks up a tab of $118 per claim, boiling down to $8.6 billion for U.S. hospitals overall.
While we understand the importance of lists and condensing information, we do think there's a better, more robust, and effective way to strategically address denial prevention and it's something the Becker's article hints at — that's a data-focused approach to denials that analyzes and identifies denied claims trends by incorporating both clinical and revenue cycle data to reduce leakage and shorten accounts receivables. The best place to find that is Access Denials Intelligence.