White Paper: The Healthcare Automation Blueprint
Intelligent automation can save over 1,000 hours by taking over repetitive
workflows
4 key strategies that healthcare administrators must consider
Strategically leveraging technologies to automate revenue cycle management
It is no secret that businesses across the globe are tasked with improving the efficiency in processes to lower costs and maximize revenue potential. This is further exacerbated for healthcare organizations during the Covid-19 epidemic which has caused major declines in patients visits and revenue.
According to Notable Health -- a health technology company focused on reimagining the healthcare technology stack to enrich every patient-physician interaction -- healthcare organizations waste more than 1000 hours per year on repetitive administrative tasks that can be fully automated:
No industry stands to benefit more from automation than healthcare. Patient and provider experiences are notoriously antiquated. Many clinicians spend more time on administrative tasks like documentation, coding, and order entry than direct patient care. Office staff perform repetitive tasks  like transferring data from paper forms into the EHR, calling patients for appointment reminders, and scanning insurance cards hundreds of times per week.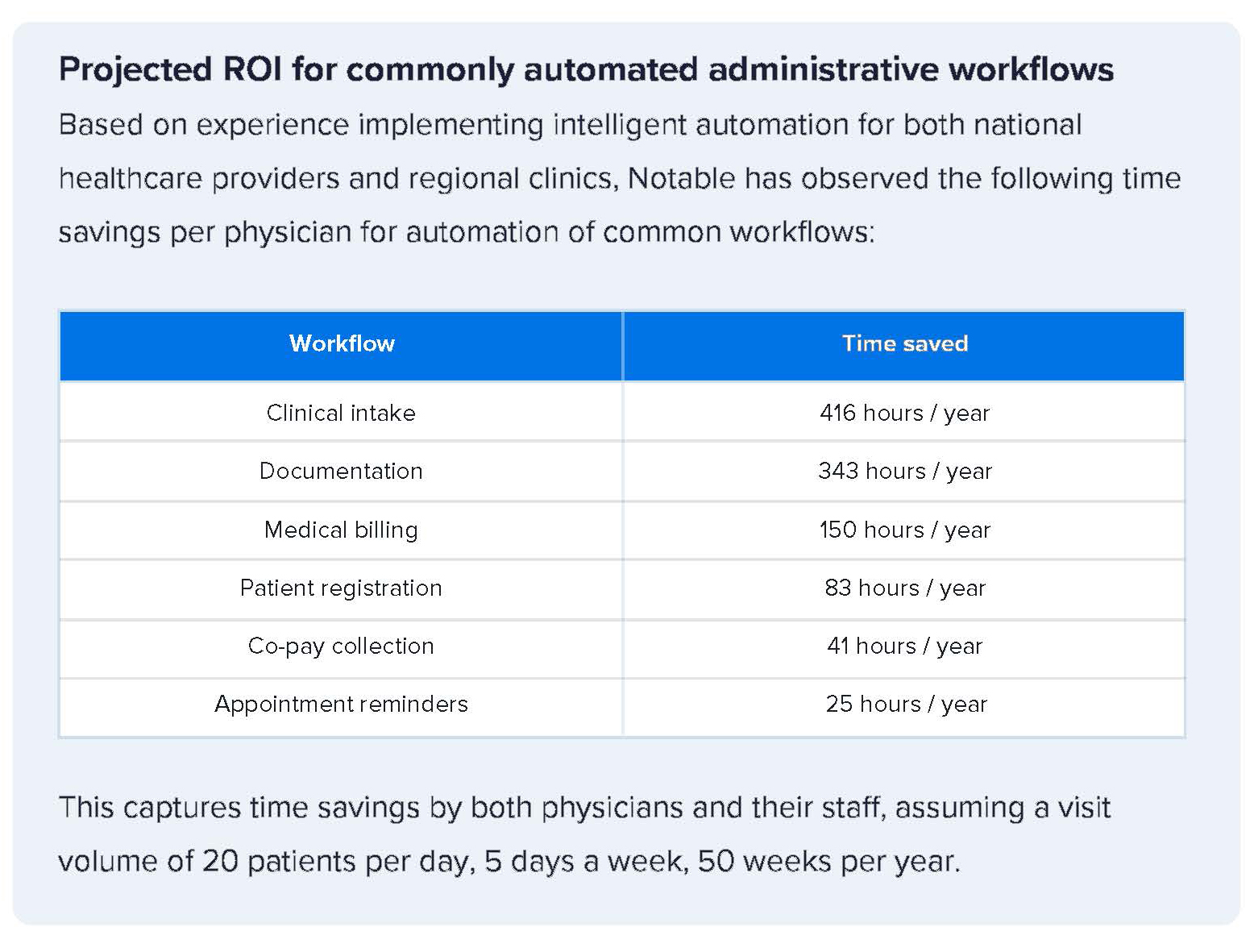 Source: The Healthcare Automation Blueprint
4 Key Strategies for Automation
In their white paper "The Healthcare Automation Blueprint" (download here), Notable Health provides healthcare organizations with four key strategies to consider in regards to automation.
Investments in technology must be explicitly tied to one of the organization's broader strategic initiatives, such as reducing staff operating costs, improving patient experience, or reducing provider burnout. Once this has been done, organizations should look to prioritize automating the workflows that generate the highest return on investment (ROI) in alignment with their strategic goals.
Successful digitization and automation of administrative workflows requires the development of world-class user experiences. Even though automated workflows reduce the touchpoints between people and technology, they still rely on inputs from patients, providers, or staff, such as the picture capture of an insurance card or the provider confirmation of a suggested order. If the user experience of the digital tools that power automation is poor, then users will resist change and continue with the manual processes they are used to.
A common approach for health systems exploring automation is to pick an individual workflow, such as eligibility verification, as a starting point to prove out ROI and validate the electiveness of the technology. While this can be a logical first step, it should be followed by a long-term, holistic focus on automating the broader patient journey.
Healthcare administrators should look to design their digital transformation and automation strategy in a way that takes advantage of the EHR's power as a system of record, while mitigating its shortcomings as a system of engagement. Advances in RPA technology have revolutionized how organizations can do so.
Leveraging Technologies to Automate RCM
The white paper provides a solid blueprint for automating healthcare and makes a strong case for taking a holistic approach to automating revenue cycle management. A major efficiency issue lies within processes that have a constant flow of paper-based documentation amongst payers, RCM servicers, healthcare providers, and patients. This requires countless hours for staff to manually process.