InstaMed Report: Potential Savings of $20B or 48% of Existing Annual Spend by Fully Adopting Electronic Transactions
InstaMed -- a JP Morgan Company -- recently published its 12th Annual Trends in Healthcare Payments Report. As with most services, the cost of healthcare continues to rise. However, according to the report, healthcare has become a major part of the US economy and a major expense for the population.
Healthcare spending is almost 20 percent of the national gross domestic product (GDP), up from nearly 7 percent in 1970. That growth shows no sign of slowing down in the next decade. Out-of-pocket healthcare costs for consumers have also increased significantly over that same timeframe. In the last decade, family premiums grew faster than both wages and inflation.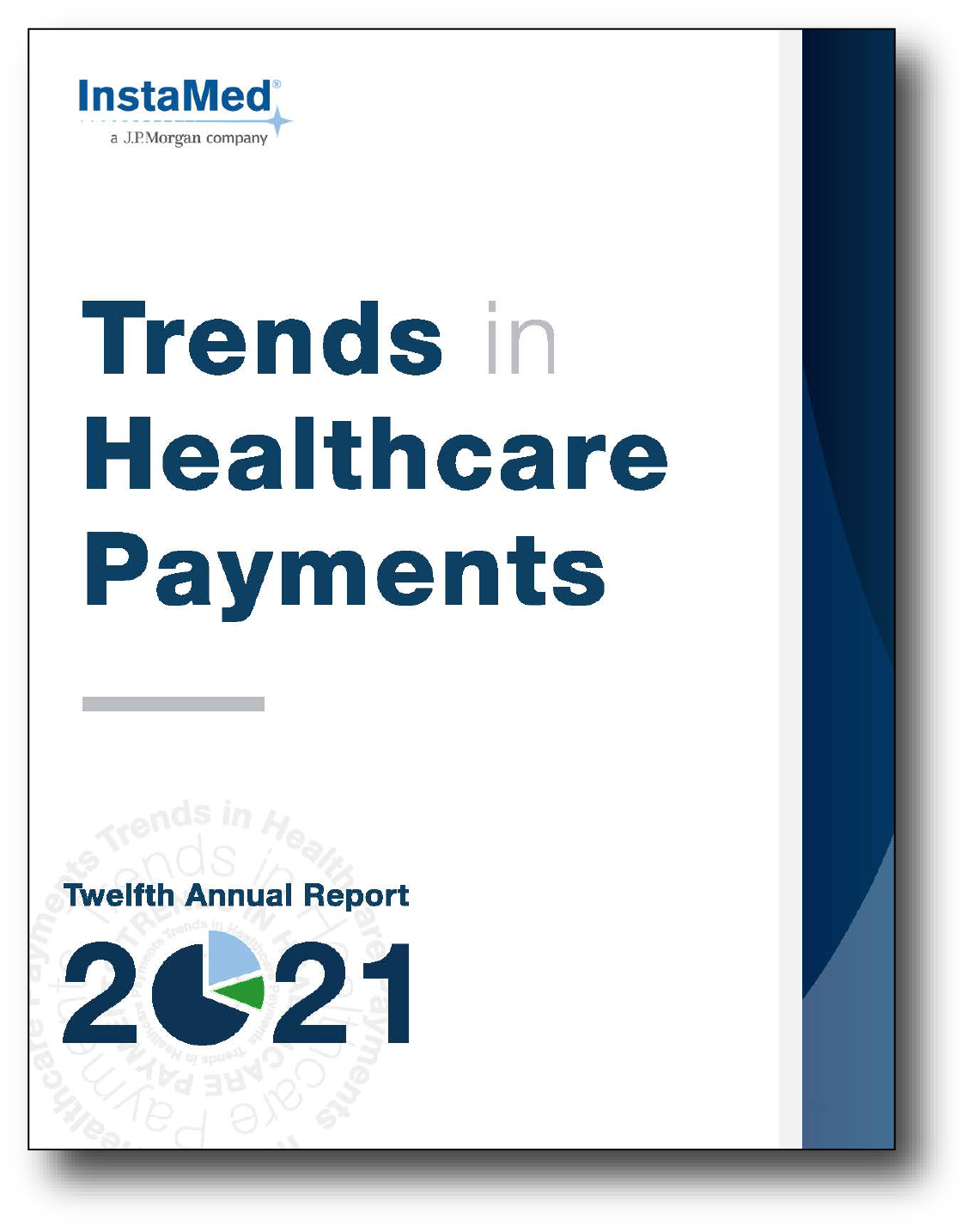 Let's take a deeper dive into the report to examine some of the trends.
Focus on Patient Financial Responsibility
The No Surprises Act has made price transparency for healthcare one of the top priorities for the industry. The rise in healthcare costs directly correlates with higher patient payment responsibility, and the report provides some eye-opening data on the rise in costs for patients:
Out-of-pocket spending averaged $1,240 per capita in 2019, up from $115 in 1970
Consumer out-of-pocket healthcare costs are estimated to reach $491.6 billion or about $1,650 per person by 2025
Since 2011, average family premiums increased 47%, more than wages (31%) or inflation (19%)
Annual premiums reached $22,221 in 2021 with workers paying $5,969 toward coverage – up 4% from last year
Average premium for family coverage increased 22% over the last five years and 47% over the last ten years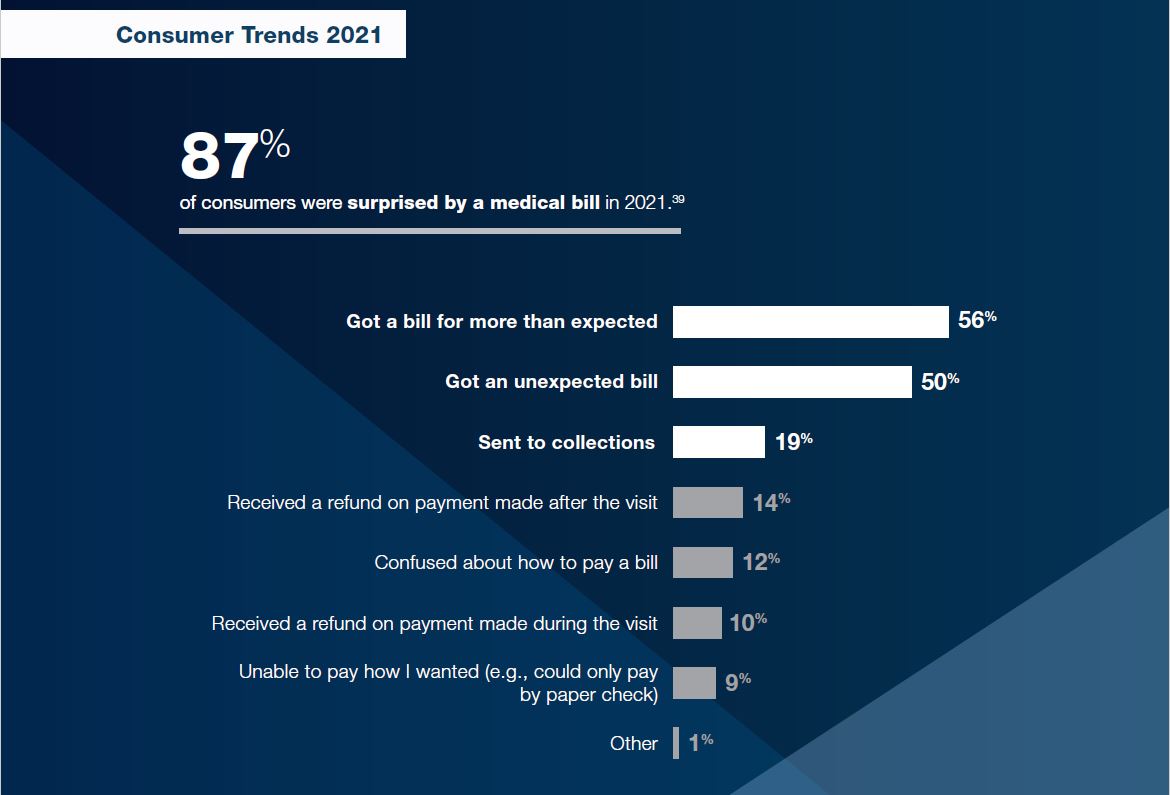 The major issue with the rise in costs for patients is that many are unaware of actual expenses prior to receiving a medical treatment. In fact, 87% of consumers were surprised by a medical bill in 2021.
The report notes some additional alarming data points:
Surprise medical bills average $750 to $2,600
73% of consumers are confused by medical bills
72% of consumers are confused by EOBs
This has lead to what may be the most alarming sentiment: 71% of Americans report that their household pays too much for the quality of healthcare they receive.
Healthcare Scrambling to Meet Regulations with Reduced Resources
Many factors are contributing to healthcare industry's struggles -- exacerbated, of course, by the pandemic. According to the report, 80% of U.S. hospitals in the last week of January 2022 were under high or extreme stress. One of the major concerns is the issue with staffing. Staff shortages ranked #1 among provider CEOs' top concerns in 2021, with 73% of medical practices rank staffing as their biggest pandemic challenge heading into 2022.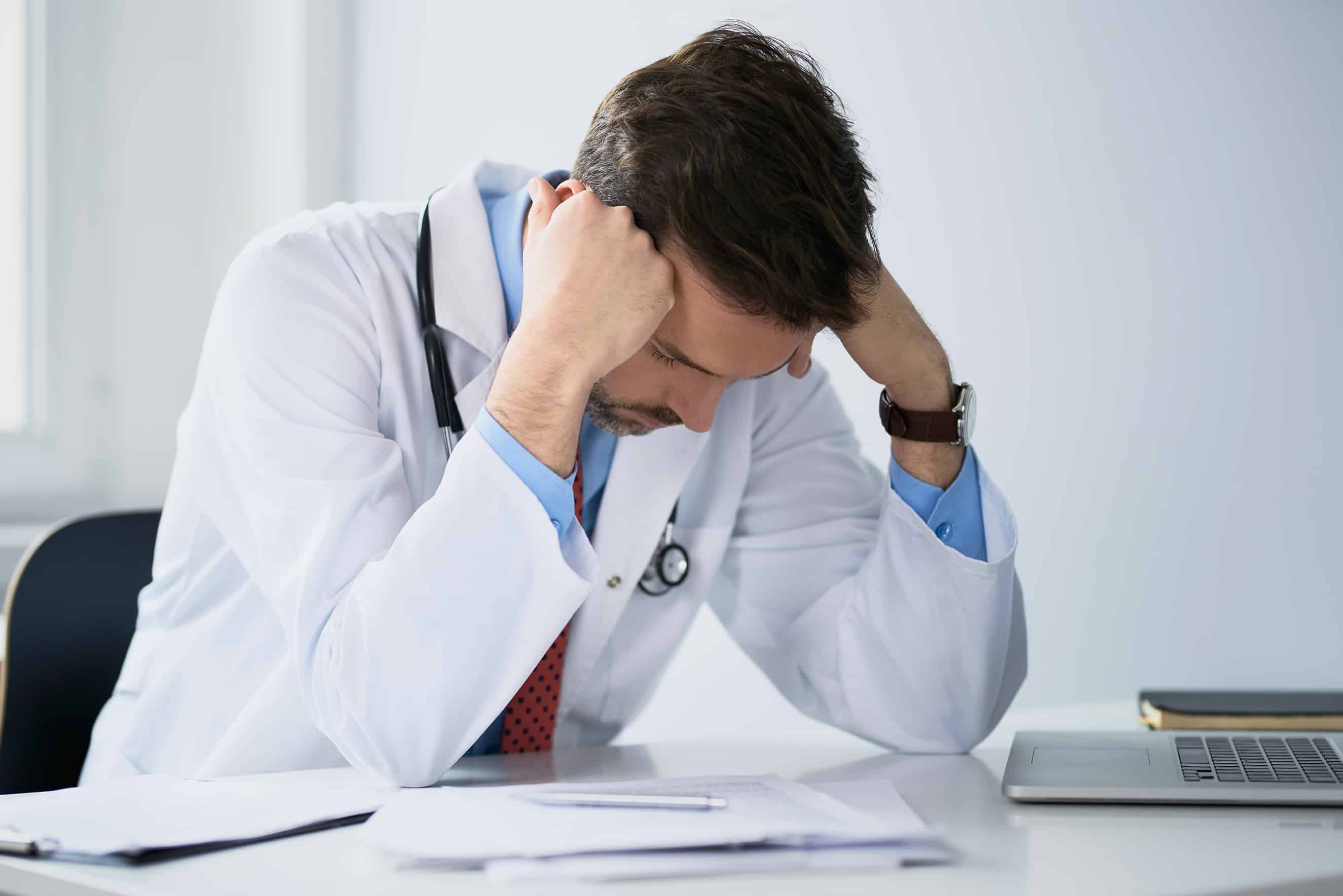 All this has led an 83% noncompliant rate for hospitals with at least one of the major requirements of the price transparency rule from CMS. Only 21% of providers prioritize price transparency.
Throughout the pandemic, the healthcare industry adapted rapidly towards more digital means -- whether it was telehealth services to deliver healthcare, or digital portals/payments. It appears that consumers are in favor of these changes: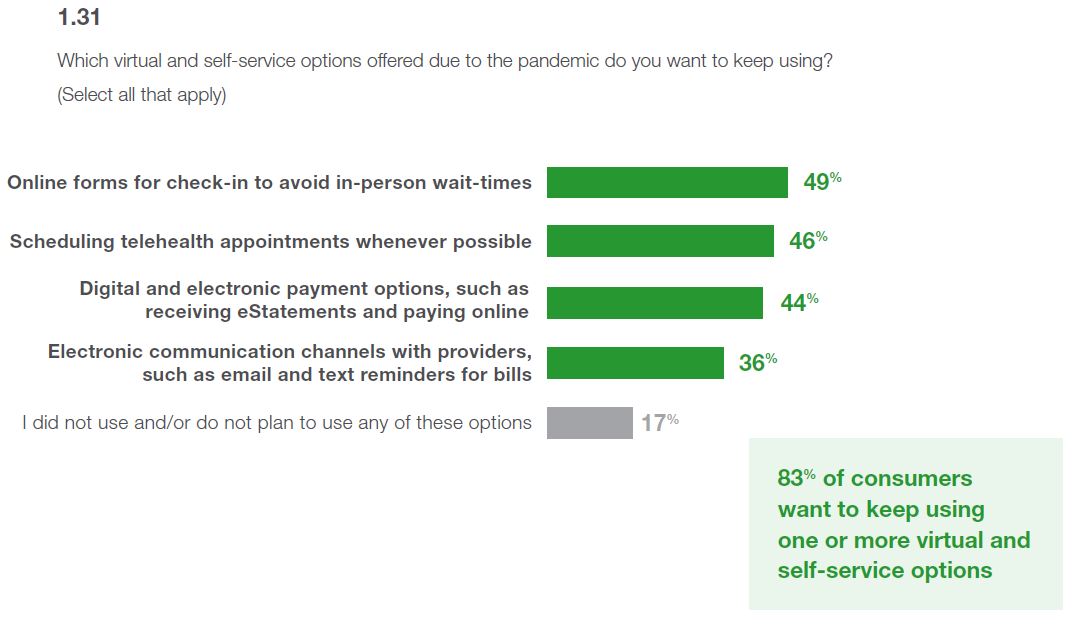 From a revenue cycle perspective, providers have moved towards digital payments from payers. From 2018 - 2021, claim payments as ERA/EFT volume grew 32% and claim payments as ERA/EFT transactions grew 102%. However, according the report, 70% of providers receive paper checks from one or more payers -- which typically are sent with paper explanation of benefits (EOBs).
One of the major conclusions from the InstaMed report is to streamline payments -- from both a provider and payer perspective:
Providers should find effective methods of getting more done with fewer resources and improving consumer communication and experiences. Healthcare trends point to personalized payments as an answer to many of the problems facing providers...

...Payers have the most opportunity to transform payments in healthcare by streamlining self-service options, removing barriers to electronic payments and increasing engagement for all. A beneficial comprehensive strategy should focus on digital-first and easier payment experiences.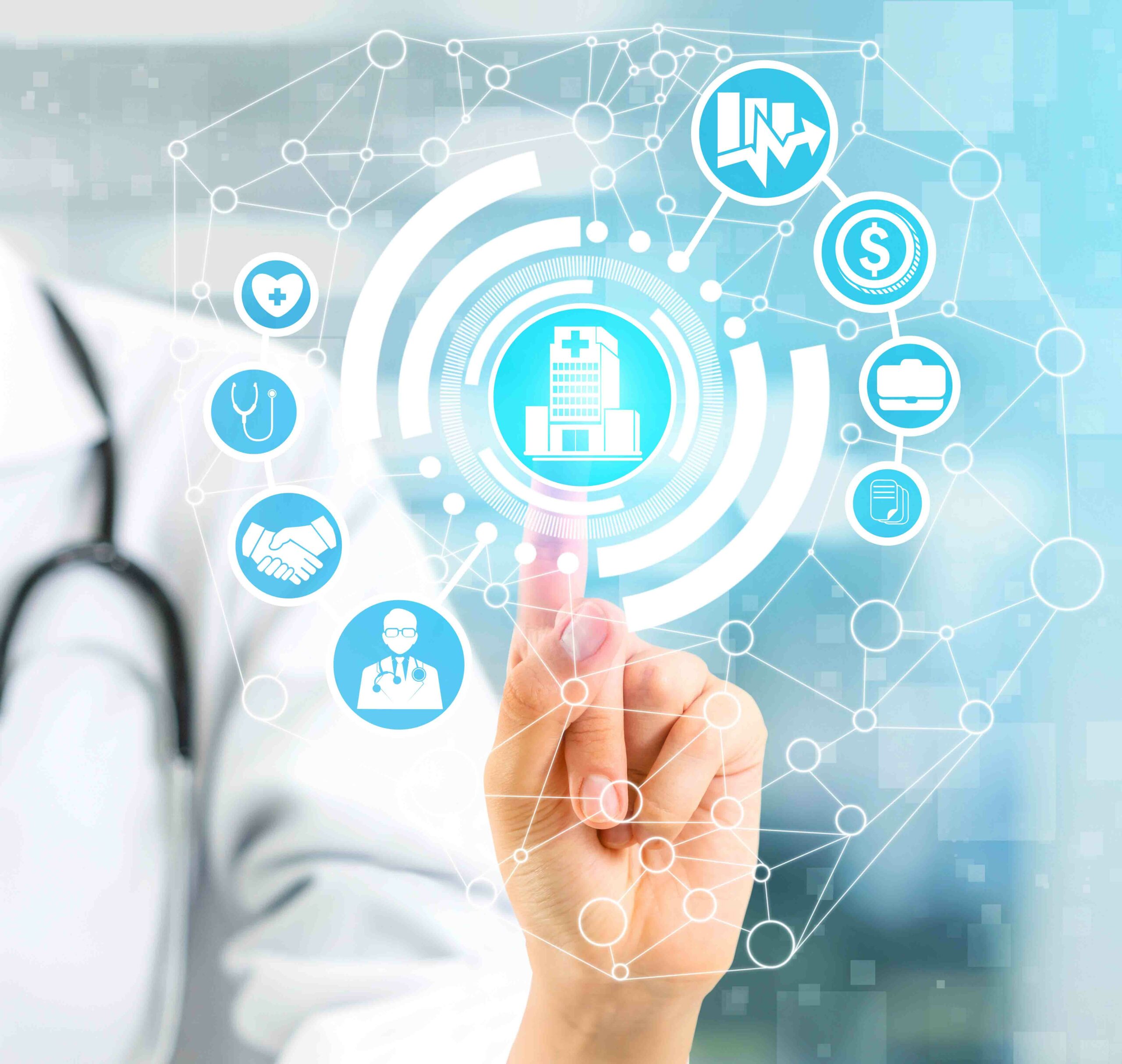 Achieving fully electronic healthcare payments is unrealistic, especially with the short timeframes and limited resources available. However, AI and machine learning technologies exist today to close the gap by electronifying PDF and paper-based remits and EOBs. This will streamline healthcare payments and has already contributed to the $166B already saved annually with automated administrative transactions -- with the potential of healthcare saving an additional $20 billion, or 48% of existing annual spend, by fully adopting electronic transactions. It's more important than ever for healthcare to embrace technology.