Many vendors have expanded their offerings to include both in-house and cloud deployments. Also, new capture functionality is enabling banks to reduce the number of capture systems or silos and consolidate into a single vendor. Service bureaus are gaining market share due to volume declines, as they also expand their offerings with web-based feature sets. And, more diverse offerings are introduced everyday by traditional data centers looking to leverage infrastructure to provide economies of scale for check.
Although fully electronic payments continue to grab the spotlight as the future of payments, there has been significant investment in platform modernization for check payments and fraud prevention. Teller, branch, mobile, RDC, archive, lockbox, and ATM image capture vendors continue to innovate by developing new capabilities.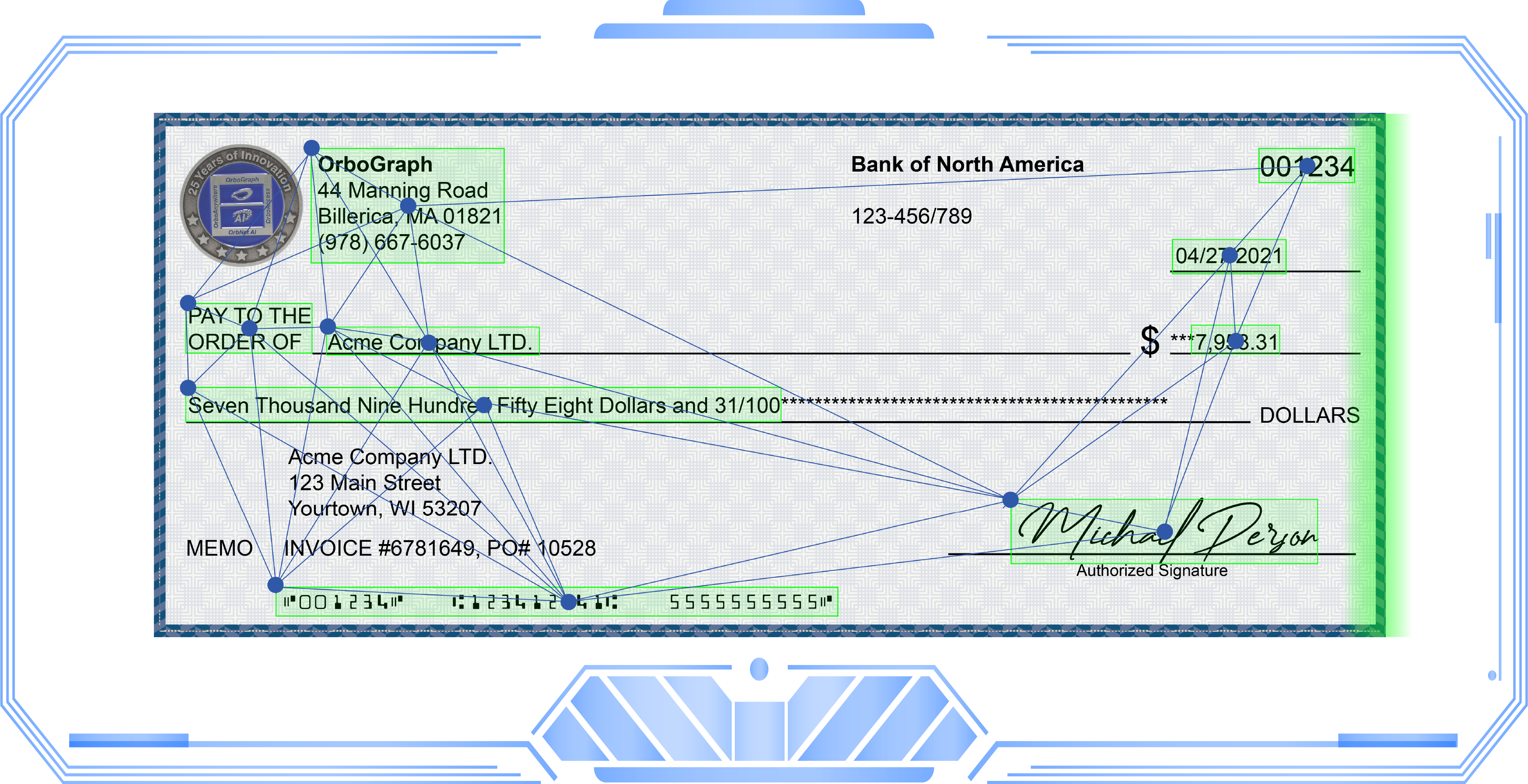 While progress is being made, every workflow listed above must still deal with processing rejects of some kind. Whether it be a MICR reject, unprocessed mobile deposit, misread amounts, unprocessed account numbers, or false positives in fraud detection, every workflow still strives for straight-through processing. Additionally, a consistent user experience without errors rejected transactions, fraud, or manual "touches" is the desired target. This remains a challenge for organizations seeking to minimize processing costs as a competitive advantage.
The use of AI and machine learning systems are well-positioned to support these trends by providing check processing automation, payment negotiability testing, fraud detection, compliance, and analysis of consumer and corporate behavior. OrboGraph provides AI-based solutions as part of the OrboAnywhere platform.
Anywhere Recognition with OrbNet AI
Anywhere Recognition powered by OrbNet AI is now on the threshold of straight-through processing of checks, with field performance of 99% automation and 99.5%+ accuracy.
The benefit potential is impressive:
Up to $6M savings over 3 years per 1M items processed per day with branch capture
90.4% reduction in retail deposit keyed items
81.8% reduction in commercial deposit balancing
10%-25% incremental recognition performance
Improved user experience for any image capture workflow
Up to 80% reduction in misreads
By utilizing a web-service architecture, Anywhere Recognition, deployable in real-time or batch processing, can be integrated with any workflow including:
Teller capture
Remote Deposit Capture (RDC)
Mobile Remote Deposit Capture (MRDC)
Centralized check processing
Branch image capture
ATM deposit processing
Retail remittance and wholesale lockbox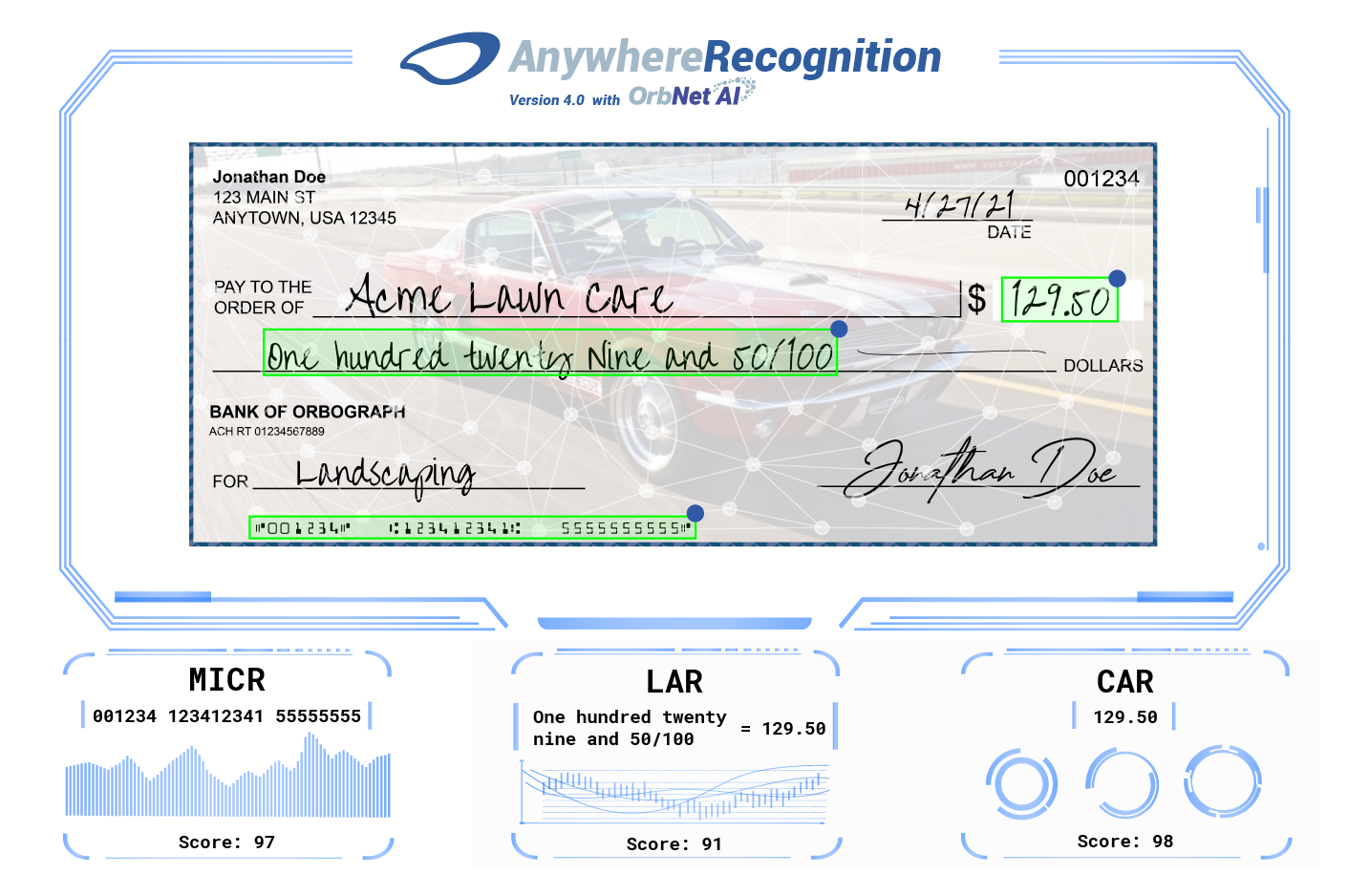 Anywhere Fraud with OrbNet Forensic AI
The adoption of new technologies by financial institutions for check fraud detection can only be described as inconsistent. For those who have deployed advanced machine learning-based systems, most have found a strong layer of protection when considering transactional data, and thus are great tools for protecting electronic transactions. Meanwhile, many FI's are still running fraud systems which are based on more simplistic rules or fraud filtering techniques which were introduced to the market 10-20 years ago.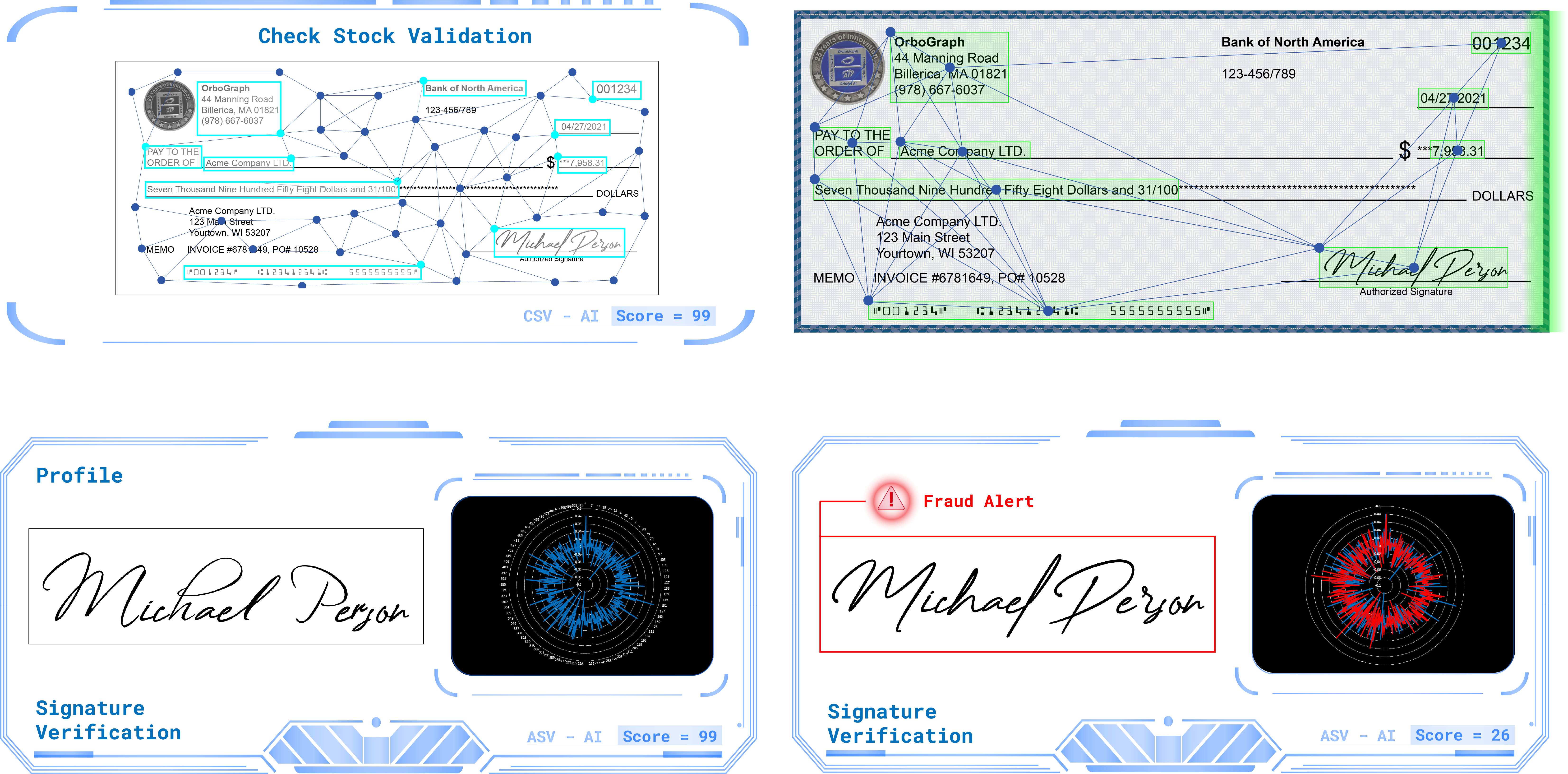 Unfortunately neither system has been unable to prevent a spike in check fraud! As EMV chips became an industry-standard in 2018, fraudsters migrated back to checks, causing a sharp rise in attempts and losses.
According to the 2019 ABA Deposit Fraud Study (based off 2018 data), check fraud accounted for $1.3B or 47% of deposit fraud losses. Since 2014, losses more than doubled and appear to be increasing even today, illustrating the need to better identify counterfeit checks, forged checks, and altered checks.
This new core AI and deep learning is embedded into the Anywhere Fraud module delivering image analysis technology that is applied to on-us and transit checks. The new CSV-AI (check stock validation), ASV-AI (automated signature verification) and check style verification along with amount discrepancy, drive detection rates to previously unattainable levels for detection of counterfeit check stock, forged maker signatures, and amount alterations. The system can exceed 95% prevention rates for targeted use cases.
In addition to Anywhere Fraud, several OrboAnywhere modules complement fraud detection and mitigate payment risk:
Anywhere Positive Pay uses targeted OCR on images of pre-printed business checks and compares the recognized payee names to the payee field of the issue file to proactively identify payee alterations.
The combination of Anywhere Fraud, Validate, Payee, Positive Pay, and Compliance provides superior protection against fraud attempts while reducing losses to both the financial institution and its customers.