News & Events
Stay up-to-date with the latest industry news, trends and events.
All
Check Processing
Healthcare Payments
OrboNation
Press Releases
Upcoming Events
Videos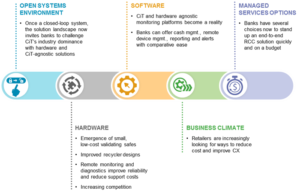 While steadily declining in overall usage, cash remains "as relevant in retail as it has ever been," according to an article by Bob Meara, Senior Analyst with Celent, in an article previewing his presentation at November's AFP 2018, "Fewer Cash Receipts Still Mean Big Retail Challenges." RCC (Remote Cash Capture) is noteworthy for the collaborative service delivery required to…
Read More

→
Join OrboNation
Access to critical updates, new industry insights, & thought leaders.
Review your payment automation needs with an OrboGraph expert.
Sign up below for your complimentary assessment or to request
estimated solution pricing from OrboGraph.