News & Events
Stay up-to-date with the latest industry news, trends and events.
All
Check Processing
Healthcare Payments
OrboNation Blog
Press Releases
Upcoming Events
Videos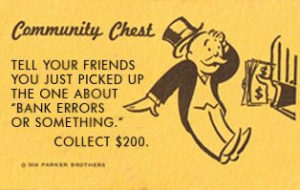 Just when you thought you heard it all when it comes to financial crimes, here comes … accidental? A Pennsylvania couple thought they were tokens on a Monopoly board when they had $120,000 mistakenly deposited into their bank account. As far as they were concerned, they'd passed "GO" and picked a pretty good Community Chest…
Read More

→
Join OrboNation
Access to critical updates, new industry insights, & thought leaders.