Opti-Lift™ Technology was designed with one goal in mind: automate paper remittances and payments in healthcare by leveraging innovative technologies. With the integration of OrbNet AI and the power of cloud computing, the healthcare industry is seeing unprecedented benefits. The result: a process which is faster, less expensive and more accurate than other options on the market.
Opti-Lift™ is the foundational technology to Access EOB Conversion, Access Correspondence Letters and Access Patient Payments.  The system addresses these highly complex documents via multiple technologies comprised of recognition software, data validation and quality control processes. See workflow illustration below:
EOB images are tested for pixel quality, enhanced for recognition processes and read by multiple optical character recognition (OCR) engines which feed sophisticated voting algorithms to optimize the recognition results
Opti-Lift Q0, Q1 and Q2 processes leverage dynamic EOB adaptation, auto learning and semi-structured format classification to bypass traditional inflexible template driven approaches
Field-level processing controls validate the quality of the field output via claim and service line characteristics
Post processing completion merges claim data from EDI 837 files to output fields, inserts OCR assisted correction, balances service line and claim totals and validates field level information with context sensitive validations
EDI output quality controls apply service line amount and business rule validations as EDI 835 files are being formulated
Automation Management is the overall systematic process built around Lean Sigma concepts of monitoring HPAC and Opti-Lift for yield and productivity monitoring, statistical reporting, process improvement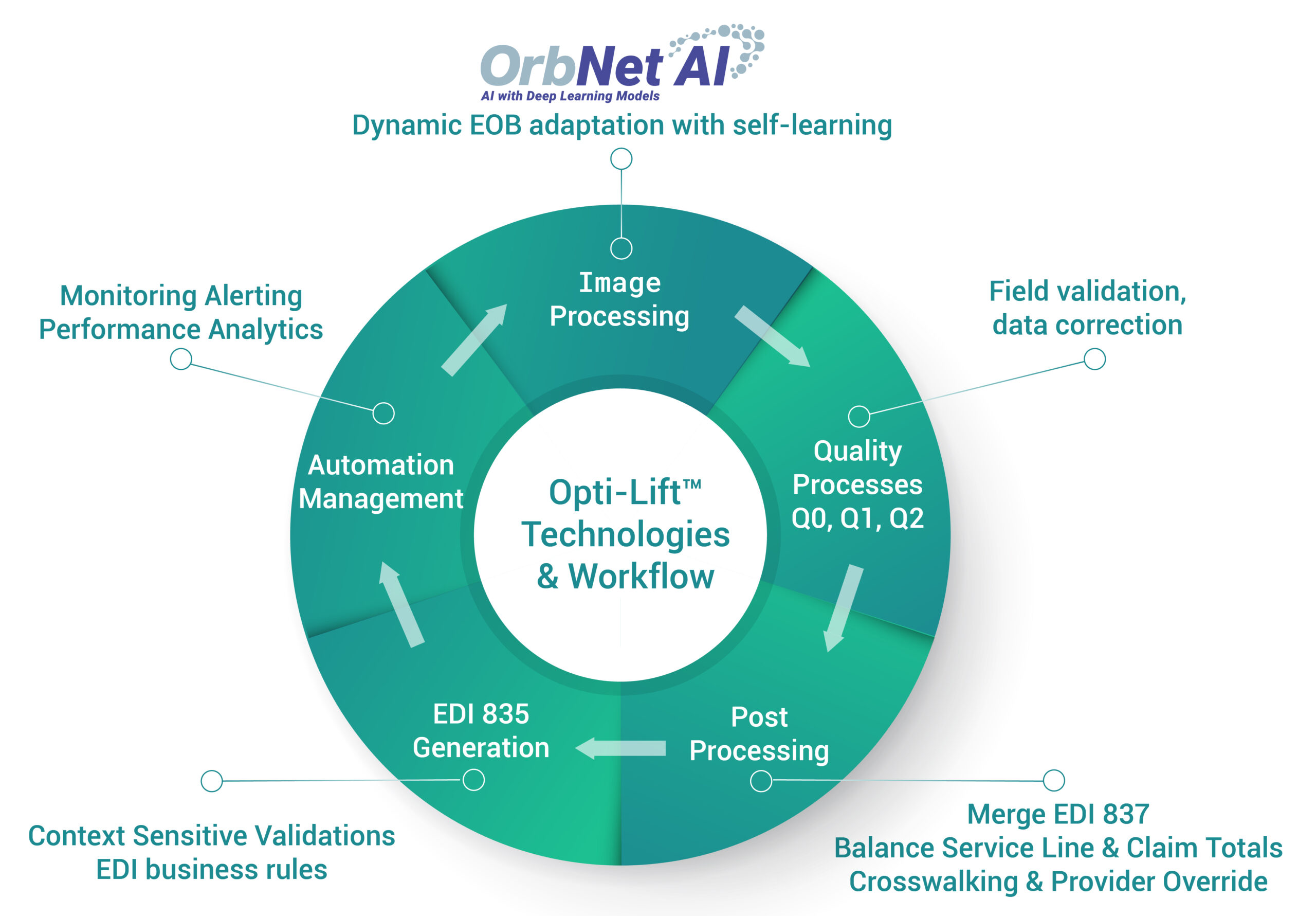 Join OrboNation
Access to critical updates, new industry insights, & thought leaders.