2018 Conference Highlight: Payment Reconciliation Realities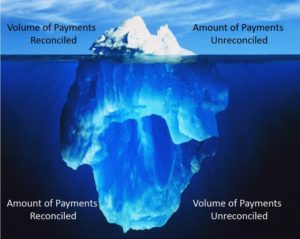 One of many highlights from our 2018 Healthcare and Check Payment Technology Conference in Nashville, TN, was Wayne Koch's presentation exploring The Future of Healthcare Payments.
We've borrowed the great visual metaphor that Koch used in his presentation: Very often, the amount of reconciled and unreconciled payments that current systems recognize are merely the tip of the iceberg – – an alarming realization, to say the least.
Koch, the President of two healthcare technology companies focused on automating the back-office of healthcare organizations as the industry transitions from a fee-for-service to a fee-for-value model, pointed out the following "reconciliation realities" that the healthcare industry faces:
The payers don't always send the same check number in the check that is reported by the financial institution
The availability of the ACH data is many times separated from the full bank deposit
The check arrival date could be prior or later than a full week from when the funds are available in the bank
For example: Using the date of Thursday May 31, 2018, as CCD+ Effective Entry Date and assuming the health plan's business days are Monday thru Friday, the 835 and associated funds could be available as early as Monday the 28th or as late as Tuesday June 5th
This is only for 835 to ACH reconciliation
Koch also advised the following steps to help get started with maximum effectiveness:
Evaluate your banking options
Increase 835 and ACH volumes
Convert all paper
Do not use virtual cards
When possible, validate funds in the bank prior to posting
Go beyond Certification to "Double Reconciliation"
Batch all payments for easier matching to bank deposits
Review all exceptions daily
Use an automated tool
To avoid being the Titanic (you all saw THAT coming, right?), it pays to be able to maximize available tools to recognize all that lay beneath the surface! Access Payment Reconciliation leverages EFT Reassociation to ERA matching technologies to link remittance advices to payments via a reference identifier (TRN). This allows the provider to generate and easily manage a list of outstanding payments.
SaveSave
SaveSave
SaveSave
SaveSave