Checks Lead in Payments Fraud Despite Volume Decline
2019 Federal Reserve Payments Study Reports 16B Checks Written
Overall payments grew, while checks written declined
Check fraud risk is increasing
Checks lead other payment channels in fraud attempts per AFP
It's back! The 2019 Federal Reserve Payments Study, provides us new insights and metrics for the payment industry:
The number of core noncash payments, comprising debit card, credit card, ACH, and check payments, reached 174.2 billion in 2018, an increase of 30.6 billion from 2015. The value of these payments totaled $97.04 trillion in 2018, an increase of $10.25 trillion from 2015.
The growth rate of core noncash payments was 6.7 percent per year from 2015 to 2018, higher than the growth rate of 5.1 percent per year from 2012 to 2015.
Less Paper, More Fraud Attempts, More Fraud
Drilling down to checks, we see that the estimated volume of 16B checks written may have declined by 7.2%. However, read this analysis of check percentages and see a perspective where the impact is more like 3.7%.
Regardless of the percentage, one might assume fraud attempts would decline proportionally, no? Not exactly. As stated in this blog post from a presentation by Shirley Inscoe, Senior Analyst at Aite Group, check fraud leads the field in investigations handled by 25 financial fraud investigators polled.
Further, Aite's poll found that 96% either completely or mostly disagree with the statement "Check fraud is declining annually in my financial institution."
Indeed, the Association for Financial Professionals finds that, even as check usage declines, check fraud leads the pack over other payment channels.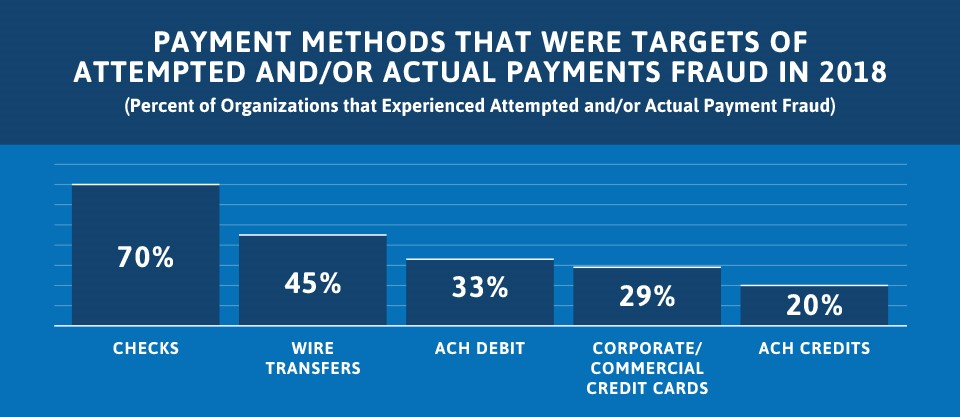 "Essentially, the industry is experiencing a 'reverse correlation' between volume and fraud risk attributed to checks," stated Yaron Katzir, Director of Product Management in Check Payments and Fraud at OrboGraph.
There are many reasons contributing to this phenomenon:
Deposit channels are diversifying, as the omnichannel doesn't look like it did five years ago
Banks continue to expedite funds availability on deposits due to competition
Banks are deploying new transactional-based analytics and machine learning systems, but forgetting about the unique image attributes of counterfeits, forgeries and alterations
Fraudsters were "redirected" back to checks when EMV chips were implemented a few years back
Taking a Long Term View
Rather than panic on the data points of AFP, or ignore checks because volumes are declining, financial institutions should just "act like financial institutions." Meaning? Take the long term view: continue to automate and protect check processing, invest in value-based technologies which deliver a positive ROI like image analysis, and build a strong platform in preparation for the next FED payment study in 2022!