Is Lack of Trust in Data Hurting Healthcare Interoperability?
"Trust is the crux of the matter," Fred Azar, Ph.D., analytics executive at InterSystems, told Fierce Healthcare. "If executives don't have the evidence that the information they're given is based on clean, reliable data, they're not going to make decisions based on those."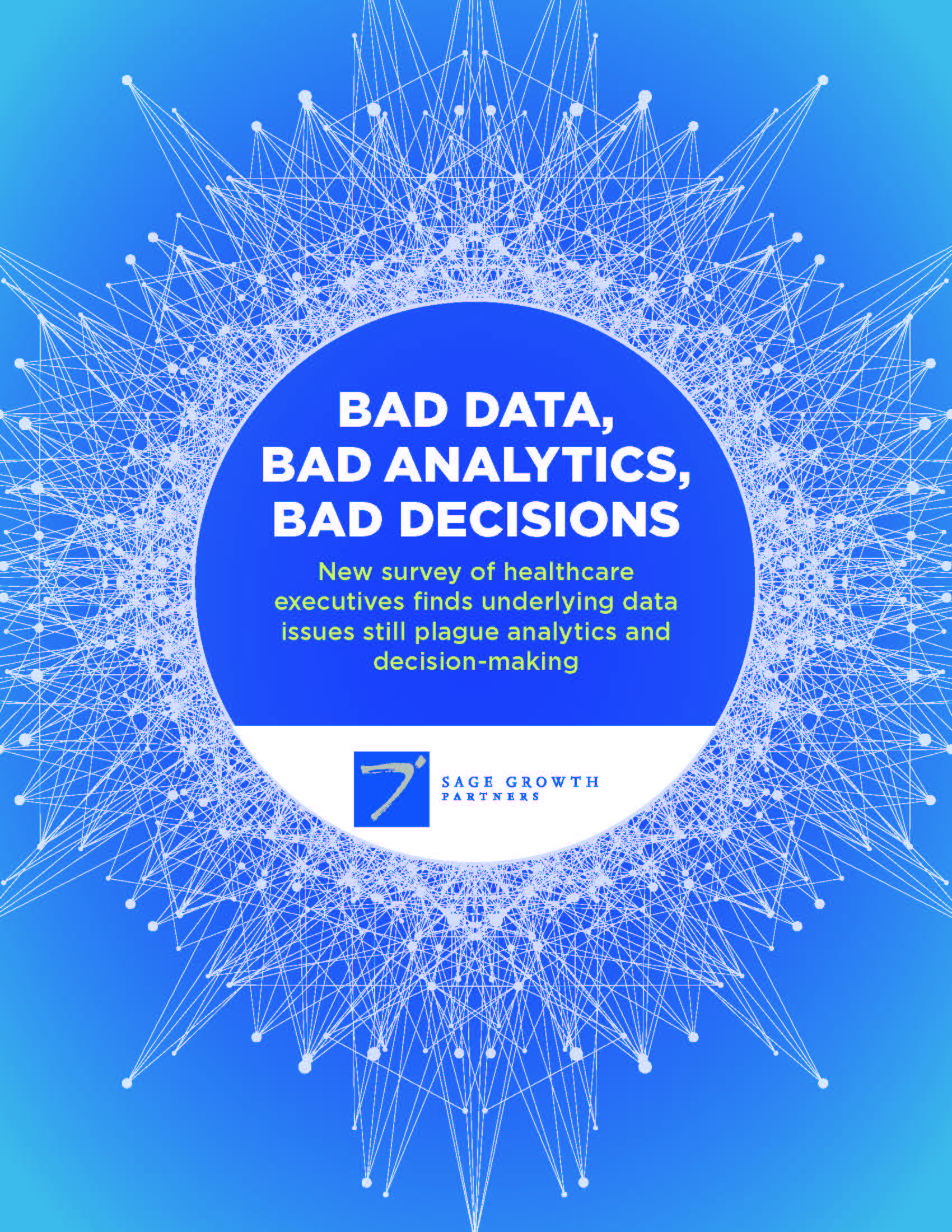 The survey of 100 healthcare executives found that "leaders continue to face numerous challenges in collecting, normalizing, analyzing, and using data to make timely clinical and business decisions. Despite widespread adoption of electronic data, most executives say that they still lack data they can trust to drive good analytics and meet their strategic priorities."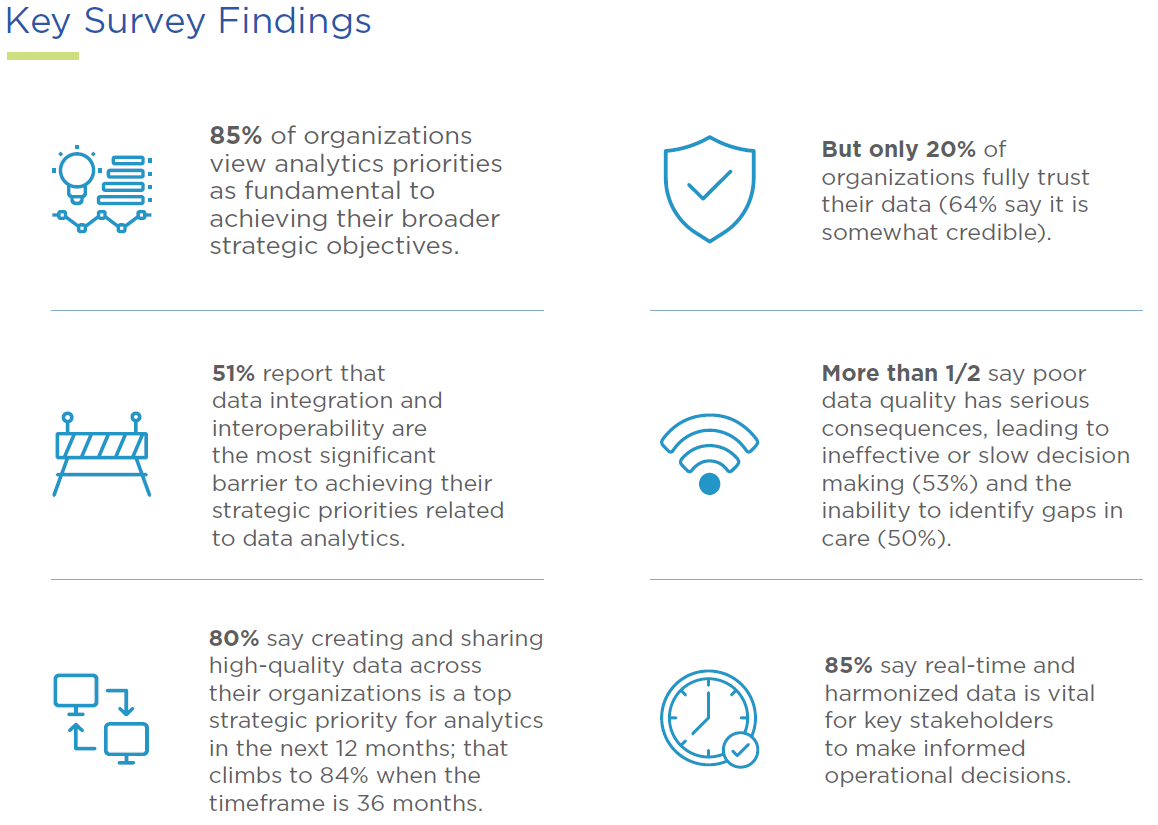 Source: BAD DATA, BAD ANALYTICS, BAD DECISIONS -- Sage Growth Partners
When examining the key findings, it's clear that the quality of healthcare data is a huge concern, particularly when it comes to making decisions for the organization.
The Effects of Poor Quality HC Data for Revenue Cycle
The consequences of poor quality healthcare data does not only affect decision making, but also reaches into the financials, including revenue cycle.
53% of the respondents say poor data quality reduces their ability to make decisions. It also impacts their ability to identify gaps in care, meet quality metrics and optimize the revenue cycle.
Additionally, the survey notes that:
34% respondents report that poor HC data directly affects revenue cycle bottlenecks "resulting in avoidable rejections and rework"
29% respondents report that poor HC data directly affects revenue cycle bottlenecks "resulting in missed charges or avoidable denials"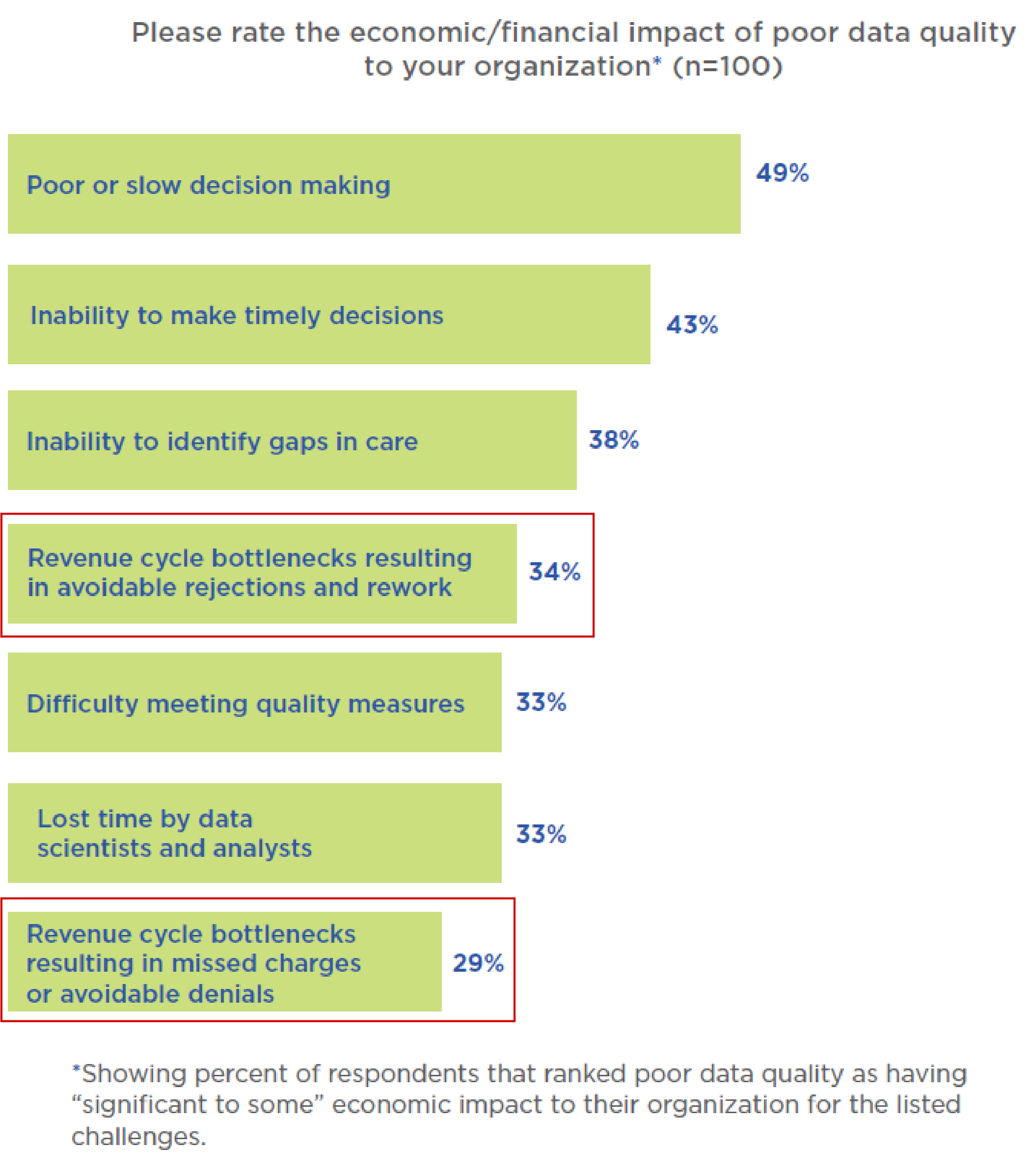 Source: BAD DATA, BAD ANALYTICS, BAD DECISIONS -- Sage Growth Partners
Solving the Issue of Poor HC Data Quality with Technology
The importance of having high-quality data for HC interoperability cannot be understated. Trust in the data not only allows HC leaders to make timely decisions, but also has huge financial implications. This is leading many to engage with technology vendors to create the right solution.
Clearly, healthcare executives continue to need better solutions that can integrate a broad array of data in a timely, digestible, and accessible format. Making reliable data visible across the organization for different users to get what they need from a single source of truth is essential to achieving the goals HCOs have set for themselves. Without that, it's much harder to close care gaps, optimize clinical and business performance, and track, report and improve value.
As a Top 10 Healthcare Interoperability Solutions Provider, OrboGraph understands the challenges facing the HC industry in its push towards HC data interoperability. When looking at revenue cycle management, we continue to see high volumes of paper-based remits and EOBs/EOPs, which are key hurdles for healthcare providers and revenue cycle companies.
Rather than relying on BPOs and manual labor (the crux of poor data quality and errors), providers, revenue cycle companies, clearinghouses, and billers are partnering with OrboGraph to deploy its AI and machine learning technologies to electronify these documents. This not only enables drastic improvement of data quality, but also allows for the data to be ingested into PM/HIS systems and downstream BI systems for effective decision making.