"Wrong Number" Text Message Scam: 244 Victims = $42.7M Stolen in One Week
If you get a "wrong number" text, it may be a scam attempt
Text scammers are very patient
"I want to say she waited 20 days and a thousand text messages before she got into investments."
Many times we hear about scams and scammers that do their work quickly and move on. They rely on "quantity of attempts" in order to come out ahead -- something quick and efficient attempted three dozen times will pay off if only two of their targets fall for the ploy.
A new scam in the news takes a bit of that approach, but then mixes it with a "long game" that is resulting in much, much bigger individual payouts.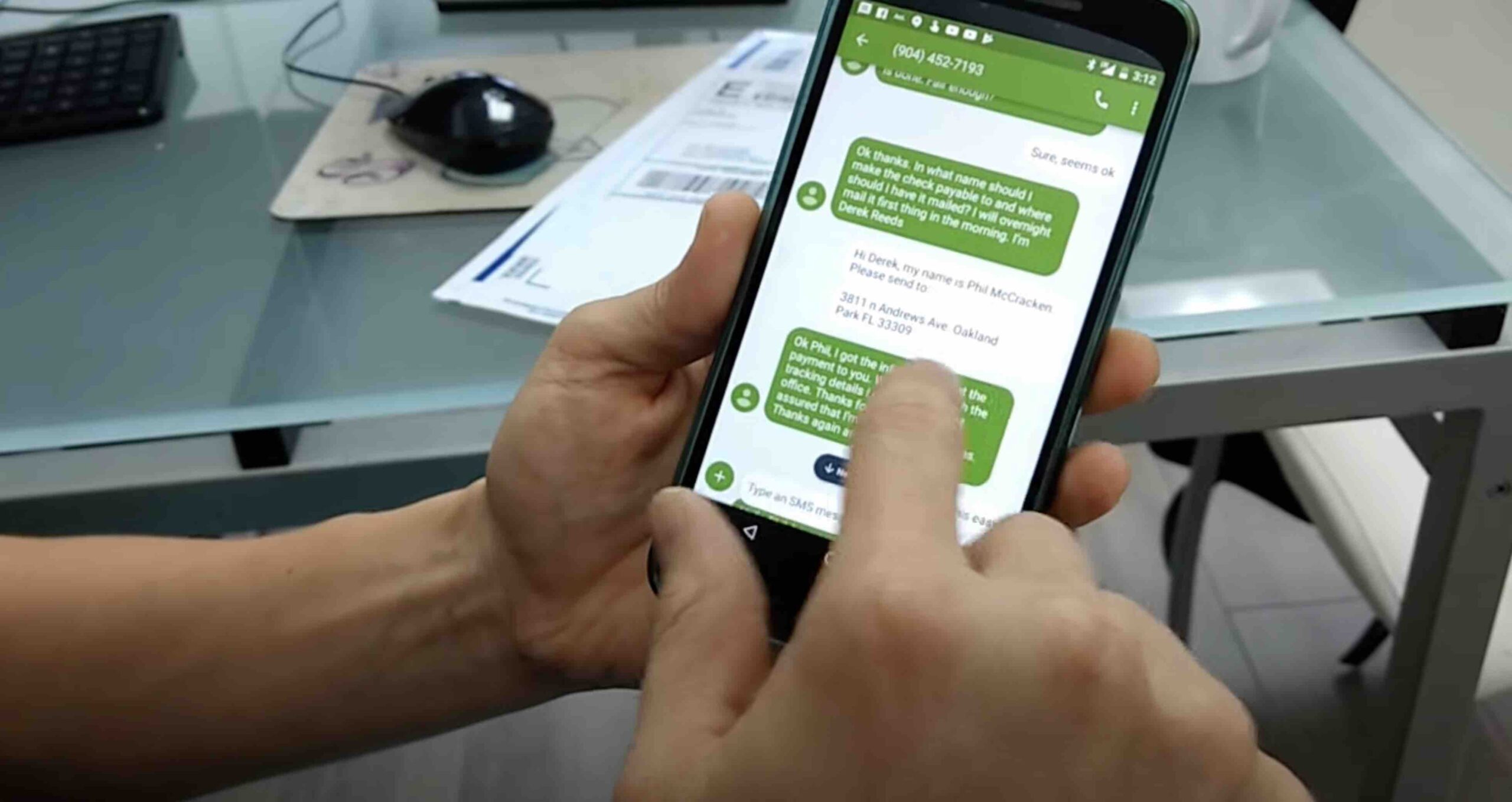 The text message came late Tuesday. Like others I'd been getting recently, it wasn't an obvious scam from the outset — no promise of a warranty or that I'd won a prize, no link to a suspicious website — but instead it seemed to be a frantic message intended for someone else.

It's the kind of text message that has become common for just about anyone with a smartphone.

"Una, good evening, tomorrow morning the contract time of 10am is shifted to 3pm for signing, I don't feel well, I need to go to the hospital tomorrow morning to see the doctor"

I responded that it was the wrong number. Of course, it didn't end there. The person on the other end, "Anna," struck up a conversation.

Within a few minutes, she was offering to help me invest in cryptocurrency.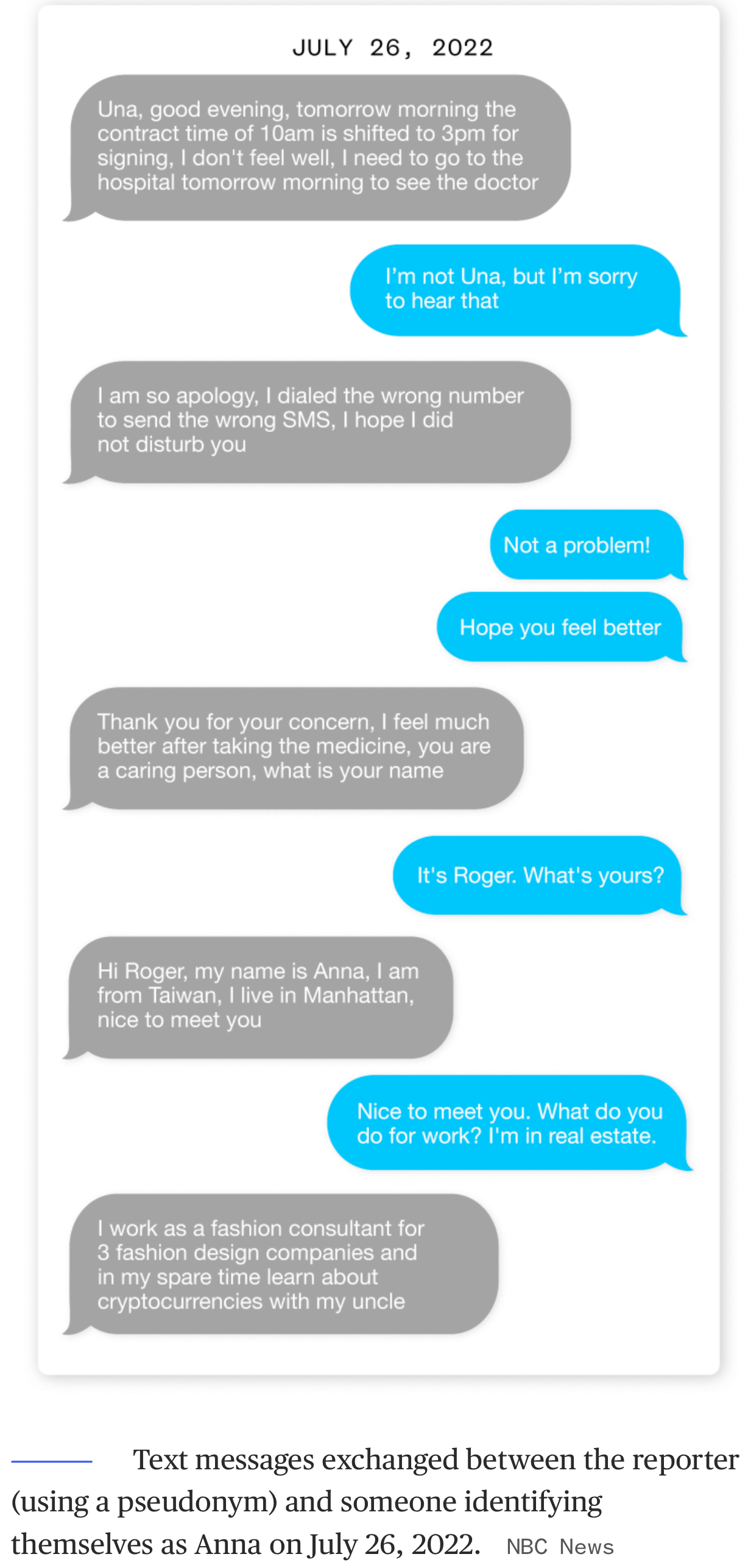 Click the image above to enlarge. 
"Wrong number scams" involve con artists sending out huge batches of eye-grabbing but innocuous texts. Again, quantity is important to their scheme at this stage, but once they have someone on the hook, it's a far more time-consuming ploy - with bigger payoffs. The general scheme is to establish relationships with the potential victims in order to eventually persuade them to give away their savings to invest in cryptocurrency -- which is, of course, an easy channel for fraudsters to steal money.
Mr. Collier's experience is not unique. In fact, employees here at OrboGraph have reported receiving similar text messages from scammers. One employee explained:
I received a few of these text messages over a couple of weeks and thought nothing of it -- rarely engaging outside a quick "wrong number" reply. But there seemed to be a pattern and after doing a quick Google search, I found out it was a scam and decided to call out one of the scammers. Once I exposed them for being a scammer, they became hostile -- showing their true colors.
The "Long Game": Low Success Percentage but Bigger Pay-Offs
Using texts as a fraud gateway is an emerging trend.
The Federal Trade Commission tracks spam and scam complaints, and 2022 is on track to be the first year when more people have reported scammers' contacting them by text rather than by phone, said Juliana Gruenwald, an agency spokesperson.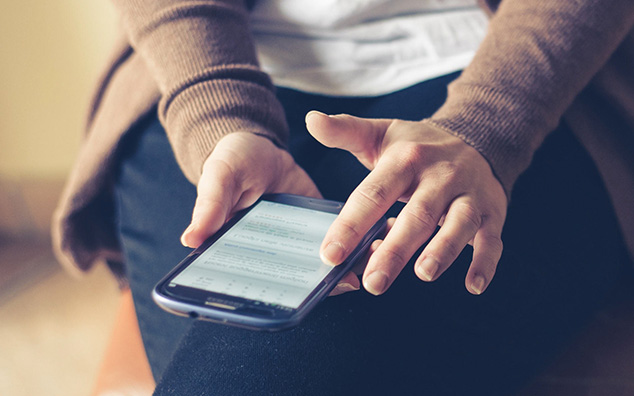 Given the apparent effectiveness of this ploy, we can expect these types of text-originated scams to rise.
Erin West, the deputy district attorney in charge of the high technology crimes unit in Santa Clara County, California, said "accidental" text messages have become one of the most common new ways to trick people in the same crypto scams her office has tracked for several years.

"Some are like, 'Hey, can I make an appointment for my dog at your salon?'" said West, a top prosecutor for crypto scams. "They're broadening the way they will entrance you into the same scam. They are all scams, and I think they are all crypto-investment scams."
Chester Wisniewski, a principal research scientist at the cybersecurity company Sophos, which has investigated several such cases, points out that the scammers tend to persuade victims to switch their conversations to the Telegram messaging app. After that, long conversations led up to the clincher: recommending they download an unvetted investment app that purports to store cryptocurrency with incredible rates of return.
The scam is designed to fail the majority of the time, but when it succeeds, it pays off huge.
While most people don't fall for such scams — the FTC's estimates for this year found that 6% of people who reported text message fraud actually lost money on them — those who do become victims can lose enormous sums.

An FBI warning issued last week found that since late last year, at least 244 people have lost a combined $42.7 million to such fake crypto investment scams.
Indeed, the "long-game" seems to be paying off for scammers who are patient. One victim is a U.S. man who, understandably, agreed to speak only on condition that his name not be published. He lost half a million dollars to the scheme.
"I want to say she waited 20 days and a thousand text messages before she got into investments," he said.
Protecting Customers from Text Message Scams
Unfortunately, text message scams are particularly difficult for banks to provide protection from. However, banks can do their due diligence by bringing awareness of these scams to their customers, educating them to not put their money into unverified platforms.
Furthermore, banks should continue to reiterate that customers not share personal information, including banking information, with anyone over text messages. With just a few pieces of information, fraudsters are able to create new credit card accounts under victims' name, take out loans, and create counterfeit checks to cash.
While a credit monitoring service is strong protection for the first two, transactional-analysis systems are not enough -- particularly if the counterfeit check does not meet certain thresholds for review, such as dollar amount.
In order for banks to effectively stop a counterfeit check, deployment of image-forensic AI technologies that interrogate and analyze the images of the check in crucial. The technology utilizes images of previously cleared checks and, as new checks are cleared, continuously learns and evolves so it can quickly spot anomalous check items.