8 Percent of Payments Fraud Is Linked to Terrorism
An article from Digital Transactions finally quantifies the relationship between payments fraud and terrorism! Startling facts in this report show that, outside of pure fraud losses, there is a crucial national security component to fraud prevention.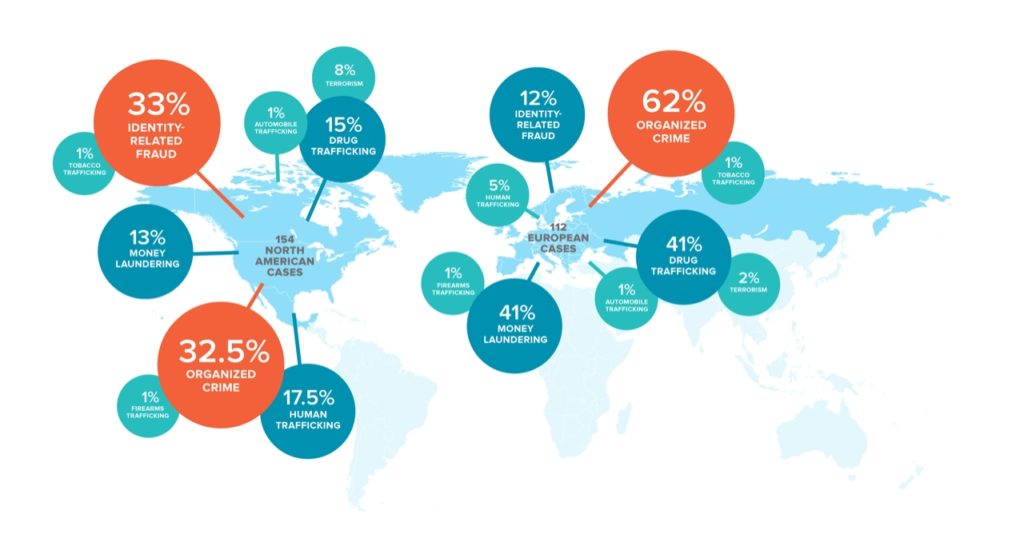 Information-security firm Terbium Labs, in its "The Next Generation of Criminal Financing: How Payment Fraud Funds Transnational Crime" report, reveals that 8% of the 154 criminals cases reviewed were linked to terrorism. Compare that to the 2% rate for the 112 cases examined in Europe.
"Fraud is a global issue," Emily Wilson, Terbium vice president of research, says in an email. "Payment cards skimmed in Iowa end up on Romanian carding markets, and are then sold to fraudsters around the world. The payments industry, from the card networks to the issuing banks, need to reevaluate the scale of the problem. This is no longer just someone stealing credit cards out of mail boxes, this is a highly organized criminal economy thriving on stolen payment data. This research illustrates some of the ways that the criminal economy uses payment fraud to fund horrific crimes; the payments industry needs to reevaluate their approach to identifying and investigating fraud with higher stakes in mind."

"We initially anticipated seeing a more balanced number of cases between North America and Europe," Wilson says of the reviewed terrorism cases. "This uneven distribution requires further research to identify whether North America consistently sees such a high rate of terrorism cases in comparison, or if the rates of terrorism-related cases in Europe are masked by selective case availability or dismissal or fraud charges before European cases reach public record."
A summary of key findings:
North America has the highest rate of terrorism linked fraud cases, with more than seven times as many cases as Europe.
Europe as a whole sees significant fraud links to organized crime, drug trafficking, and money laundering.
Eastern Europe uses payment fraud to support drug trafficking, money laundering, and organized crime.
Western Europe shows higher rates linking payment fraud and human trafficking.
Even with extensive gaps in case documentation, researchers identified more than $1 billion in fraud losses associated with the transnational criminal cases examined.
"We know payment card fraud is a multi-billion-dollar problem, and those numbers only continue to increase," Wilson says. "We have to think beyond the limited transactional borders of fraudulent activity. We can't continue with different levels of commitment to ending human trafficking versus fighting fraud. These issues are one and the same."
OrboGraph is committed to the causes of fighting check fraud as well as enhancing compliance with governmental programs in order to mitigate money laundering. The capabilities used for check fraud detection supplement the ability to improve AML initiatives within the bank. Today, many checks go through the payment process without any kind of scrutiny of the payee, payor, date, and other fields. By extracting this data and using it for AML compliance, financial institutions can lock down the check payment in a much more disciplined way.
---
This blog contains forward-looking statements. For more information, click here.