Financial Crime Alert: Couple Learns That Life Is Not a Monopoly Game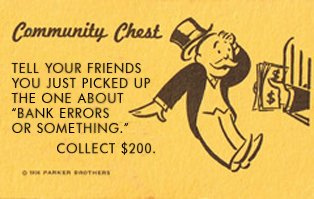 Just when you thought you heard it all when it comes to financial crimes, here comes … accidental?
A Pennsylvania couple thought they were tokens on a Monopoly board when they had $120,000 mistakenly deposited into their bank account. As far as they were concerned, they'd passed "GO" and picked a pretty good Community Chest card all on the same roll of the dice. But receiving money in your bank account that isn't yours, and spending it…well, that's still illegal.
Here are the facts in the case:

– Robert and Tiffany Williams of Montoursville, Pennsylvania, received $120,000 deposited into their bank account.

– The couple never told the bank, and their account had $1,121 before the mistake.

– With the money, the couple put a down payment for a Chevrolet SUV, purchased two four-wheelers, a camper, a car trailer, paid their bills and gave $15,000 to friends in need.

– In June, the bank realized what happened and withdrew the full amount from the couple's account. They had already spent much of the money and had an overdraft of about $107,000, police said.
The trouble started when a teller transferred funds to the wrong account on or around May 31st. By June 21st, the error was spotted, and the bank attempted to "reel back" the funds from the Williams' account — only to find it was not there. The couple told state police they knew the money wasn't theirs, but spent it anyway.
Note that the transfer could have been completely electronic or generated as a "deposit ticket." Also, as the perpetrators were spending the money, more than likely, a few checks may have been involved.
So how could banks have stopped it? Today's modern systems perform validations with error-detecting, which could have been flagged this event based on a few different image and transaction analyzers:
Just remember, life is not a Monopoly game, and when you pass GO, make sure you know who is paying you or you will go to jail!
---
This blog contains forward-looking statements. For more information, click here.