Feds Plan to Take SSN Off Medicare Cards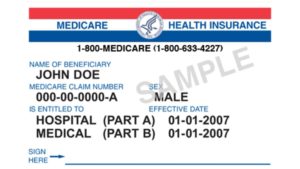 Get ready for a new complication, er… challenge – The Centers for Medicare and Medicaid Services is readying the healthcare industry for the removal of Social Security numbers from Medicare cards by April 2019.
From HealthData Management:
In April 2018, CMS will start generating new MBIs for all living and deceased Medicare beneficiaries, with information systems and business processes hopefully ready to accept and process the MBI. While distribution of MBIs will continue until the end of 2019, the start date is only about 18 months from now. Following a 20-month transition period, CMS will no longer accept the older cards.

The new Medicare Beneficiary Identifier will be 11 digits long and contain a combination of alpha numeric characters.

"We don't even really understand what their distribution strategy will be," says Crystal Ewing, chair of a Cooperative Exchange committee working through the issues.
The Cooperative Exchange, a trade association representing claims clearinghouses, is getting the word out on the new Medicare Beneficiary Identifiers (MBIs) that will replace the SSN. The group reports that it has many more questions for CMS than answers at this point.
Interesting that they are attacking this area. The industry could probably take a lesson and follow their lead. For example, did you know explanation of benefit forms (EOBs) can still have full SS numbers on them from various payers? EOB Conversion technologies typically extract SS numbers and propagate downstream. This is an example of where MBIs could help!