FRAUD MAGAZINE: A Must Read
Fraud techniques grow, improve, and expand every day
Check fraud is often intertwined with other "species' of fraud
Anyone involved in fraud detection and prevention needs to stay up-to-date, and FRAUD MAGAZINE offers useful information bimonthly
If you're a bank fraud analyst, executive, or in any facet of fraud detection and prevention, you see the constant new species of fakery, deception, and outright theft emerging from week to week. Methods and technology change at light speed, utilizing inexpensive and evolving technology as well as an unprecedented web of cyber connectivity that provides easy access to targeted individuals and groups.
Resources to stay ahead of this multi-tentacled monster known as fraud?
The Association of Certified Fraud Examiners, the world's largest anti-fraud organization and premier provider of anti-fraud training and education, offers as part of their membership package a highly useful bi-monthly publication called FRAUD MAGAZINE.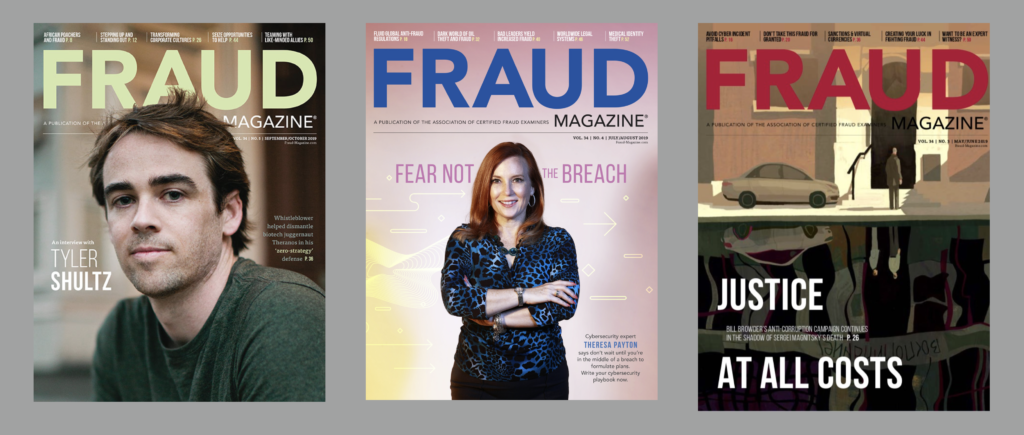 While we can think of a host of public figures who could be snarkily featured on the cover of a magazine with this particular title, FRAUD MAGAZINE covers the entire spectrum of white-collar crime and fraud examination techniques, meaning that it certainly does not limit itself to bank/financial institution-related check fraud.
Key Articles for Check Fraud Personnel
There is a plethora of articles in which to immerse one's self, and if time permits, we certainly encourage readers to dive deep into many of them. But, if you want a quick fix, we have amalgamated key articles for different fraud analysts and executives:
Fraud Analysts
Check Fraud: Separating Money from Worthless Paper is a helpful review and overview of the methods fraudsters regularly deploy
Check Washers Launder Money the Easy Way shows in great detail the profile and techniques of the typical "check washer," including fascinating insight into a "meth subculture" that uses the drug to literally fuel their process of stealing mail and physically altering stolen checks. ("Meth addicts can stay awake for 10 days straight with no need for food.")
Getting Ahead of the Risk helps fraud examiners understand why individuals commit fraud. The three elements — perceived pressure, opportunity, and rationalization — create a trifecta of the perfect storm.
Fraud Prevention Executive
Technology To Stay Ahead of the Fraudsters
In the article Indefatigable Investigator, Jules Kroll, chairman of K2 Intelligence, provides insight related to employee strategies in chasing fraudsters:
An investigative firm should be built on the diversity of its employees. "That is the real differentiator. The client is best served when you offer … a variety of disciplines to problem-solving and problem prevention…"

"…including forensic accountants, fraud examiners, academics, investigative journalists, former prosecutors and attorneys," he says. "Finding the right mixture of nontraditional staff was (and is) one of Kroll's tenets that helped him construct the corporate investigation industry. "
People, technology, strategy and tactics all play a major part in the success rates of fraud prevention. As we have seen in the ABA Deposit Account Fraud Survey, financial institutions have experienced a significant jump in check fraud, both attempts and losses (More on this topic in a future post.) Financial institutions must assess their current technologies and identify approaches like image analysis with multivariate analysis. Having robust systems to detect fraud will results in lower losses and better protection for the bank and its customers.
---
This blog contains forward-looking statements. For more information, click here.