VIP Video Conference: Understanding the Impact of COVID‑19 on FinTech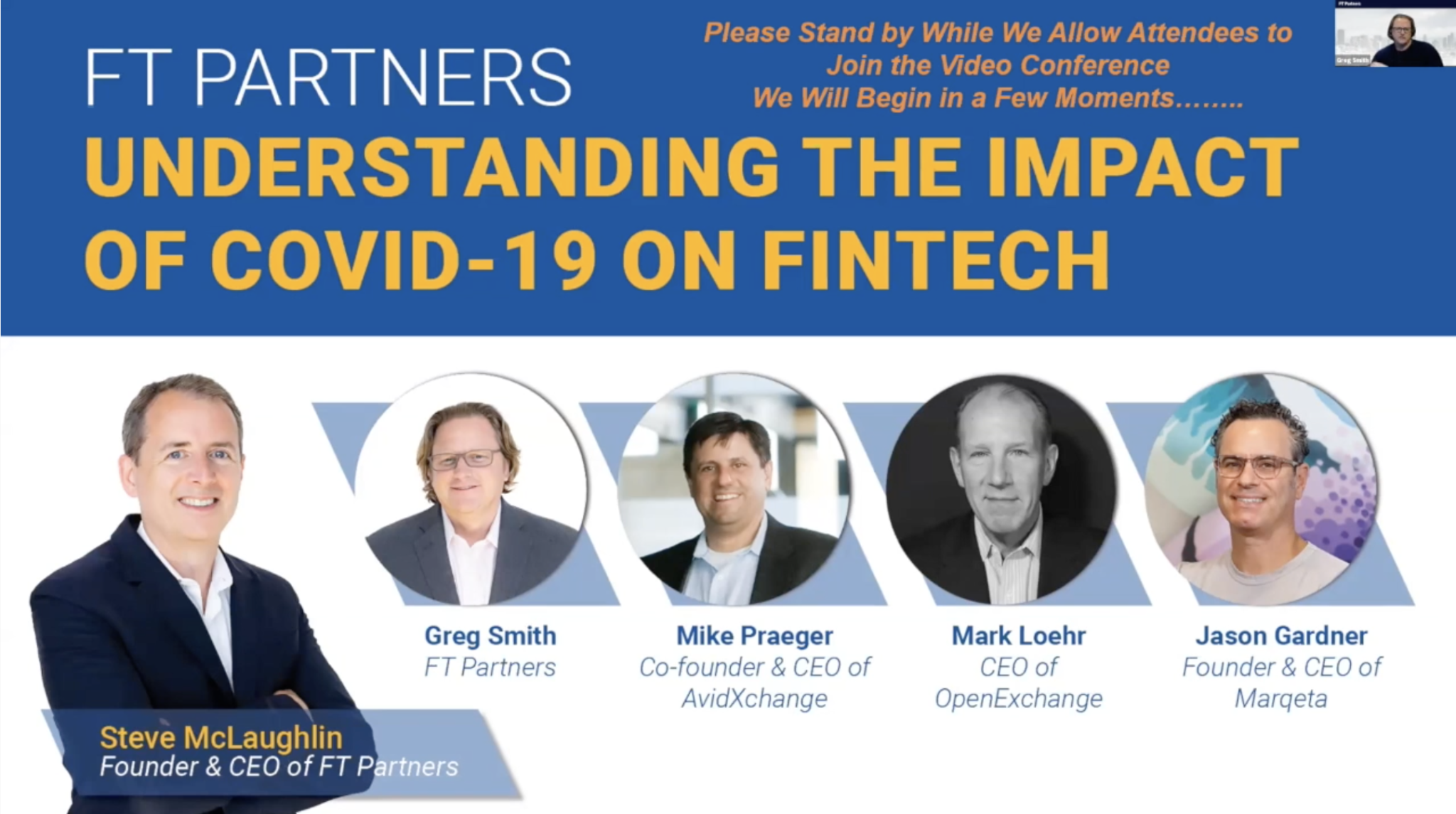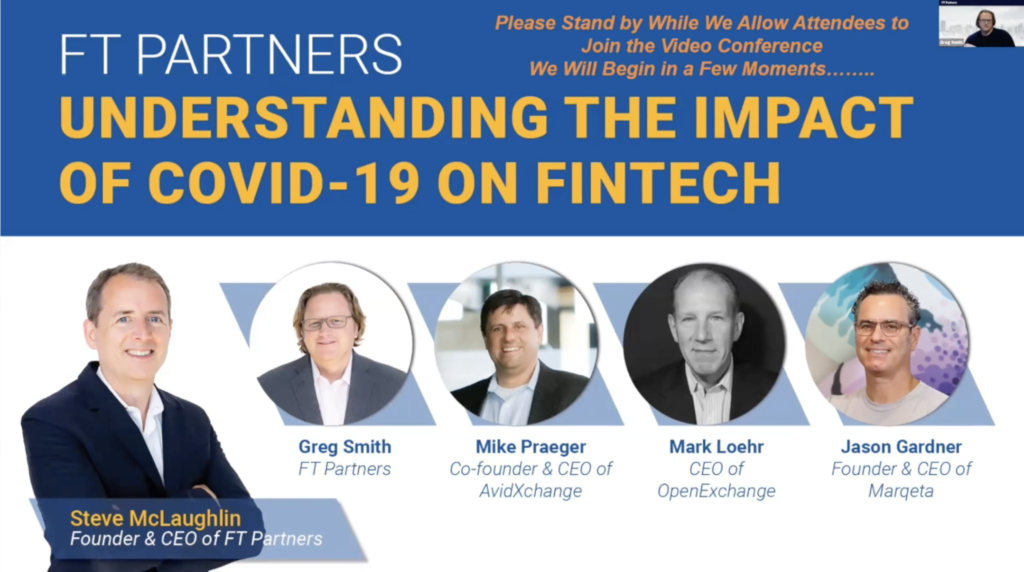 Last month, FT Partners hosted a VIP Video Conference to review their new industry research report, Understanding the Impact of COVID-19 on FinTech, which is available HERE. They were joined by three leading FinTech CEOs and discussed their approaches to the COVID-19 era.
Video Conference Panelists: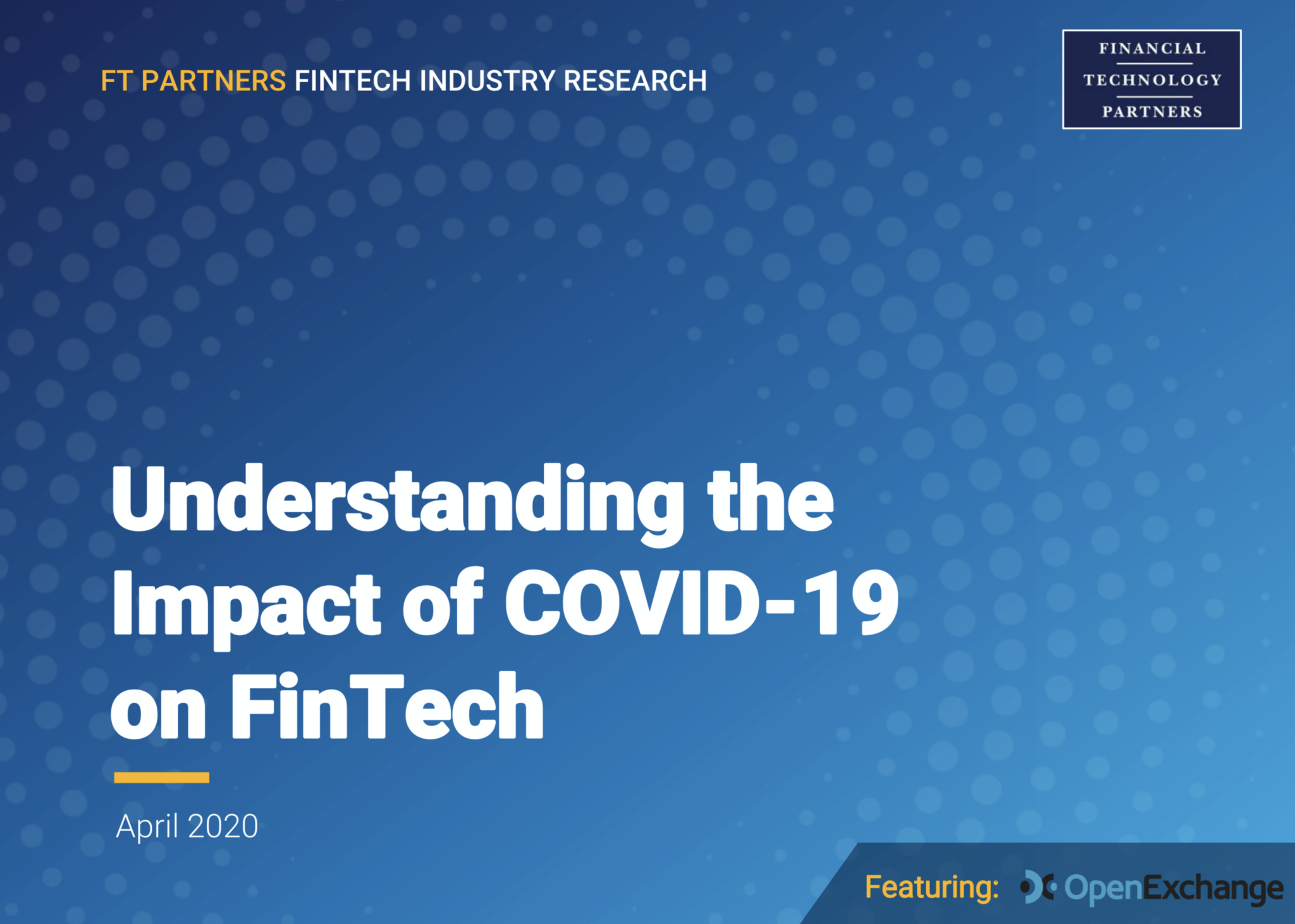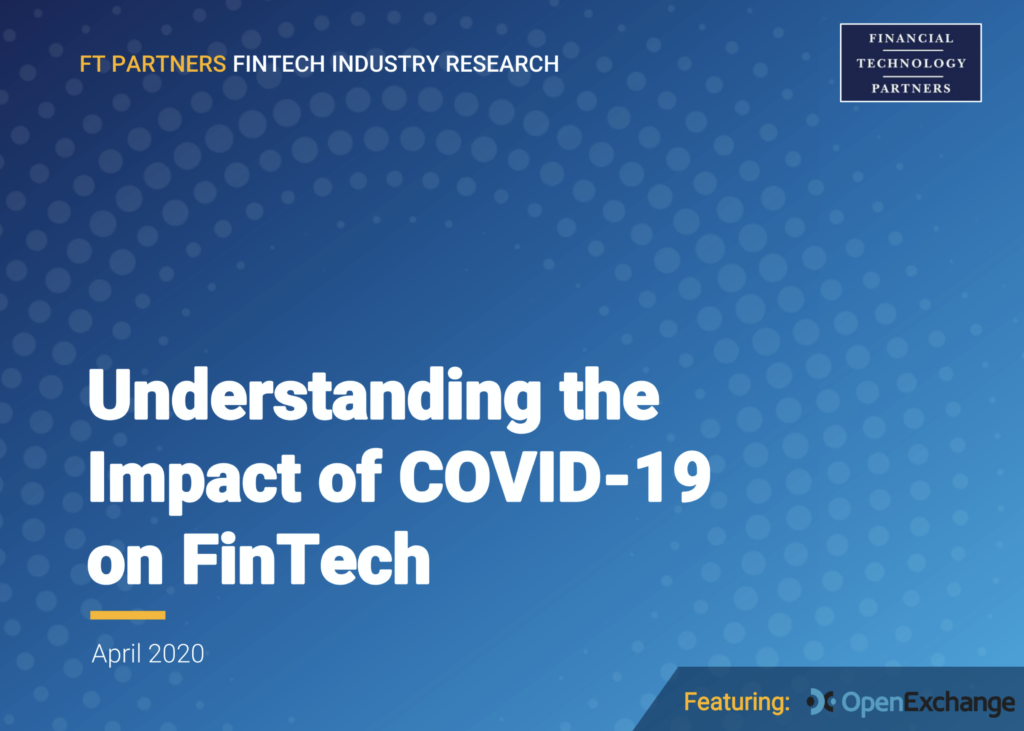 Steve McLaughlin, Founder and CEO of FT Partners
Greg Smith, FT Partners
Mark Loehr, CEO of OpenExchange
Jason Gardner, Founder and CEO of Marqeta
Mike Praeger, CEO and Co-Founder of AvidXchange
Highlights for the Markets and Various Industries
The video conference kicks off with Greg Smith of FT Partners presenting a comprehensive overview of the markets, comparing how Fintechs have performed vs. other markets like the Dow Jones, S&P 500, and NASDAQ during market down turns: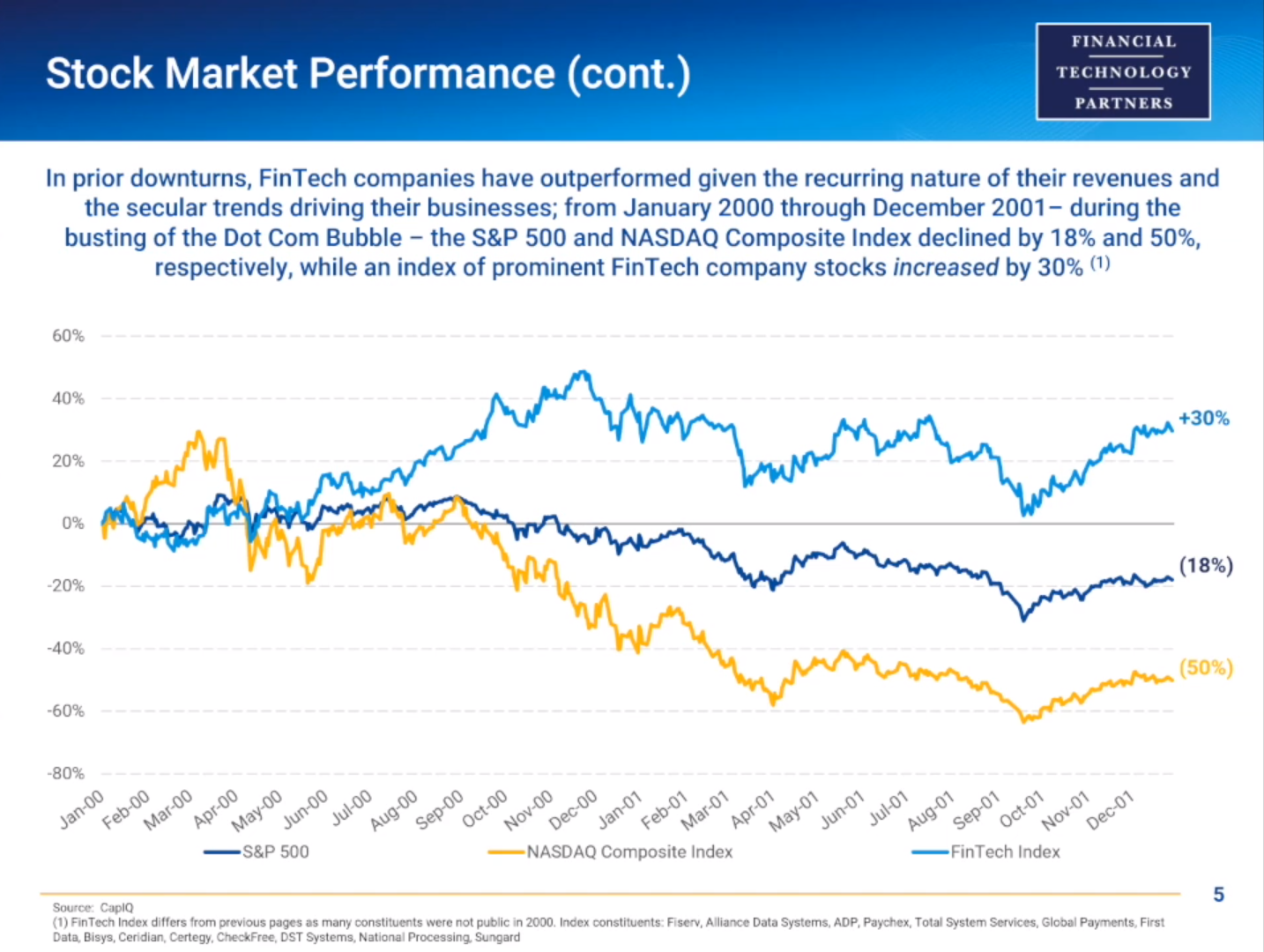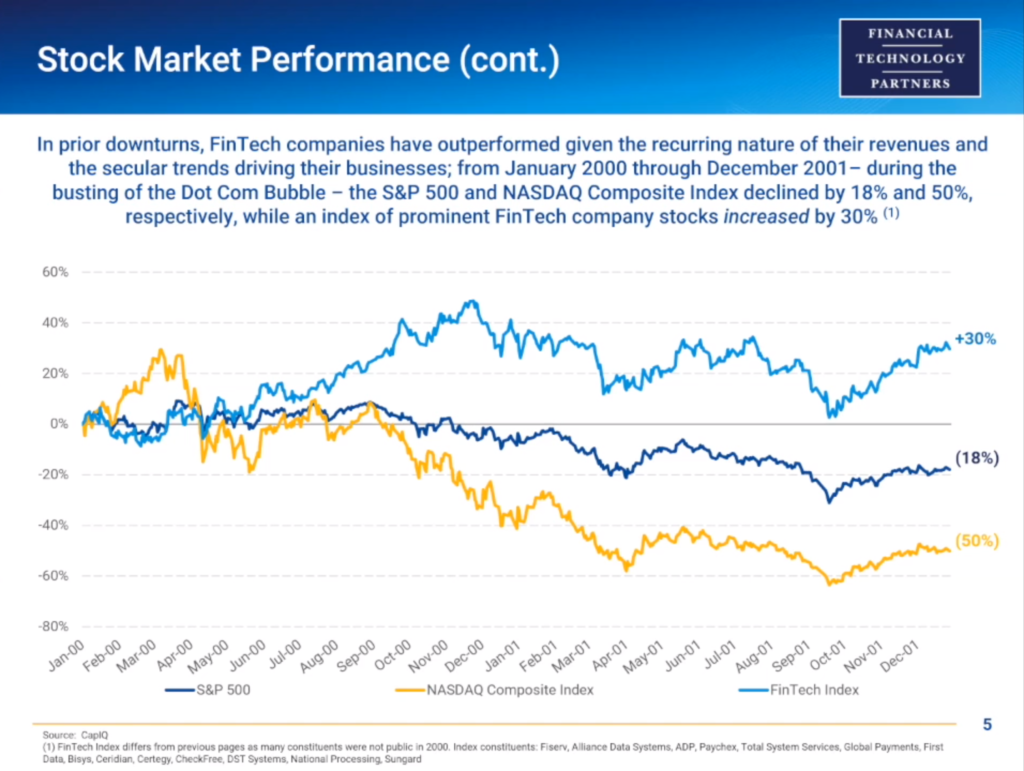 Smith continues with sales data for different industries, along with e-commerce and other markets from a variety of established industry data sources. We won't go into details, but it is definitely interesting information that we recommend you take a look at.
Highlights from The Industry Speakers
Mike Praeger, CEO and Co-Founder of AvidXchange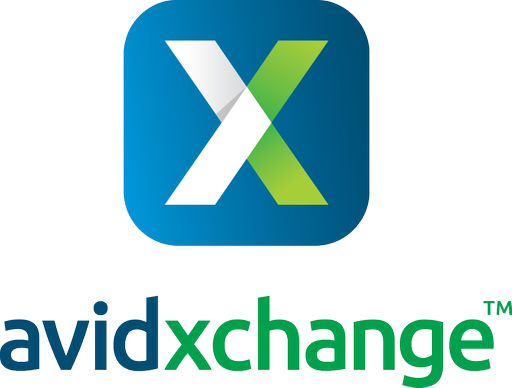 Mr. Praeger details how AvidXchange – a software company that automates accounts receivable – is operating during these trying times and what he is seeing from his client base. He provides an excellent perspective on companies looking to digitize payments, especially in a time where many companies have moved employees to operations working from home.
Mark Loehr, CEO of OpenExchange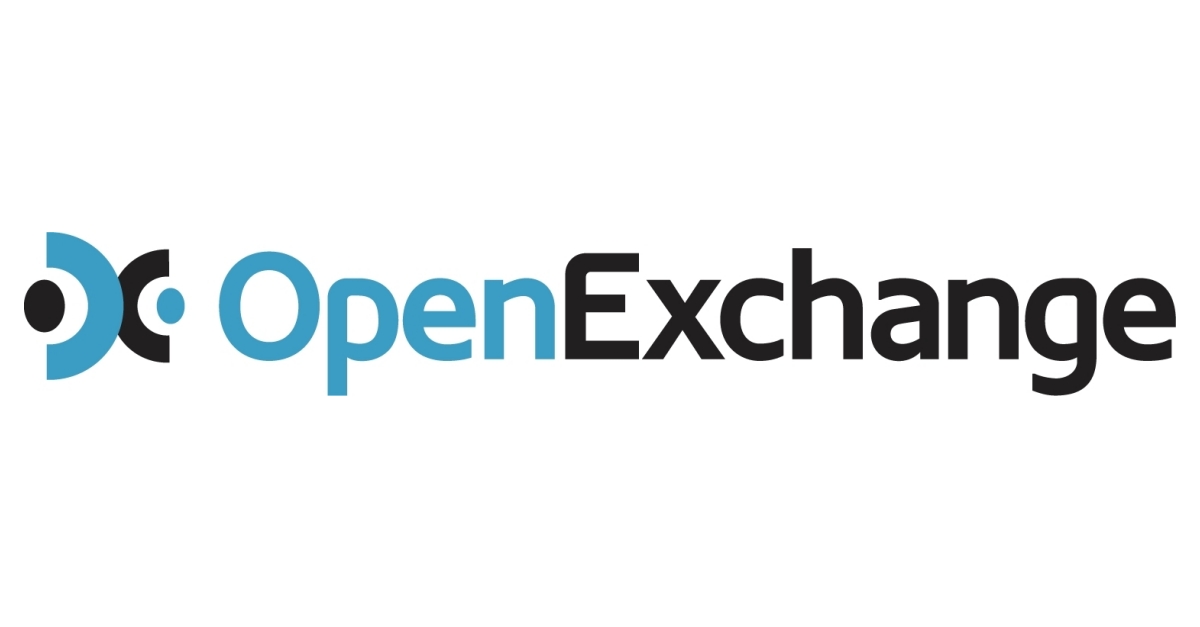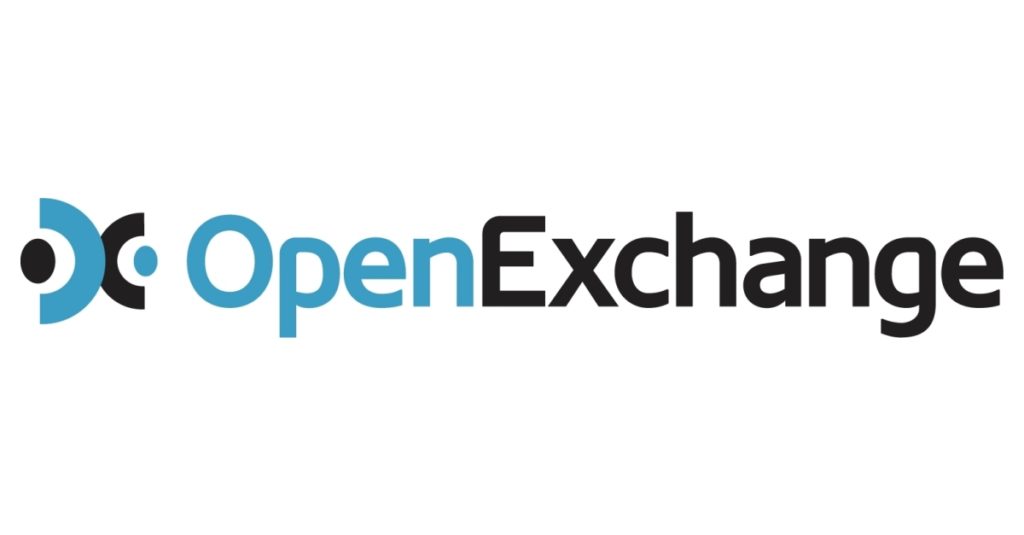 Mr. Loehr provides his perspectives on how the pandemic has effectively moved many companies to embrace digital video calls for external meetings and conferences. There are a multitude of different technologies available, but Loehr stressed the interoperability of the systems — and always test, verify, and manage speaker transitions.
Jason Gardner, Founder and CEO of Marqeta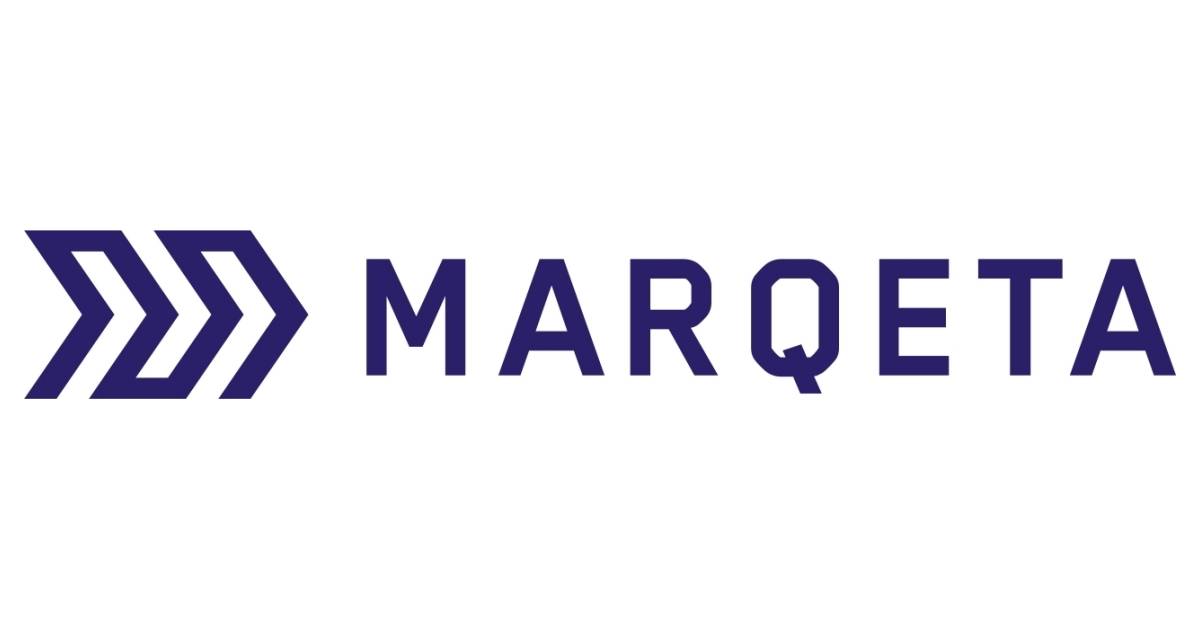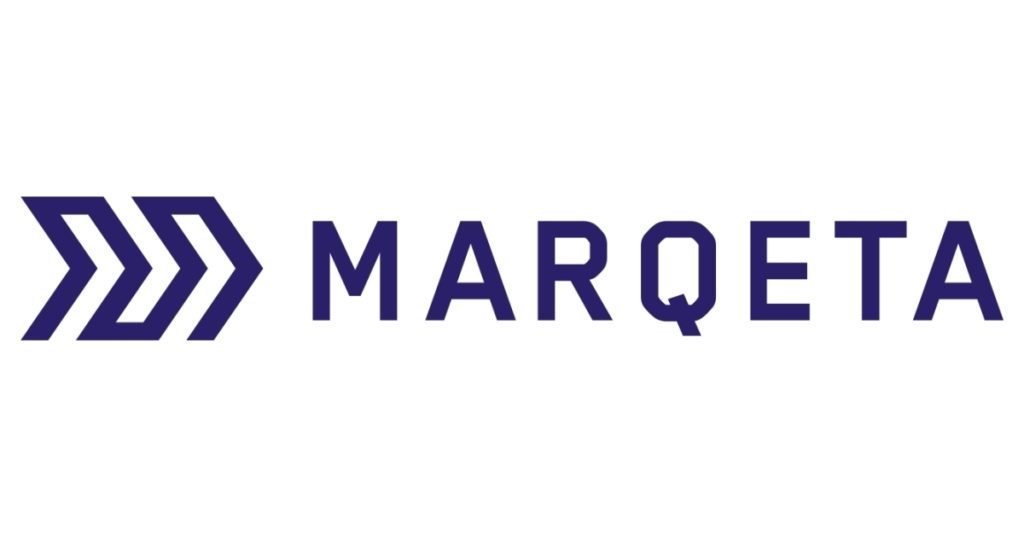 Mr. Gardner provides his perspectives on card payment trends during the COVID-19 pandemic. Marqeta has a unique insight into how many consumers are spending in regards to card transactions during the pandemic.
In addition to insights from an industry prospective, all three discuss how their companies transitioned their workforce to remote working — a challenge many companies have faced.
We think you'll agree that in these unprecedented times — facing obstacles unlike any seen before — it's wise to hear what the key players in the industry have to say. The consistent theme throughout the video conference is that technology is key for success during this challenging period. Companies need to invest in the right technologies or partner with the right technological vendors that can automate processes for success.
---
This blog contains forward-looking statements. For more information, click here.