KLAS Research: Cerner, Epic Among Leaders in Adoption of Healthcare Data Analytics
An article from Health IT Analytics takes a look at the recent Data and Analytics Platforms 2021 Report published by KLAS Research. KLAS Research evaluated vendors with broad analytics offerings and allowed them to identify their deepest platform adopters while interviewing its users. Through interviews with each vendor, KLAS validated the performance of each vendor across the five pillars of a data and analytics platform: data ingestion, data management, analytics, advanced analytics, and underlying components.
According to KLAS Research:
The need in healthcare for broader, deeper analytics has increased dramatically, and provider organizations are now looking for consolidated, end-to-end analytics platforms that offer a wide variety of capabilities. To validate what is possible with these solutions, KLAS gave vendors with broad analytics offerings the opportunity to identify their deepest platform adopters. We then interviewed three such organizations for each vendor and validated their adoption across the five pillars of a data and analytics platform.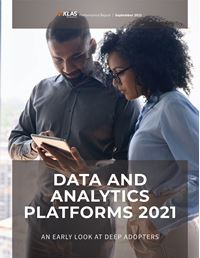 Through this methodology, KLAS Research identified Cerner, Epic, and Health Catalyst as the healthcare technology vendors that saw the deepest adoption among established analytics solutions.
"Customers highlight Cerner's data-ingestion capabilities and services and describe them as a standout strength for the vendor. Deep adopters report deeper advanced analytics adoption than some other customer bases, with most leveraging predictive, prescriptive, and geospatial analytics," the KLAS report stated.

For Epic, 100 percent of the basic capabilities have been adopted by at least one of Epic's deep adopters. As for advanced capabilities, natural language processing (NLP) and system return on investment (ROI) calculation have yet to be validated.

With similar success, all three of Health Catalyst's deep adopters use the vendor to aggregate clinical, financial, and operations data, reporting broad adoption of the advanced platform capabilities.
The Importance of Cloud-Computing
For data analytics, and, more importantly, healthcare data interoperability, the industry must take the necessary steps in adoption of cloud computing. According to Innovaccer, one of the technology vendors identified in the KLAS Research Report:
More and more healthcare organizations are adopting cloud services to enhance their clinical operations and establish a data-driven culture. In fact, recent research shows that the global market for cloud technology in healthcare is expected to grow by more than $25 billion between 2020 and 2024.

Cloud technology allows organizations to move from in-house, high-cost infrastructure maintenance to a "pay-for-what-you-use" model. With flexible and scalable capabilities, health clouds reduce IT complexity and lower costs while enhancing resource utilization and service delivery. However, the cost can often be a barrier to technological transformation.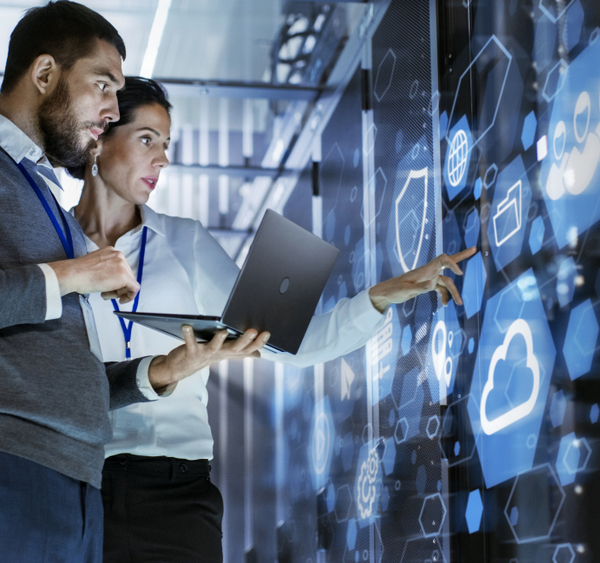 By migrating to cloud-computing services, healthcare providers are able to leverage numerous integrations to digital health services, enabling them to unlock a wide collection of APIs on cost, quality, and utilization. Additionally, in order to fully leverage data analytics, healthcare providers and their vendors need to deploy artificial intelligence and machine learning to process the data and provide meaningful insights.
As the industry looks to fully leverage the capabilities of data analytics -- and in turn full healthcare interoperability --  it must fully embrace cloud-computing to leverage necessary technologies like AI and ML. This extends throughout healthcare, including revenue cycle where paper-based remits and EOBs/EOPs and correspondence letters are still key hurdles for healthcare providers and revenue cycle companies. By leveraging cloud-computing for revenue cycle data analytics, healthcare providers are creating an efficient payments process, while identifying key trends and issues causing denied claims.