Report: First-Party and Third-Party Check Fraud Increase 78% and 74% in 2022
Aite-Novarica Group fraud executives at Aite-Novarica Group's 2022 Financial Crime Forum
Check fraud and scams are growing disproportionately to other forms of fraud
In spite of check fraud growth, some banks remainl hesitant to invest in anti-fraud technology
Following expert research and reporting, the guide predicts which fraud trends will continue to rise, which can be quelled, and what fraud fighters need to add to their stack to stay ahead of threats, new and old.
Aite-Novarica Group surveyed 34 U.S. fraud executives who attended Aite-Novarica Group's Financial Crime Forum in September 2022 in order to better understand the current and future environment for fraud trends.
Fraud Findings from the Report
In summary, the report finds the following:
A significant shift in the fraud landscape emerges: Check fraud and scams are growing disproportionately to other forms of fraud. This suggests that fraudsters are migrating to new and rediscovered revenue channels while relying less on tried-and-true methods like card fraud and account takeover (ATO).
Fraud is back: A spate of reports from the U.K.'s House of Lords to the National Retail Federation reveal that fraud as a criminal enterprise is more pervasive and poorly addressed than most observers realize. The report found fraud growing particularly strongly in the post-pandemic period of economic uncertainty.
Conditions are ripe for criminal activity: Public perception of economic deterioration is predictive of criminal activity and is near historically low levels indicating that fraudsters appear to have ample motivation for attacks. Recent reductions in U.S. postal inspectors and ever-improving methods for broadcasting vulnerabilities have significantly increased check fraud in North America.
Latent demand and a dearth of innovation: Investment priorities are not shifting to meet fraud trends. This indicates that fraud executives are preoccupied with uncertainty around regulatory changes to liability for scams and a lack of compelling investment opportunities for long-neglected check fraud controls.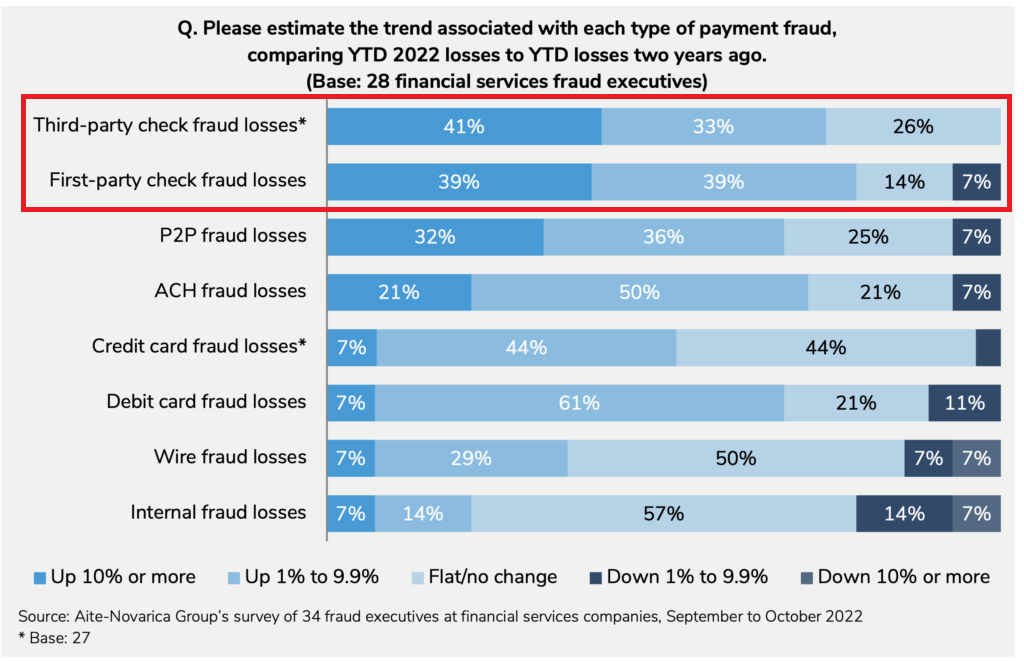 2022 YEAR-TO-DATE FRAUD LOSS TRENDS AMONG NORTH AMERICAN FIS: Checks lead the field in fraud increases
The data show that check fraud continues to grow, with 74% of respondents seeing a rise in third-party check fraud with 0% seeing a decline and 78% of respondents seeing a rise in first-party check fraud with only 7% reporting a decline. While the sample size is on the smaller size, we are able to see that the respondents' views align with the industry reports.
Additionally, as noted in the report:
These trends reflect anecdotal observations from many fraud executives who expressed astonishment at the pace at which check fraud and scams are growing. In one case, a large FI reported that its rate of third-party check fraud had tripled in terms of the rate of growth over the last year. Several other fraud executives at large FIs in the U.S. reported that first-party check fraud had risen to uncomfortable levels of growth.
Check Fraud: Not "Boring" and "Predicatable" Anymore
The report recognizes that the once-tranquil -- and boring? -- field of check fraud detection and prevention has now become far more "interesting":
Check fraud used to be pleasantly boring. By many accounts, it was unremarkably predictable for many years. One former fraud executive explained that when it came time to forecast losses, check fraud was "by far the easiest of them all" because, they explained, "over the years it neither grew nor contracted" and "it was refreshingly predictable." Then there is the old joke among veteran fraud fighters that the last check to be processed will be fraudulent. The idea is that the steadily declining volume of checks banks process will eventually collide with the frustratingly steady rate of check fraud.

Unfortunately, if we assume that the overall volume of checks circulating in the economy has continued to decline, then the ratio of fraudulent checks to legitimate checks has taken a grim turn in the past year. The number of FIs reporting significant increases in first- and third-party check fraud is rising sharply.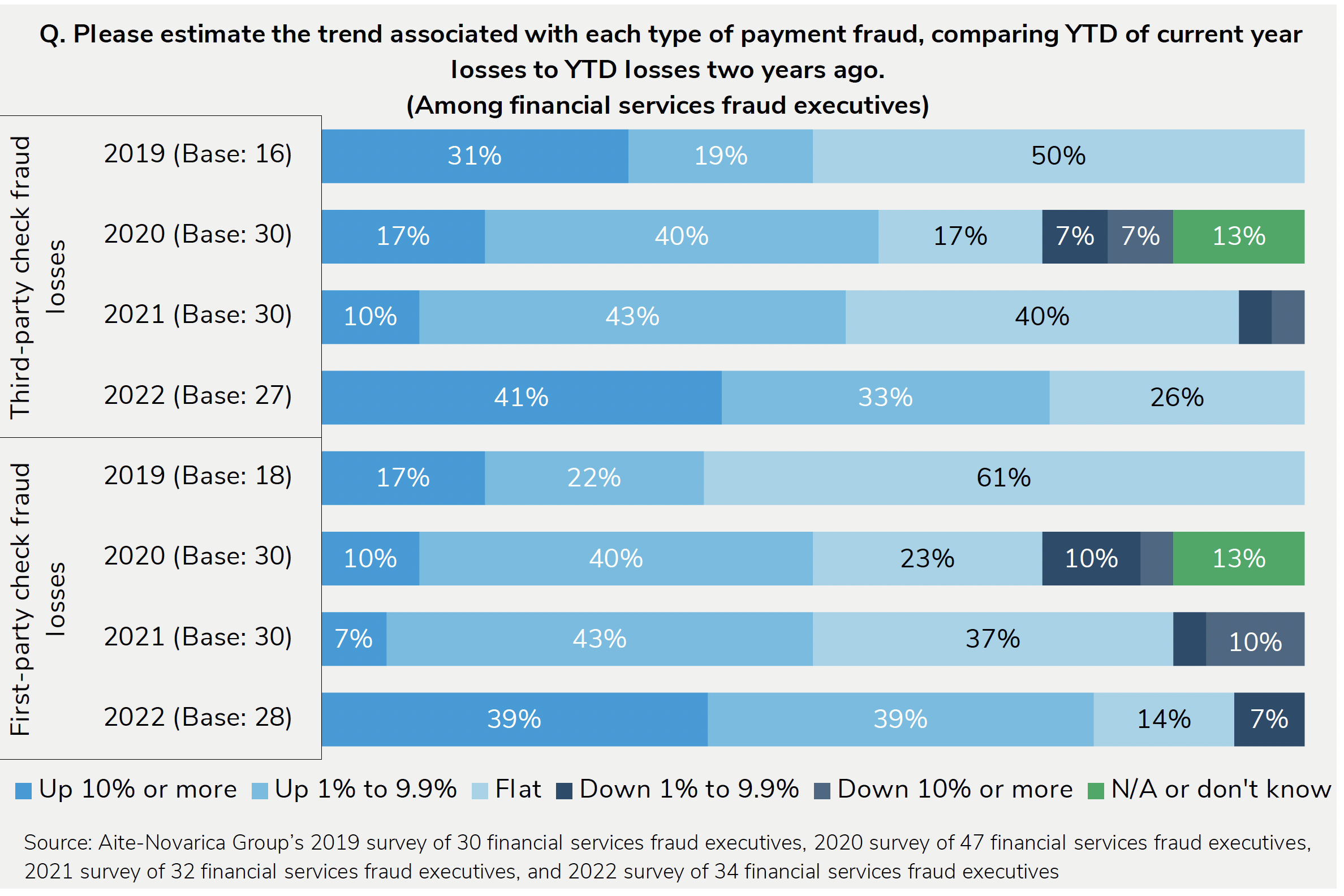 YEAR-OVER-YEAR TRENDS IN CHECK FRAUD FROM 2019 TO 2022 
Investments in Check Fraud Technology
Even with such data available, there is still hesitation to adopt the technology required to combat the "new wave" of fraud.
The consensus among fraud executives is that the patterns of frequency among attack rates for check fraud and authorized payment scams have transformed. Where once they were manageable, now they are increasingly testing (and, in some cases exceeding) thresholds for key risk indicators designed to measure impacts on reputation, client experience, operational capacity, and tolerance for financial losses. Evidence that this shift in activity has prompted fraud executives to become more concerned about improving their control frameworks for detecting and preventing these kinds of attacks, however, is murkier than expected.
Figure 11 from the Aite-Novarica Group report shows that first-party check fraud detection and prevention capabilities is the only payment concern that has increased the past 3 years -- with 2022 being the period with most concern.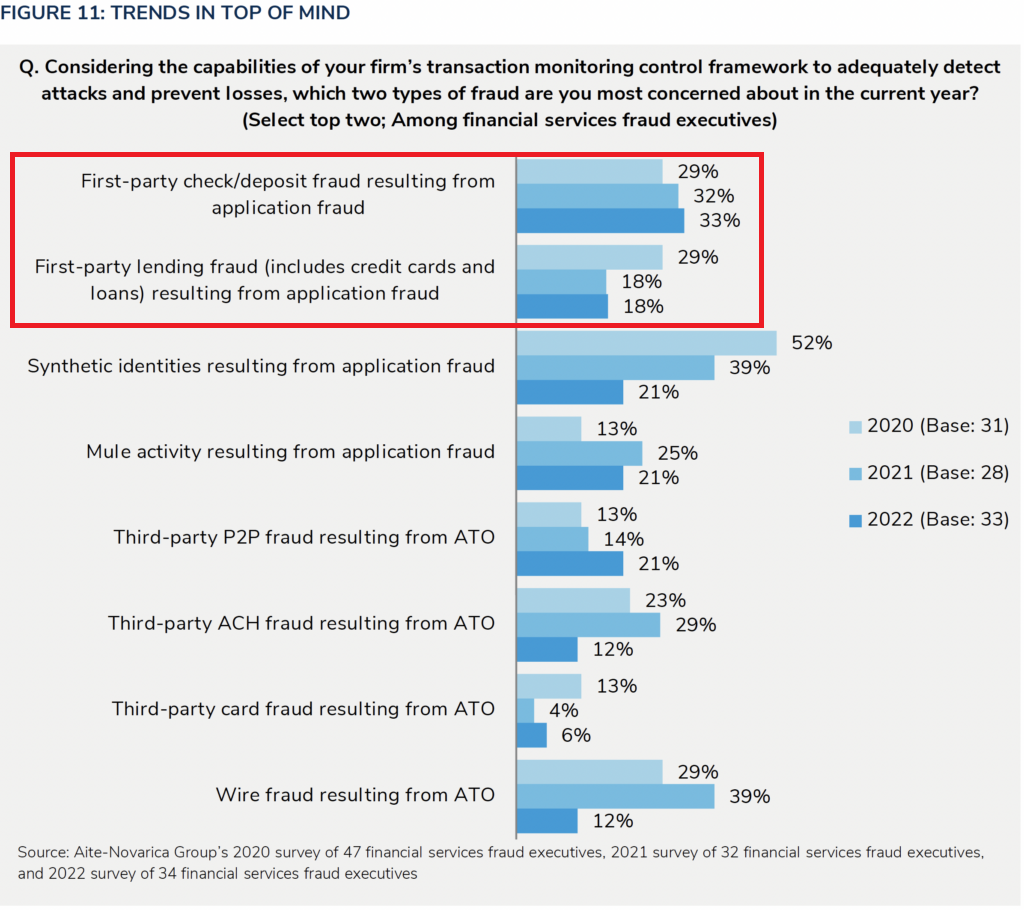 In spite of this, however, Aite-Novarica Group relates that only 50% are likely to very likely to make the investments necessary to take on the challenges -- and major concerns -- resultant of check fraud.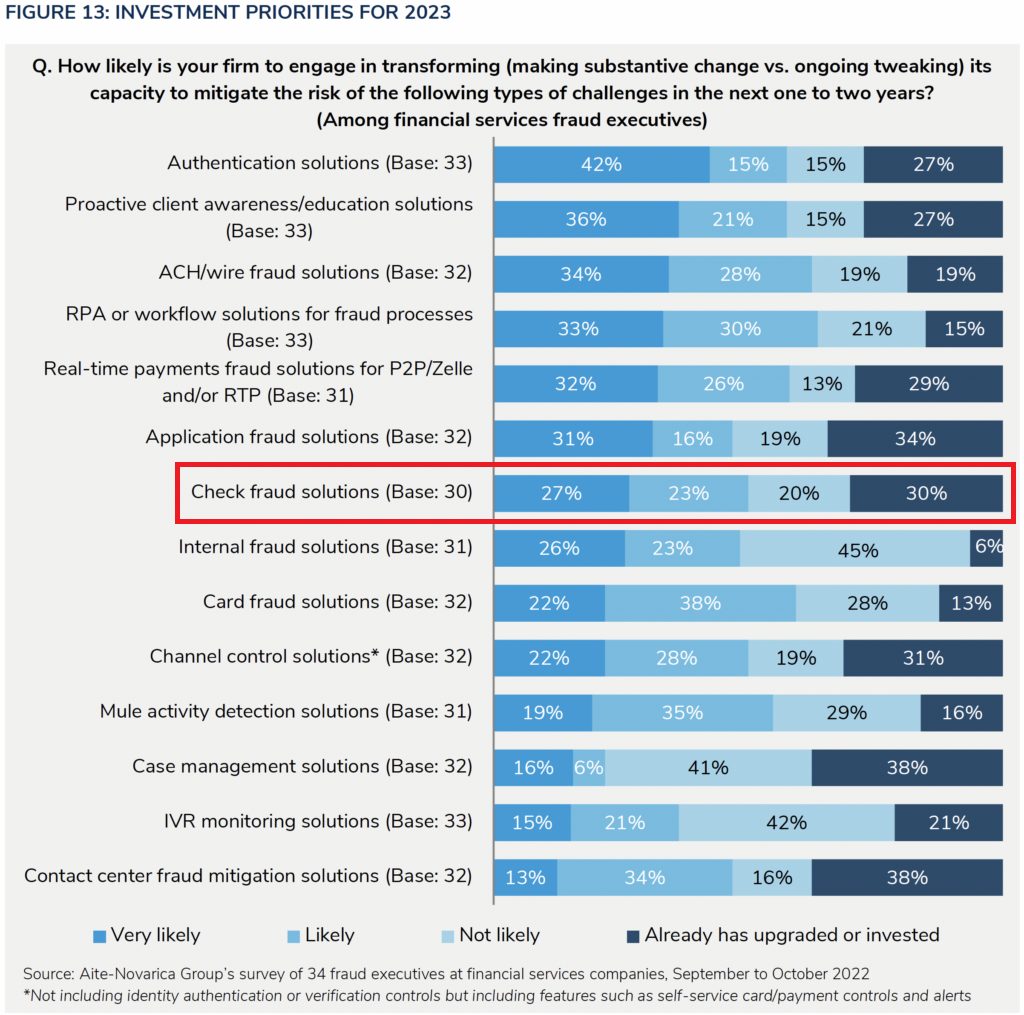 In particular, image forensic AI for check fraud provides a thorough analysis of suspect checks -- improving accuracy to 95%+ detection rates on targeted use cases by performing a deeper analysis of the items than traditional OCR technology. Image forensic AI utilizes advance analyzers including Check Stock Validation (CSV-AI), Automated Signature Verification (ASV-AI), and Alteration Detection Analysis that interrogate the images of checks to identify counterfeits, forgeries, and alterations.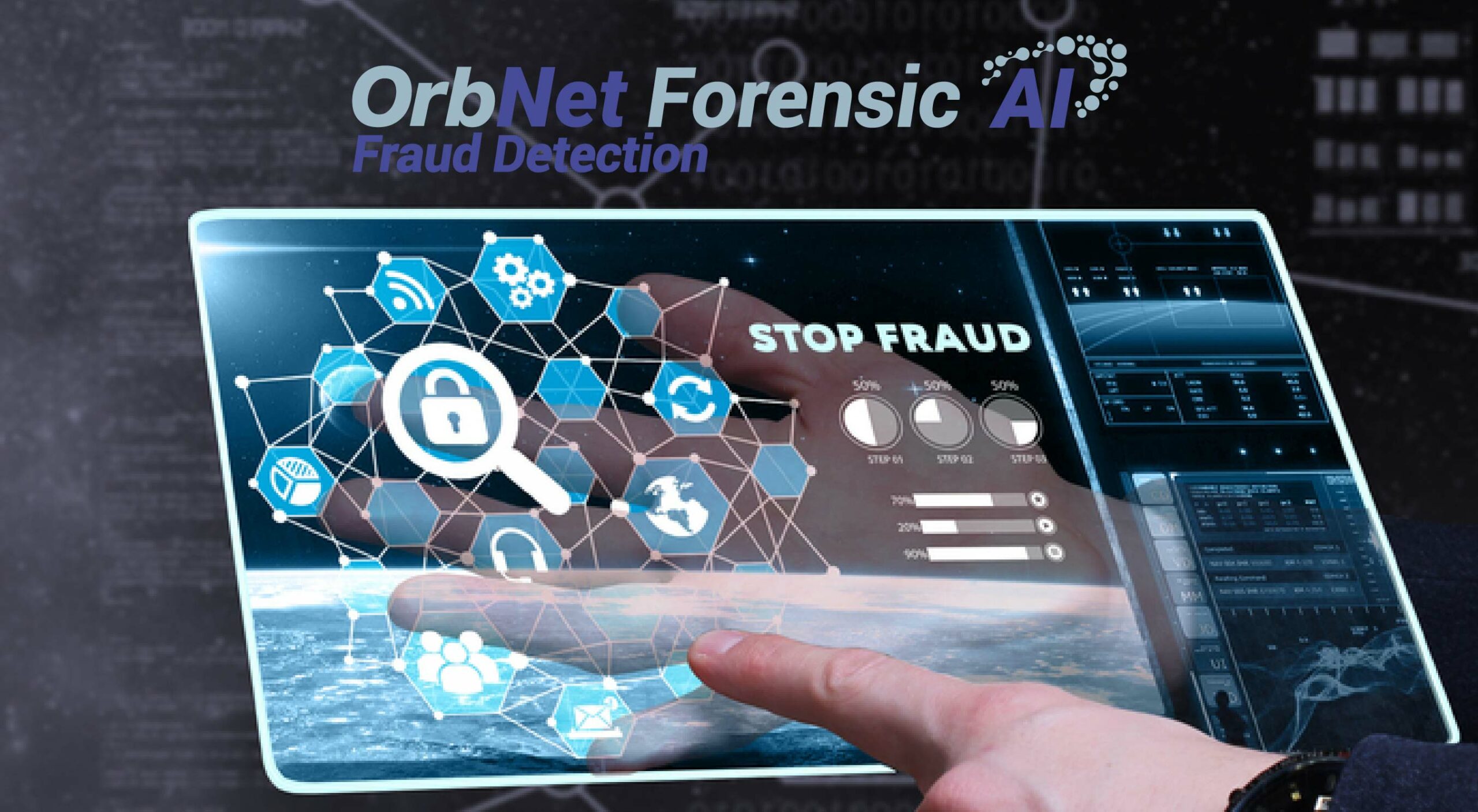 Additionally, the technology continues to improve with OrboGraph announcing the launch of Writer Verification -- end of Q1 -- that is able to analyze the handwriting style of a suspect check and compare it to previously cleared checks. This includes date (i.e. "02/01/2023" vs. "February 2, 2023"), handwriting style (i.e. cursive vs. non-cursive, machine printed vs handwritten), and amount (i.e. $1000.00**** vs, ***$1000.00).
The technology is currently available to address financial institutions' concerns on check fraud. Choosing not to invest in those technologies will result in further increases in fraud losses.