The MUSE Scam: A New Fake Check Scam Variant…Stopped by Reddit?
Artists are targets for the "Muse Scam"
Scammers will present themselves as "helpful middlemen/agents"
Reddit saves individual from becoming a victim of a fake check scam
The targets for fake check scams know no bounds. This scam takes advantage of individuals who are not familiar with the funds availability rule within their banks. By the time a person deposits a check to their account -- with an amount that is more than they were expecting -- and transfers the difference to the scammer, the scammer disappears with the money and the individual has no way to recoup the losses.
Recently, a young artist shared via Reddit an offer he'd received from a "potential client/middle man" who offered a "collaborative" gig with some interesting strings attached specific to payment.
Wisely, he shared his initial interactions with the Reddit "Scams" group, along with a screenshot of the exchange:
Hi guys, recently I've been getting those messages from a supposed artist who wants to use my picture for an artwork, and I've been wondering is this a scam? I have no idea how such things work + I'm still 16, and I'm really scared of getting scammed.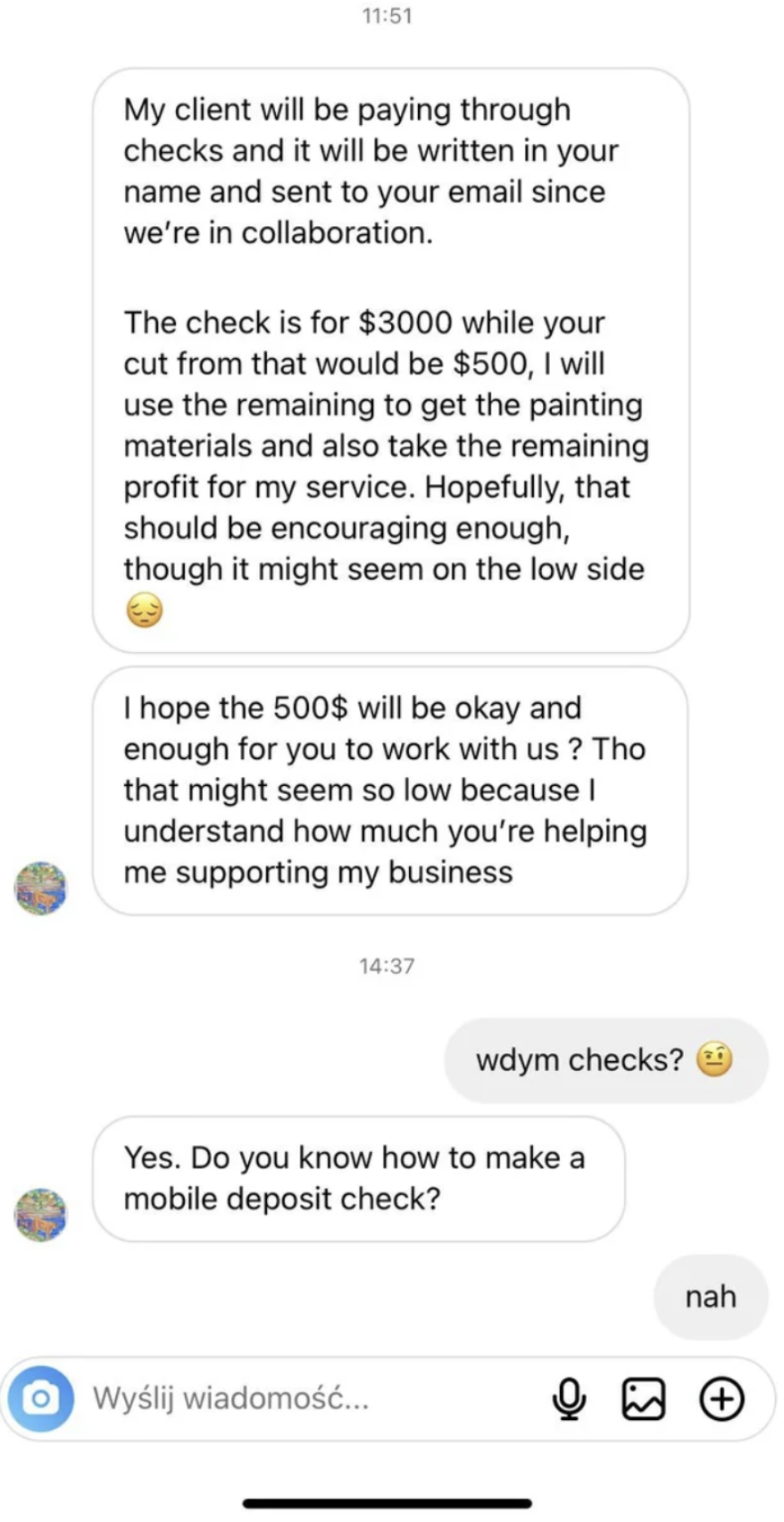 Reddit -- know for being a no-frills social site where users come to discuss a variety of topics -- is not the typical space many of us would think to go to for investigating scams...and that may be an oversight by the fraud fighting community. There are dozens, if not hundreds of "subreddits" dedicated to bringing awareness to scams.
Looking past the artist's initial reaction to the check requirement (WDYM = "What do you mean"), it's interesting to note that Reddit is equipped with "AutoModerator" functions that will produce a message immediately upon seeing material related to specified subjects; in this case, fake check scams: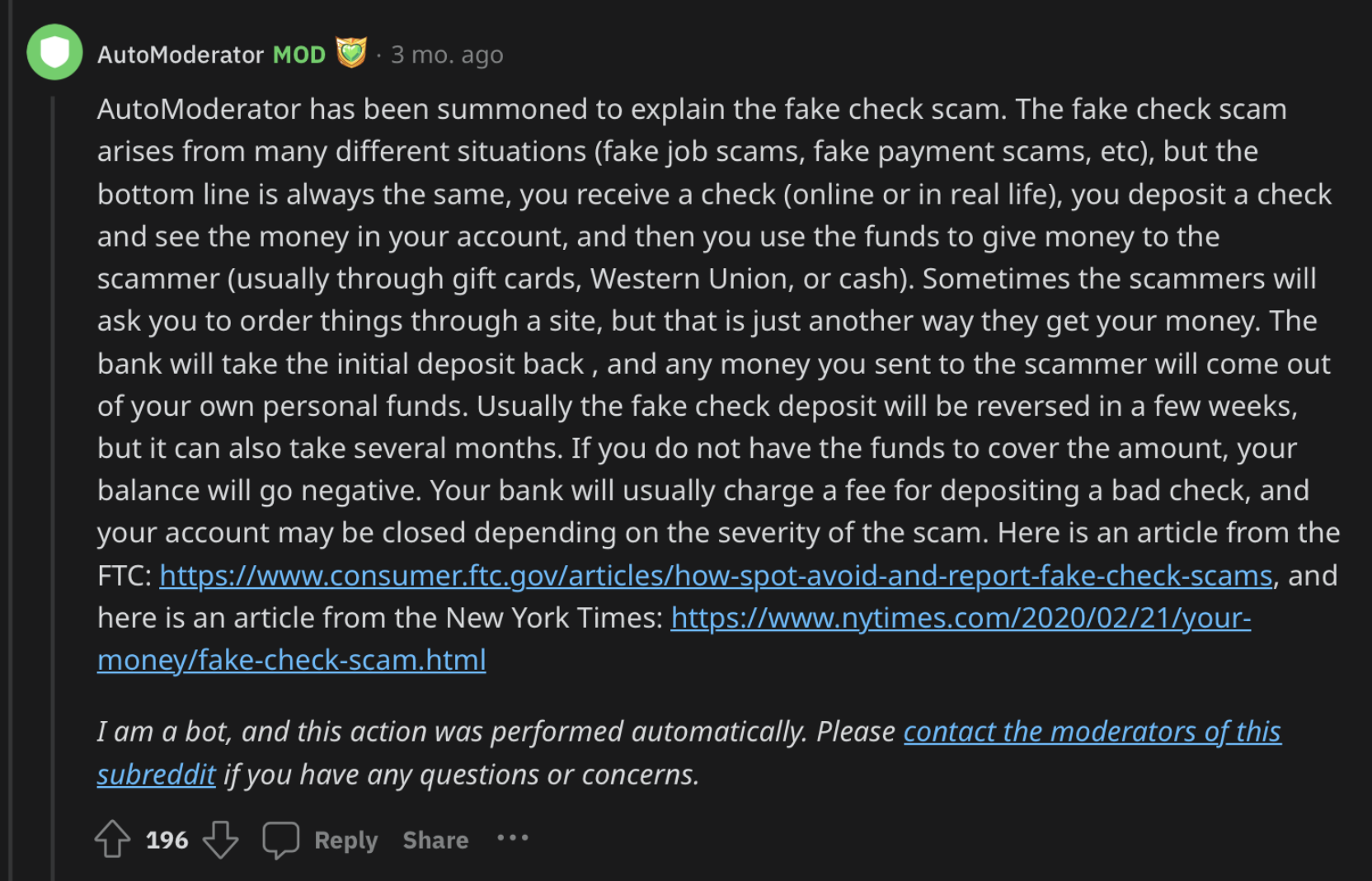 It didn't take long for a member of the Reddit "Scams" community to post an explanation:
The muse scam is a new variant of the fake check scam. The scammer will contact the victim over social media and claim to want to use their image for an art project. They will offer a generous sum of money and offer to pay via check. The victim will be instructed to send money to the scammer for "materials" via an irreversible method. The scammer will often use a stolen social media account to increase their credibility. Usually the fake check deposit will be reversed in a few weeks, but it can also take several months. If you do not have the funds to cover the amount, your balance will go negative. Your bank will usually charge a fee for depositing a bad check, and your account may be closed depending on the severity of the scam.
An interesting wrinkle is the scammer's use of hijacked social media accounts to enhance credibility; the average careful person will do a bit of a "background check" by looking at links to Facebook, Instagram, etc. accounts to make sure the person making the offer is "real," much less trustworthy.
When we examine how the scam was handled, we see an interesting path the individual took.
First, the victim: Very young at age 16 -- we can assume he has little exposure to business-type scams --  but was able to identify that this situation seemed fishy.
Second, rather than investigate through online searches, speaking to an adult, or even checking with his financial institution, he took to Reddit where the AutoModerator function kicked in to inform the user of a possible scam, with other Reddit users commenting to warn the user.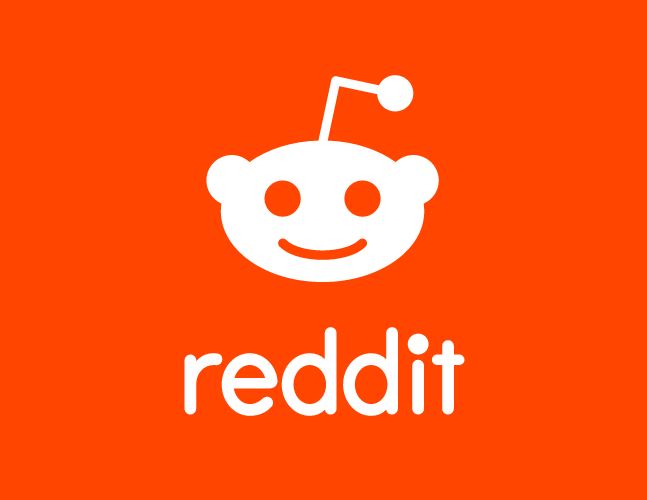 In summary, the young individual had the wherewithal to identify that the situation did not feel right, took to a social media site that was able to identify the scam automatically, and had access to fellow users who were able to assist him.
Protecting Users of All Ages from Check Fraud
It's important for financial institutions to make sure they are communicating with all of their consumers -- from the youngest users just starting their financial journey, to the older generation who may be retired and on fixed incomes. Spreading awareness through different channels like Reddit is an effective way to ensure that scammers are unsuccessful.
While many #FraudFighters take to LinkedIn to spread awareness, we must understand that their reach is limited to other working professionals who typically possess knowledge of these types of scams. It is incumbent upon us to ensure our outreach spreads to the most vulnerable.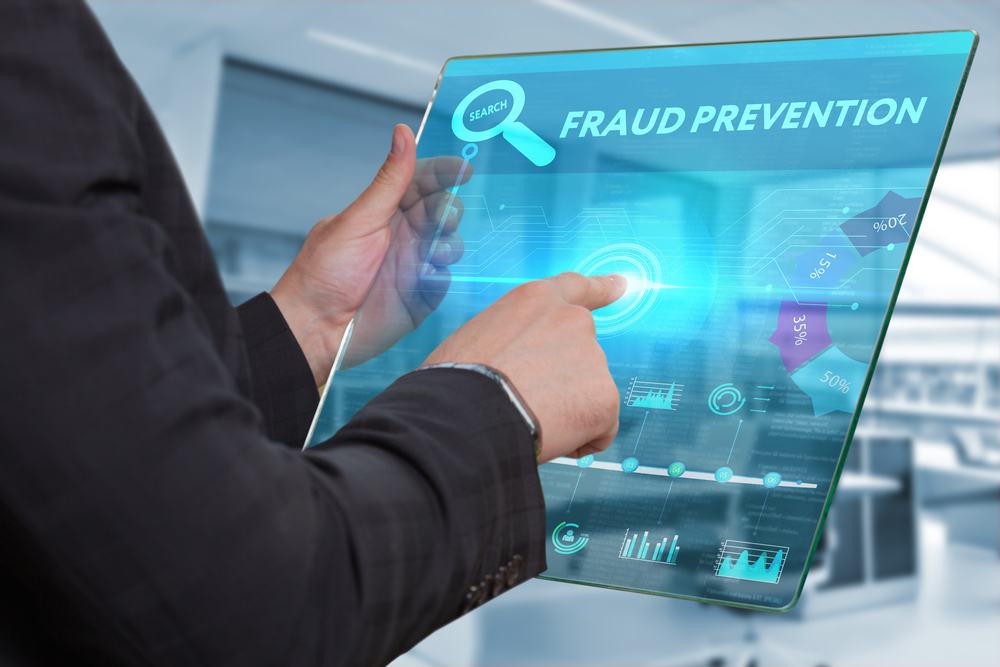 Finally, financial institutions need to ensure that they have effective technologies like AI and machine learning in place to identify fake checks being deposited. Combining behavioral, transaction-based systems with image forensic AI provides the protection needed to ensure that customer funds are safe.