Want More Payment Data? How About 2243?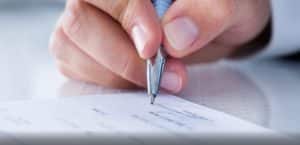 The PYMNTS-Ingo Money Disbursement Satisfaction Index™ is an impressive research document summarizing payments. If you're a banker, product manager, solution provider, or anyone interested in payments, the 2,243 data points might interest you!
There is certainly an anti-check tone to the initial sections, but overall the data is very interesting. Check out pages 8-21 for a variety of demographics. There are a number of charts and data points related to the disbursement mix which consumers experience as well as gender and age preferences.
As we've reported previously, checks are still strong and indeed seem to be defying the odds. So just like any major player, other products and services are going to push for market penetration.
A few pro-check points include:
22 trillion | Dollars worth of payments using paper checks written each year
750 | Average value of disbursements paid annually via paper checks in USD
62 | Percent of respondents were very or extremely satisfied with their check disbursement (Table 10)
30 | Percentage of people who received non-government disbursements through paper checks
As the battle for payments continues, a growing economy should drive more business and consumer-to-consumer payments — which should be good for all of us!
SaveSaveSaveSave
SaveSave
SaveSave