BBB Study: Job Scams Jumped During Pandemic
2020 saw 14 million victims of job scams
The median monetary loss for victims was $1000
Fake checks play a significant role
The in-depth investigative study finds job scams increased during the pandemic, and warns job seekers to verify employment offers to avoid illegal jobs, identity theft and fake checks, some of the many forms employment fraud takes and the scams that often result. Read the full study at BBB.org/jobscams.

Job scams have been a problem for years. In 2020, the BBB estimated 14 million victims with $2 billion in direct losses related to job scams. Last year, the 2020 BBB Employment Scams Report by the BBB Institute for Marketplace Trust found job scams to be the riskiest of all the scams they tracked in 2018 and 2019. However, the BBB's study finds that the problem worsened in 2020. Losses reported to the FBI's Internet Crime Complaint Center (IC3) about employment scams were up 27% between 2018 and 2020.
A Closer Look at the Victims and the Job Scams
When examining the data of the victims, the BBB Institute's 2020 study reports some interesting findings:
This fraud most commonly victimized people ages 25-34, with women filing 67% of complaints about this fraud
The median financial loss reported by these victims was $1,000
32% were never paid for the work they did for an "employer" that turned out to be fraudulent
Taking a deeper dive into the study, the BBB found that 36% of job scam complaints to BBB involved a fake check, with fake check complaints to the Federal Trade Commission increasing by 65% between 2015 and 2020. That is over 5M victims of scams involving checks.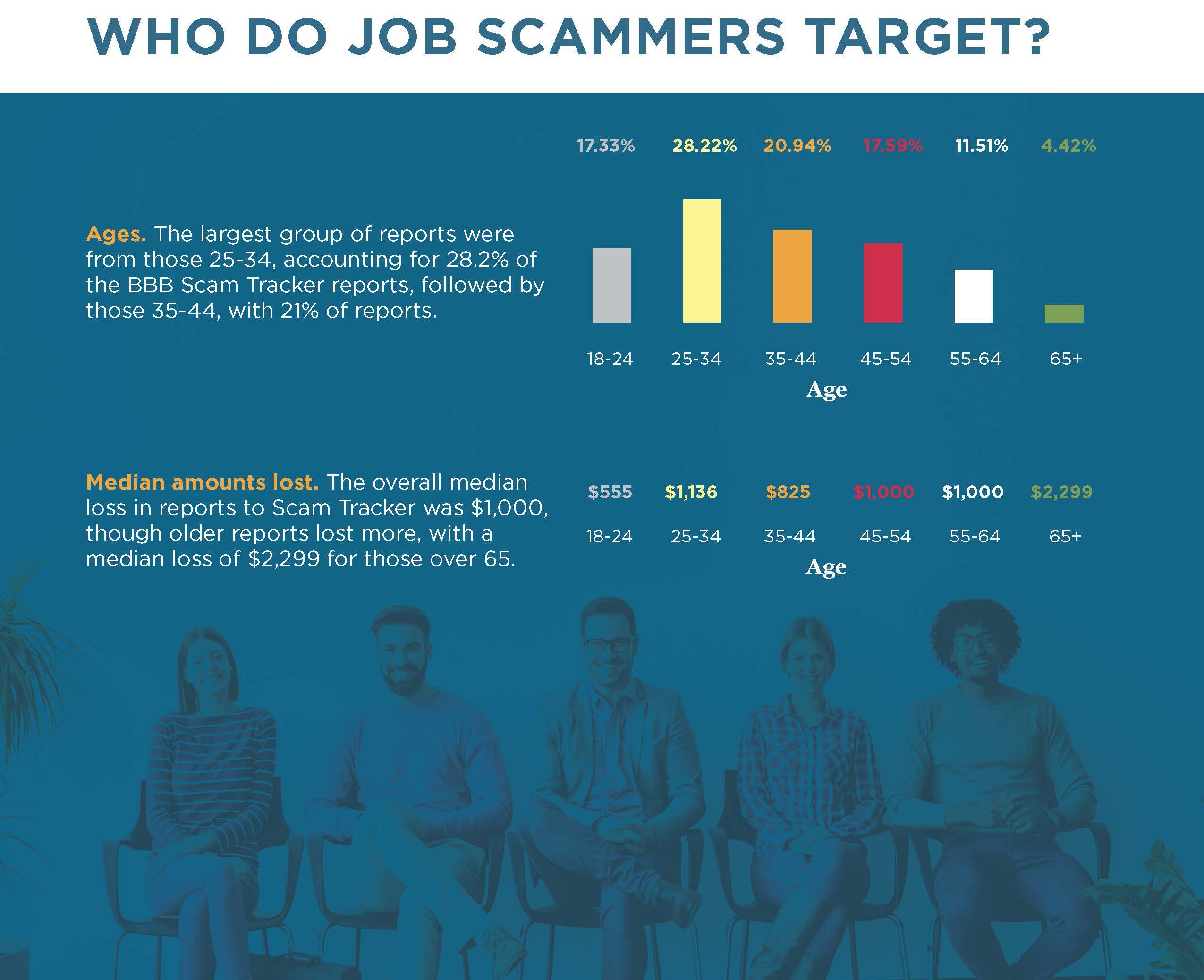 Click the image to enlarge the infographic.
The individual victims are not the only ones feeling the pain:
In the two years since BBB issued an investigative study on fake check fraud, losses absorbed by banks themselves due to fake checks went up 40% to reach $1.3 billion. Common fraudulent job offers involving fake checks include mystery shopping or secret shopper jobs, car wrap jobs, nanny or caregiver jobs, and small-business jobs such as photography or painting houses.
Nevertheless, these scams hit individuals hard:
One woman who lost her job during the pandemic was recruited through a job search website for a job as a remote assistant for a large company. The "employer" deposited a check for $2,400 into her bank account to purchase equipment from a third-party vendor, then asked her to buy $2,400 in Home Depot gift cards and text them the numbers on the back. She heard nothing further from the "employer," but her bank informed her that the check deposited to her account was fraudulent. She not only lost the funds she spent on the gift cards but had another $2,400 stolen from her bank account.
Scammers pretend to hire people as mystery shoppers and tell them their first assignment is to evaluate a retailer that sells gift cards, money orders, or a money transfer service, like Western Union or MoneyGram. The shopper gets a check with instructions to deposit it in a personal bank account and wire it to someone else. But once the money is wired, the person on the other end can disappear.
People apply online and get hired as personal assistants. They get a check and are told to use the money to buy gift cards or to buy equipment or supplies for their new client. Once the scammers get the gift card PIN numbers, they use them instantly, leaving the "personal assistant" without the money when the bank figures out the check is bad.
People interested in car wrap advertising are told to deposit checks and send money to decal installers — who don't exist.
Sweepstakes "winners" are given checks and told to send money to cover taxes, shipping and handling charges, or processing fees. But that's not how legitimate sweepstakes work.
With over 5M victims of job scams that involve checks, banks need to put a greater emphasis on deploying the best tools possible to protect themselves and their customers as the current technologies and review processes are inadequate. This has led banks of all sizes to take an image-forensics approach leveraging new and innovating AI technologies to better protect themselves and their customers. This technology enables banks to examine large volumes of checks, identify which checks are legitimate, and signal those that should be manually reviewed by a human -- reducing the amount of labor needed to ensure funds are protected.