COVID Has Expanded Small Businesses' Use of Banking Services
The effects of COVID-19 have been far-ranging and, in many cases, quite detrimental to businesses large and small and have altered the way customers are banking.
There is evidence that customers will continue to pivot to digital banking even after they feel more comfortable visiting businesses again. About 85% of customers who have relied more on mobile and online platforms plan to continue doing so once the pandemic subsides, according to a survey from consulting firm Kearney.

And 40% of people expect to visit their local branch less often after lockdown restrictions in their community end, according to consulting firm Simon-Kucher & Partners.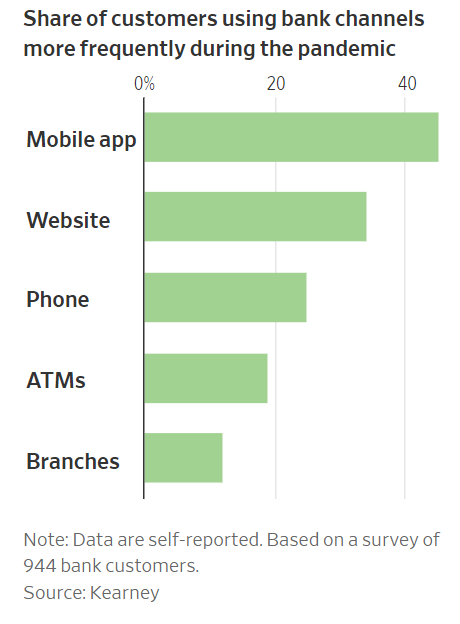 However, while visits to local branches have decreased, we're finding that conditions brought about by the pandemic have actually caused small businesses to expand their usage of banking services.
Services like "mobile business banking" have seen an increase of small business usage, jumping from 70% in 2019 to 86% in 2020.
Similarly, "Payroll processing services" were used by 72% of small businesses in 2019 and 86% in 2020.
66% of small businesses used mobile deposit and check scanning in 2019; 80% do in 2020.
In 2019, 63% of small businesses used their bank for advice on managing company finance; 77% of small businesses did so in 2020.
58% of small businesses used their bank for leasing in 2019; 71% did in 2020.
58% of small businesses used their bank for an equipment loan in 2019; 69% did so in 2020.
56% of small businesses used their bank for a vehicle loan in 2019; 68% did so in 2020.
"Small businesses have been hit hard by the pandemic. In many ways, more than their larger counterparts. Organizations that service small business have an opportunity to help these firms as they try to come out of the COVID crisis," states the author of the report, Pete Reville, Director of Primary Data Services including Small Business PaymentsInsights Survey Series at Mercator Advisory Group.
As customers shift their behaviors, banks need to ensure that the customer experience is consistent throughout the omnichannel. It is crucial to integrate technologies, like OrboAnywhere, that are able to be deployed throughout all the channels to support these shifts while providing superior performance.