Fintech Firms Offering Checking Accounts – Not Yet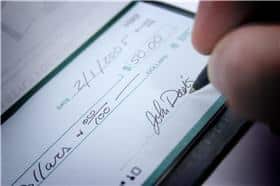 A year ago we noted that Amazon was looking at offering checking accounts, and more recently Abby Hayes at Doughroller has reiterated that the online giant is still interested. The Wall Street Journal reported that Amazon was/is chatting with various banks, including JP Morgan Chase & Co, about creating a branded online checking account.
– Besides making it easier–and possibly more rewarding–to buy all you need on Amazon, an Amazon checking account would make it easier for Amazon to access customers' spending data. It's unclear how much personal data they could gather from a checking account. But they could likely get at least aggregate data on how people are spending money from Amazon checking accounts.
– The main advantage for Amazon, though, seems to be that they won't have to pay processing fees to other banks and credit card holders. If you're spending on Amazon with their products, Amazon doesn't have to pay additional payment processing fees. And with the billions of transactions that happen on Amazon, reducing fees on even a fraction of them could stand to save the company a significant amount of money.
There is an entire generation of people who cannot remember a time when you couldn't merely punch the "buy now" button on your Amazon app and see a book, t-shirt, or even a new vacuum cleaner on your doorstep within 48 hours. Making Amazon home for their checking account would not represent a conceptual leap for the average millennial and sub-millennial.
However, the implication to the market could be significant. Imagine how easy it could be for Amazon to add a few million new checking accounts! How would that impact the large bank market? How about the community banks? All of a sudden, it could be like a Walmart effect. One can argue the pros and cons of that.
In order to maximize the value of Amazon's checking account to all sides of the equation, however, the Federal Reserve will have to take steps to allow nonbank fintech firms such as PayPal or Amazon to efficiently transfer money and facilitate secure consumer payments. The Fed, however, has been reluctant to let these companies on board with access to the country's financial infrastructure. And with good reason. Funding and managing a DDA account takes a lot of IT overheard, and there are many rules which banks live by… No easy feat.
Today there are clear borders, but an article in American Banker suggests that it's time for the Federal Reserve to let fintech firms in:
The Fed should want to allow fintechs in, under the right conditions, because that would best further the mission that justifies the payments system in the first place: serving the needs of consumers. (There is a separate question as to whether the Fed could legally allow fintechs to enter the system. If a change in law is required, it will realistically require the Fed's support.)
Currently, access to the Fed payments system is generally limited to federally insured depository institutions, i.e. banks and credit unions. Fed officials' main concern is that nonbank fintechs lack the risk mitigation measures necessary to safely access the system.
The Fed could make access to the payments system contingent on the appropriate safeguards being in place. And it could, and should, establish objective, risk-based criteria for accessing the payments system, with an eye to encouraging competition, and allow any financial institution that meets those criteria to join.
Is it time to expand a banking function like checking accounts beyond banks? Whatever side you fall on, the pressure for change, modernization,and new innovations will continue to push the market for progress.
---
This blog contains forward-looking statements. For more information, click here.