Stolen Stimulus Checks Found Inside Vehicle Highlight Fraud Concerns
Stimulus checks once again are scam triggers
Mailboxes are easy targets
The U.S. Postal Inspection Service showed a 600% surge in reported mail theft over the past three years
"I wonder when I'll get my stimulus check?"
Unfortunately, some Washington state residents are out of luck for a while. They are being warned to be diligent about monitoring mailboxes after police found more than 100 pieces of stolen mail -- including some stimulus checks -- in a vehicle in Olympic National Park.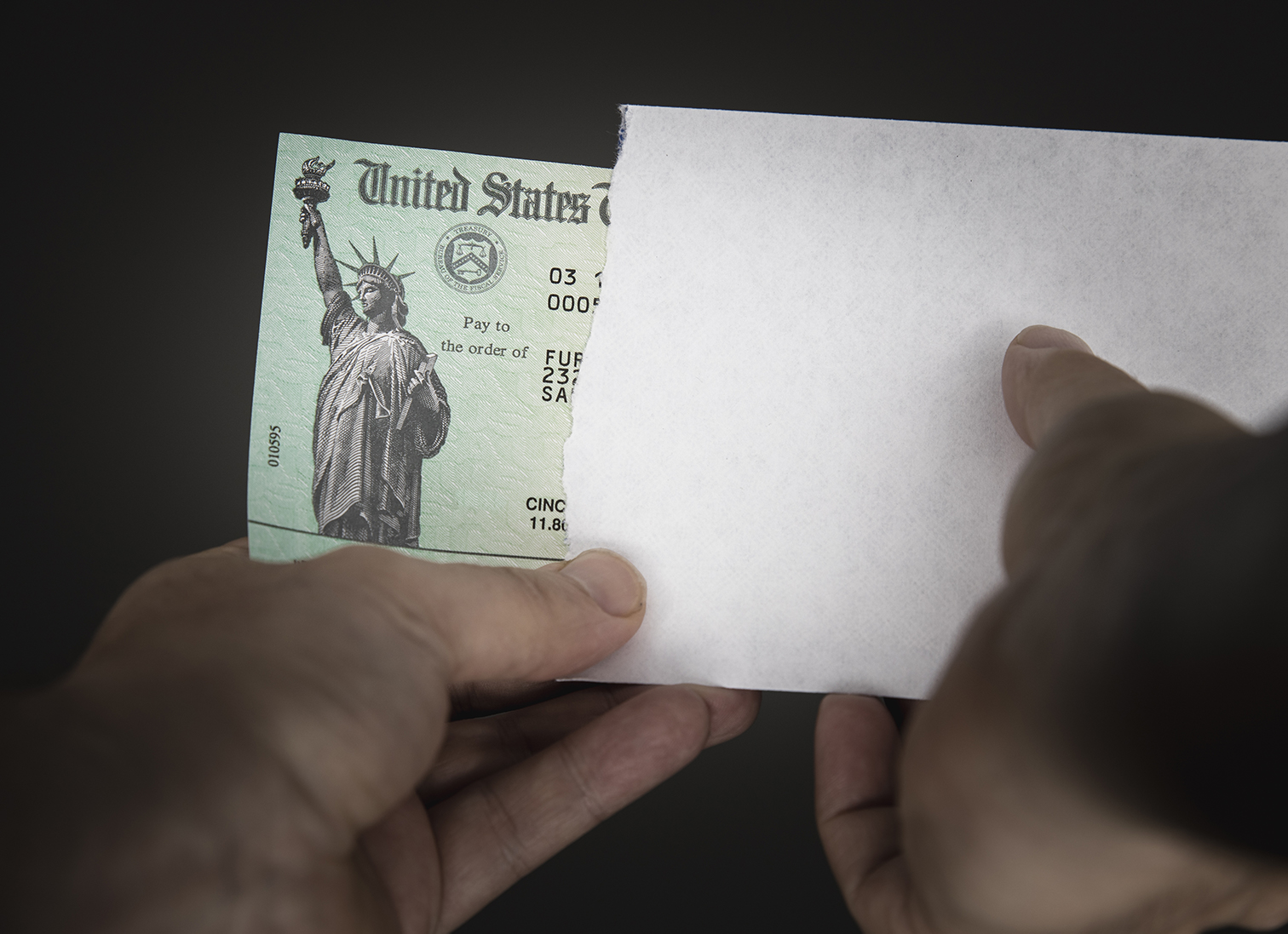 A Carload of Pilfered Checks
Michael Riley, 32, was detained on Tuesday after two Clallam County Sheriff's Office deputies observed a large amount of mail in his vehicle. In total, there were about 80 victims of the mail theft, and Riley was allegedly in possession of more than 100 pieces of mail, including four government- and state-issued identification cards, 15 credit cards and three stimulus debit cards.

The Clallam County Sheriff's Office suspected Riley could be in possession of stolen mail after recognizing his vehicle, a flat black Dodge Durango, on surveillance video in the area that had captured recent thefts. The mail that was found was from different addresses and had various names assigned to it that did not belong to Riley, according to the sheriff's office.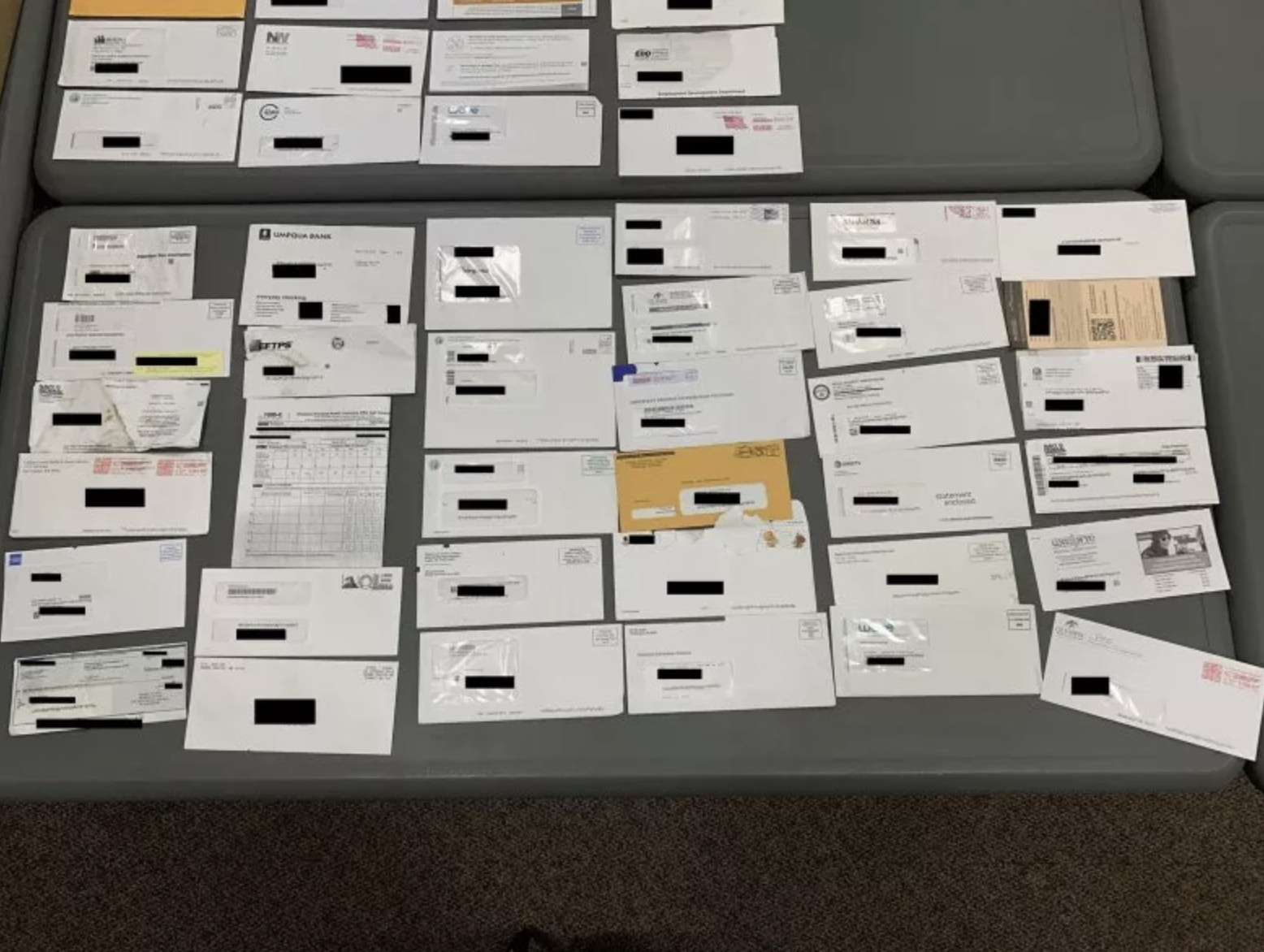 Pictured are some of the pieces of stolen mail found in a vehicle in Olympic National Park in Washington state.
(CLALLAM COUNTY SHERIFF'S OFFICE)
Surveillance video in the area had captured recent thefts, so law enforcement was on the lookout for suspicious characters. They'd seen a flat black Dodge Durango in the area, so they pulled over and questioned the owner; sure enough, he had a lot of mail with other people's names on it in the back seat.
Mail theft is a federal crime and one of the most common crimes in America. NBC News reported that data from the U.S. Postal Inspection Service showed a 600% surge in reported mail theft over the past three years -- a jump from about 25,000 in 2017 to about 177,000 by August 24, 2020.
According to ABC7 News in San Francisco, the thieves -- also known as "Porch Pirates" -- are not only targeting packages on the porch of properties, but also targeting any mail from the government, going as far as to break into apartment buildings and their prying open the mailboxes.
"At this time, there are many things of an attractive nature moving through the mail system," said U.S. Postal Inspector Jeff Fitch.

"Stimulus checks, unemployment checks, tax refunds or you're ordering medication," said Fitch.
The ramifications of the theft of mail affect those who are hurting the most. The report interviews Elyse Kaye who was expecting a stimulus check, unemployment benefits, and past payments from clients.
"Then I had to question have I received them, were they actually in that day's mail? As well as what else did they get from me that I didn't know was coming," said Kaye.

For now, the building's mail is being dropped in a slot that goes into the building. A neighbor found much of the discarded mail dumped at Fort Mason.

"My gut tells me that's why they were opening up anything that looked like it was from the government," said Kaye.
On the back-end, banks and financial institutions must continue to invest in their fraud capabilities, blending analytics-based systems with image-analysis technologies like OrboGraph's Anywhere Fraud with OrbNet Forensic AI to increase protection from losses for themselves and their customer base.