Why Read RemoteDepositCapture.com's Guide to Restrictive Indorsements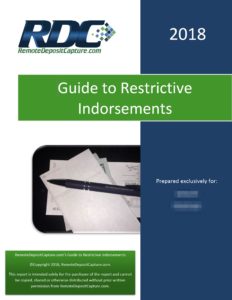 If you already know the difference between "indorsement" and "endorsement," you're the kind of professional who will benefit from the newly-released RemoteDepositCapture.com's Guide to Restrictive Indorsements, available to purchase at their website. The report is authored by John Leekley, founder and CEO of RemoteDepositCapture.com, who is widely regarded as the leading authority on all things RDC.
The 6-page report is packed with information relating to the recent updates to Federal Reserve Regulation CC as they relate to indorsement issues and policies. Financial institutions will want to have this information at their fingertips when they choose restrictive indorsement language in the new Reg CC environment.
Like us, you may be surprised at RDC's findings when polling FI's regarding their policies on restrictive indorsements. (Here's a teaser: Currently, fewer than 60% of FI's require some manner of physical indorsement.)
The report includes the following sections:
Introduction
Indorsement Purpose, Two Important Components
Application, Recognition Options
Legal Opinions Differ, Scanner-Printed & Virtual Indorsements
Industry Poll Results (140 responses)
Indorsement Options & Repercussions
Potential Approaches

Require Indorsements for all items and customers
Segmented Requirements
Hybrid Approach?
No Requirements / No Verification

Conclusion (And the winner is…)
Ultimately, you will have to be the judge related to the recommendations, as the report takes a strong stance toward managing "rejected" items, which need to be taken to another deposit channel in the event the mobile RDC function fails on the item. Here's an earlier blog post with initial recommendations by Lexology…
OrboGraph's position is more like Switzerland! Our new Restrictive Endorsement Validation (yes we spell it endorsement), using AI and Deep Learning, will provide functionality to handle "For Deposit Only" or "For Mobile Deposit Only" as well as mobile check boxes, and do so with incredible accuracy and success rates. However, requiring a financial institution name and validating the financial institution name requires a more customized approach for full automation.
The report is a valuable tool and we highly recommend that you check it out.  Well done, John!
SaveSave
SaveSave
SaveSave
SaveSave