YouTube Tutorials: From Check Washing to Digital Counterfeiting
Check fraud is a growing problem
"Lessons" in creating fake checks are available online
YouTube is home to many tutorials
The latest one we came across, in fact, is a full hall-hour of step by step instruction for reading new "blank" checks -- ready to pilfer money from the victim's account (also available in a shorter version).
This particular YouTuber, "Legit Tutorial" ("Best tutorial center for bobos") has 1.24K subscribers. It is not hard to imagine that a significant portion of that audience may have other things in mind beside "avoiding ordering checks for my account."
Part of Dark Web "Services"
This week at the OrboGraph Check Fraud Roundtable, Eli Dominitz and Maria Noreaga of Q6 Cyber presented to attendees the typical journey of checks from being stolen, to the act of depositing or cashing the check. Within the process, there are services offered via the dark web and apps like telegram to either do the "cooking of the checks," digital services for check editing, or courses to learn how to perform these acts.
Fraudsters may enlist other fraudsters to alter the check for them or learn from them in courses offered by other fraudsters.

Fraudsters will also offer courses and teach other fraudsters how to edit checks.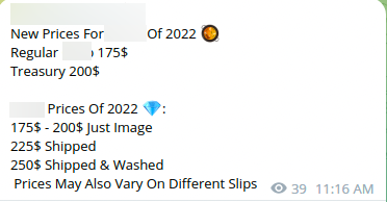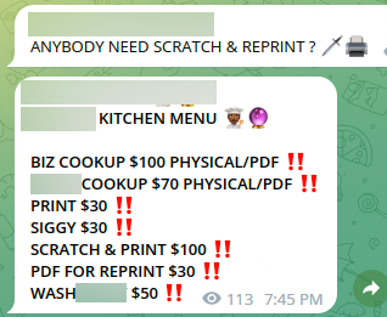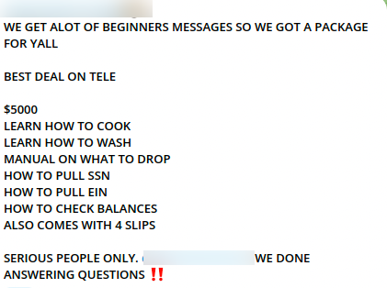 A portion of attendees of the OrboGraph Check Fraud Roundtable indicated that they were in the process of deploying or planning to deploy some type of dark web monitoring as part of their overall fraud strategy. This is a valuable tool to better protect their customers and funds, as it will provide account alerts before check fraud is committed.
What banks need to understand is that advertisements to sell checks have certain information redacted -- typically the MICR line. This presents a challenge since many customers have multiple accounts and will be difficult to pinpoint which account has been compromised.
However, adding a dark web monitoring services is a key tool to preemptively protect compromised accounts. This, combined with behavioral analytics to monitor transactions, image forensic AI to interrogated check images deposited/cashed, and comparing the checks to negative lists (or consortium) provides a multi-layered fraud strategy to defend against check fraud.