EPAM Continuum Identifies Key Trends from Global Consumer Banking Report
EPAM Continuum released a report entitled Regional Banks Reimagined. This project presents the results of their annual survey covering attitudes and behaviors of banking customers around the globe. In their inaugural effort, they surveyed 4,500 consumers across four countries to understand their beliefs; for 2021, EPAM surveyed more than 21,000 consumers across seven countries.
They identified three dominant trends in their data: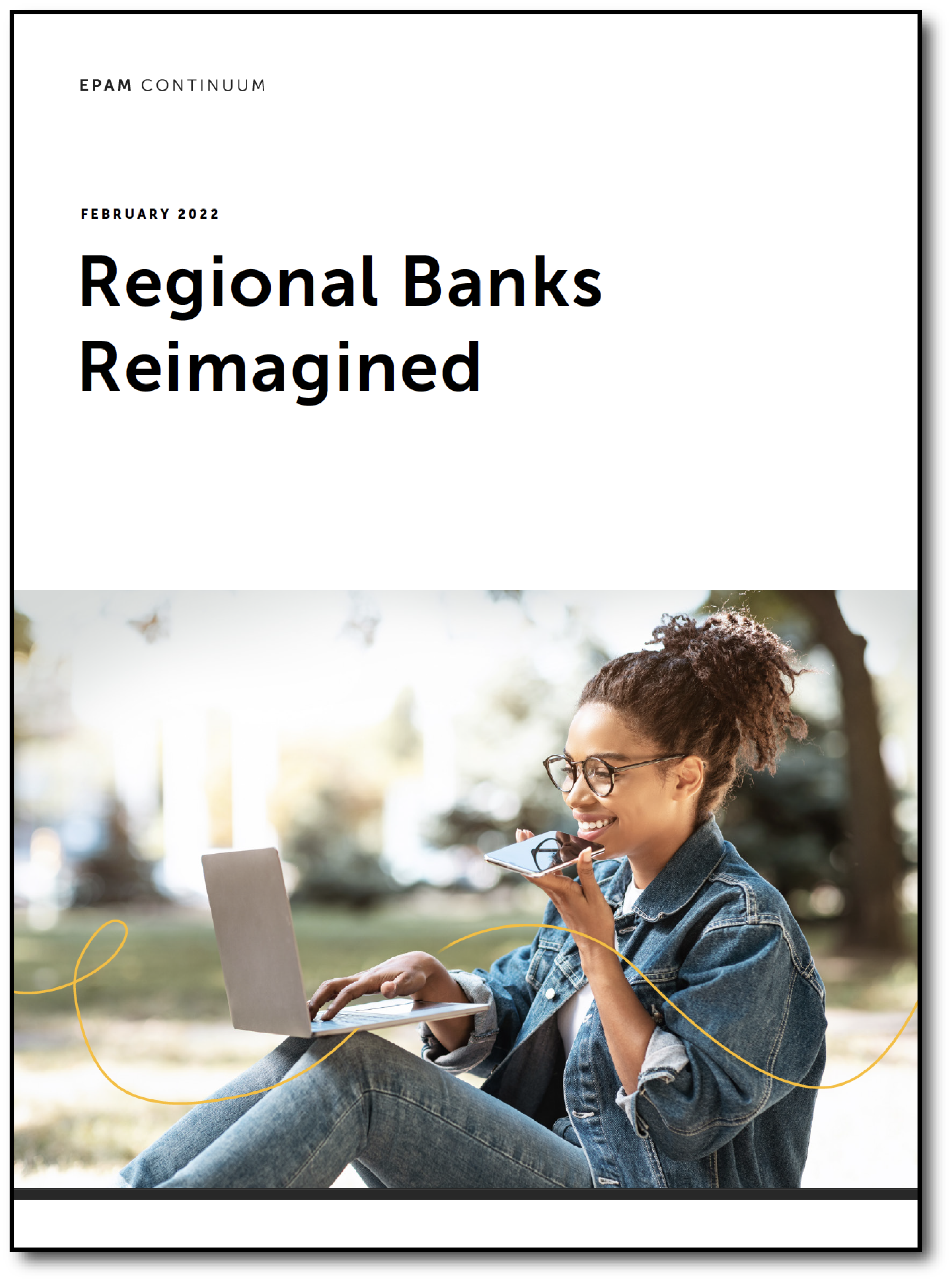 Consumers are responding positively to the "unbundling" of financial services 

While most customers might remain tethered to their primary bank, many are increasingly looking to specialized services delivered by standalone providers to meet more specific needs.

Consumer thirst for information and support is growing—but are banks ready? 

This year's report identifies a huge opportunity in the areas surrounding consumer relationships that are based on education and support. When it comes to one-on-one customer support, our research shows that customers prefer a hybrid approach that combines digital and in-person channels.

To drive behavior change, banks need to overcome consumer cynicism and incomprehension. 

Many of our respondents find themselves caught between wanting more from their financial service providers than they can give and not knowing which of the overwhelming number of new services can meet their needs or values. If banks are to reach these undecided and nervous consumers, they must be ready to invest in smarter and more targeted messaging, well-defined and stand-out market positioning, and improved onboarding experiences.
The trends observed in the data indicated the following findings:
A generational divide poses a strategic challenge for U.S. regional banks. 

Compared to their global peers, U.S. banking customers are quite satisfied with their primary bank and are not looking to switch. Our survey uncovered that, on average, 81% of U.S. respondents were satisfied with their current banking relationship (Extremely Happy or Slightly Happy) compared to 77% of all respondents. We see even higher satisfaction for the U.S. regional banks at 83%.

...The good news is that providing improved digital capabilities and experiences, including online customer acquisition and servicing, is not an arms race. Regional banks don't need to match digital leaders' capabilities right out of the gate.

The next generation is looking to their bank for support and guidance around their financial health.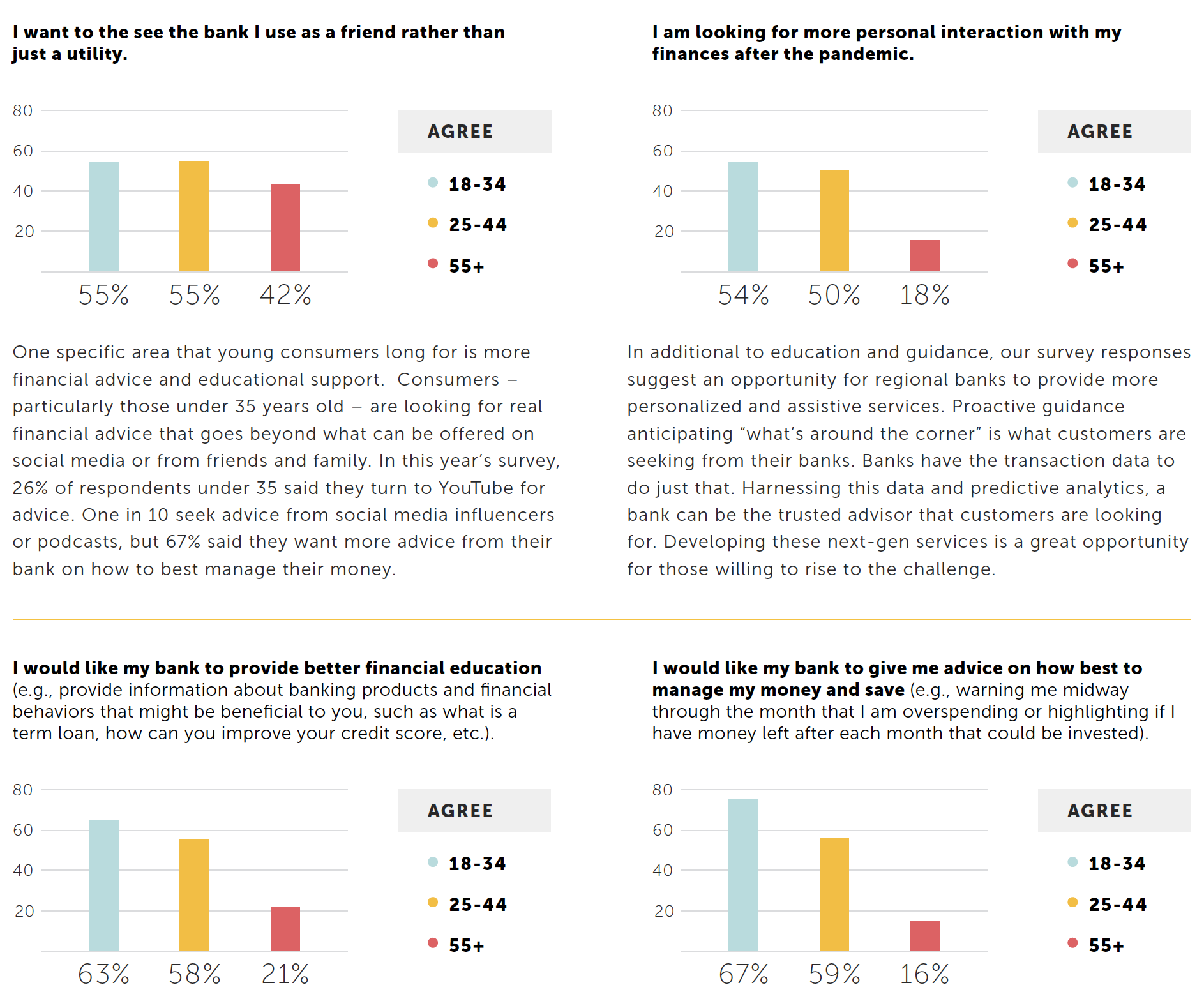 Customers don't want the branch to disappear. They want it to evolve. 

Generally, branch traffic is declining, and we expect that trend to continue unless banks reimagine the branch experience. However, younger demographics still visit a branch, with a sizable 66% of the 18–34-year-olds we surveyed telling us that they had used their physical branch at least monthly in the past year. In fact, this age group used branches in the last year as frequently as 35–54-year-olds, while only 57% of those over 55 regularly visited a physical bank.

Even more surprisingly, 36% of respondents 54 and under said that access to a physical branch had become more important to them over the past year, which is 50% higher than for respondents aged 55 and over.
EPAM CONTINUUM's Conclusion: The Time for U.S. Regional Banks to Act is Now
EPAM's findings indicate that regional banks should not fly blindly into an "all-digital" relationship. Modern consumers of all ages still seek and appreciate the "human experience."
Navigating the technology, industry, competitive and customer landscape has never been more complex for regional banks. Tectonic shifts is not an overstatement. The pandemic highlighted immediate challenges facing U.S. regional banks. The behavioral changes in customer expectations are not fleeting – they are the "new normal." Competing in this environment requires new ways of thinking. The next-gen customer is in control and demands banking that organically blends into their mobile-first lives, proactive and hyper-personalized financial guidance, and access to a physical branch for their more complex financial needs. The clock is ticking to act … a pragmatic strategy with an executable roadmap is a must to navigate the new normal and survive the tectonic shifts.