Automation for Healthcare: Using AI to Extend Your EHR Data's Value
Earlier this week Dr. Bob Wachter, the Chair of Medicine at UCSF and author of New York Times bestseller The Digital Doctor: Hope, Hype and Harm at the Dawn of Medicine's Computer Age, shared a discussion with Dr. Muthu Alagappan, Medical Director at Notable, to explore tested strategies for using AI and automation to get the most out of your EHR data and, as a result, thrive in the post-EHR era. A recording of the discussion can be viewed here.
The two doctors discuss in detail how leading health systems are turning to AI to harvest insights from digital health records, using automation to translate those insights into valuable action.
As the webinar summary accurately states:
Deployed effectively, these technologies have been proven to increase patient engagement, accelerate COVID vaccine deployment, and optimize the revenue cycle - all while reducing the cost of care.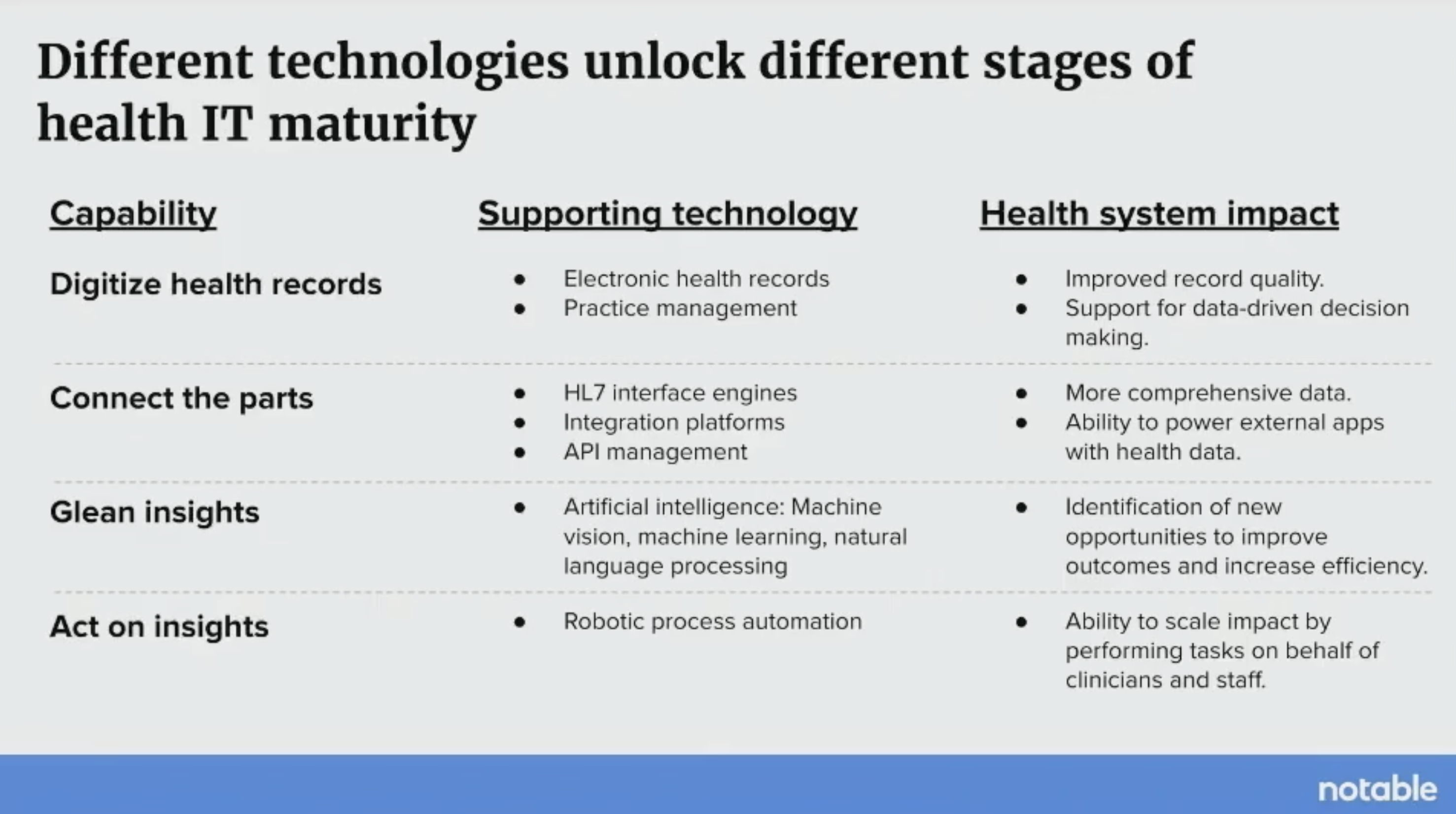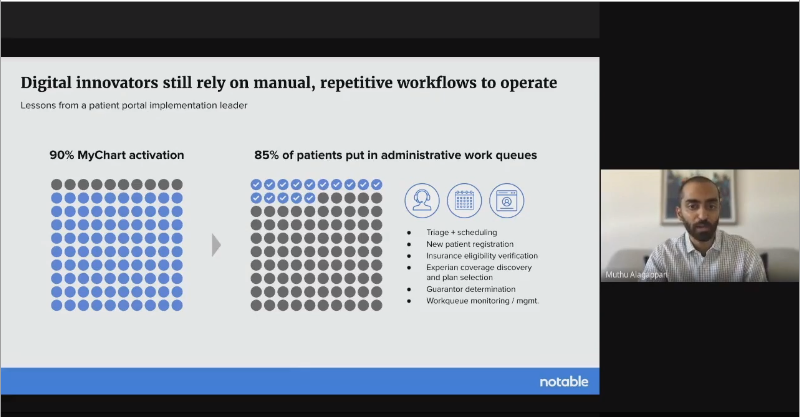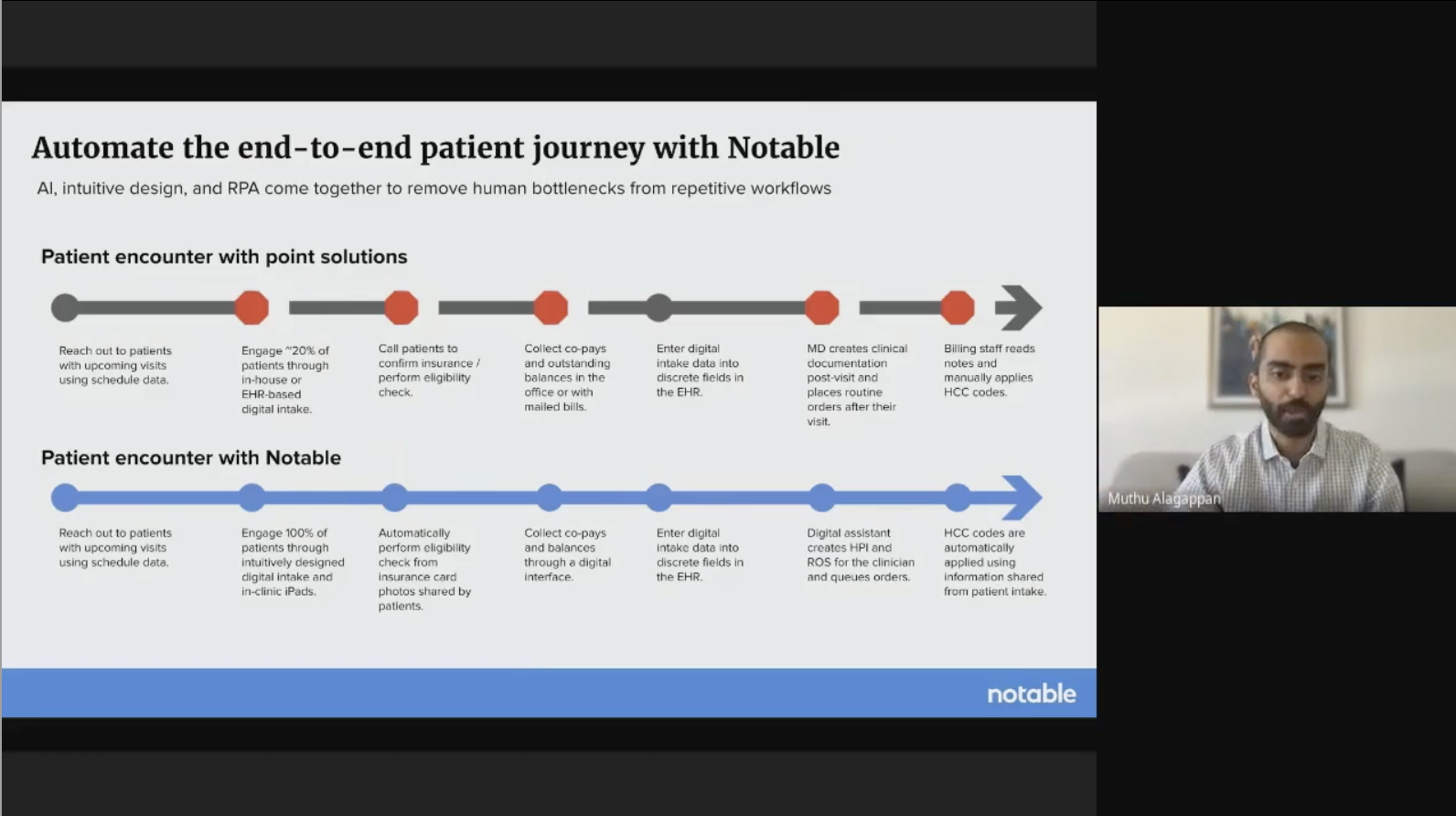 Slides from the Notable Webinar
The strategies outlined by the webinar are being deployed right now by some of the largest RCM companies in the US. Recently on Modernizing RCM with AI, we highlighted an article on the HIT Consultant site where Sean Barrett, Senior Vice President, Product and Digital Transformation, R1 RCM, provides his insights on intelligent automation (IA) and what its means for RCM and the financial welfare of healthcare, particularly in the wake of the COVID-19 pandemic:
Healthcare provider networks are experiencing enormous pressure to manage financial margins and invest in contactless patient experiences. With overall financial losses projected to exceed $323 billion as a result of COVID-19, a projected $200 billion in administrative waste due to revenue cycle inefficiencies, and increasing pressure to meet digital consumerism demands, it is essential for health systems to find ways to streamline processes, maximize their revenue cycles and cut costs.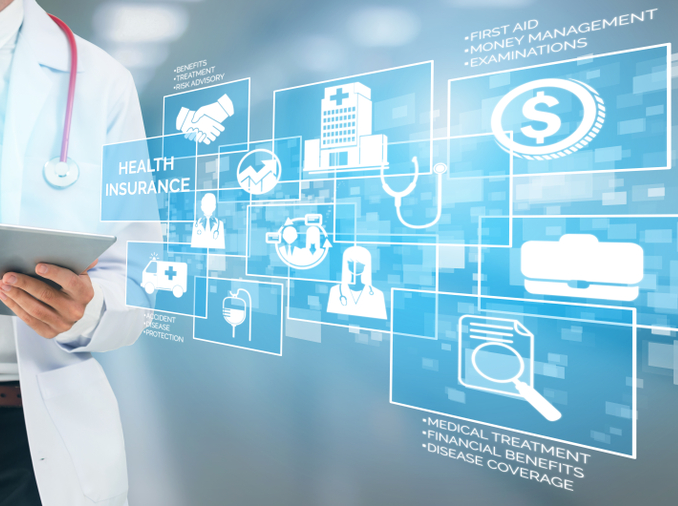 These industry trends are pushing organizations to invest heavily in automation solutions, such as artificial intelligence (AI) and robotic process automation (RPA) to alleviate operational and financial pressures.
Machine learning and AI are now crucial tools for RCM companies, clearinghouses, billers, medical lockboxes, and healthcare providers -- the only question is how quickly and efficiently each of these healthcare channels can adopt the tech and reap the rewards. As noted in article highlighting R1 RCM, it is critical that you choose a proven-effective technology partner like OrboGraph:
Given the high cost associated with developing these digital capabilities, health systems need a partner who not only offers the right model, but has made necessary investments toward cutting edge IA research, fully-staffed teams with subject matter expertise, and data-rich analytics needed to foster ongoing performance improvement. With an aligned partnership and IA platform, health systems can produce successful results that achieve intended benefits.