AI Becoming More and More Vital in Banking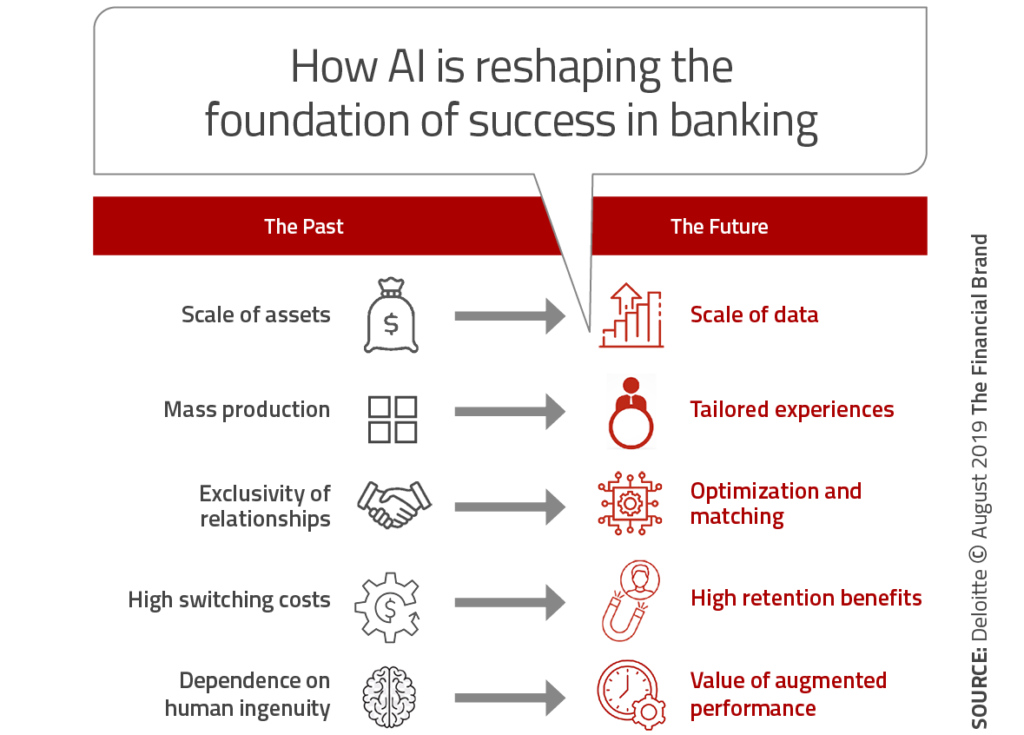 Let's face it: Human beings are indispensable, but we are learning that in order to bring the level of service that is expected in today's marketplace, machines and analytics have to work together and deliver quicker, more intelligent solutions than we've previously seen or experienced. This is the root of Artificial Intelligence and its value to the banking industry.
The Financial Brand examines the growing urgency in adopting AI in the banking space:
One of the most important components of digital transformation is the ability for machines and analytics to work together to deliver more intelligent solutions than humans alone can deliver. The foundation of this transformation leveraging internal and external data sources, placing the customer – instead of products and solutions – at the center of customer experiences. The success of these efforts will define the winners and losers in the future.
Citing a survey by the Deloitte Center for Financial Services, the article points out three key characteristics of those organization who have, from the perspective of financial returns, reaped the best results from AI and the number of AI deployments:
Integrate AI into Strategic Plans: To enable an enterprise-wide deployment of AI capabilities, leading organizations embed advanced analytics as part of the overall strategic plan. Deloitte found that the greater the importance within the strategic plan, the higher the investment in big data and AI solutions.
Use of AI for Revenue and CX Initiatives: In addition to using advanced analytics for cost savings, the leading AI organizations are tracking how advanced analytics can be utilized for revenue and customer experience opportunities.
Looking Outside the Institution: Rather than trying to build all AI applications internally, leaders are leveraging outside partnerships that provide access to talent and solutions. This improves speed to market at a time when available talent is in short supply.
The article further reports that frontrunner financial institutions invested in creation of AI centers of excellence (CoE) that oversee all innovation initiatives, including AI, allowing for centralized experimentation that can be deployed in multiple areas of the organization.
As for customer expectations, according to BCG, consumers want banks and credit unions to be more like the other types of service providers to which they are becoming accustomed. That means using and analyzing individualized data constantly in the background, which in turn provides proactive recommendations to improve experiences.
Mobilizing technologies for transactional and data analysis is the key to meeting these new consumer challenges. The same superior tools that dramatically reduce fraud are vital to analysis of evolving consumer preferences and habits!
---
This blog contains forward-looking statements. For more information, click here.