US Treasury Fraud Prevention Resource Warns Against COVID-19 "Money Mule" Schemes
Legit COVID-19 relief creates confusion that fraudsters can use
"Money mule" schemes are on the uptick
The US Treasury offers info and resources to help combat these fraudsters
Among the myriad fraud schemes emerging during the COVID-19 crisis are "money mule schemes." A money mule is "a person who transfers illegally acquired money on behalf of or at the direction of another."
These are scams that, frankly, take advantage of the desperation some persons and businesses feel due to to COVID-19 economic impacts. In this climate, actors are able to fairly easily deceive otherwise savvy victims by impersonating federal government agencies, international organizations, or charities.
As reported in the US Treasury's FinCen Advisory (downloadable here):
As no single financial red flag indicator is necessarily indicative of illicit or suspicious activity, financial institutions should consider additional contextual information and the surrounding facts and circumstances, such as a customer's historical financial activity, whether the transactions are in line with prevailing business practices, and whether the customer exhibits multiple indicators, before determining if a transaction is suspicious or otherwise indicative of potentially fraudulent COVID-19-related activities. In line with their risk-based approach to compliance with the BSA, financial institutions are also encouraged to perform additional inquiries and investigations where appropriate.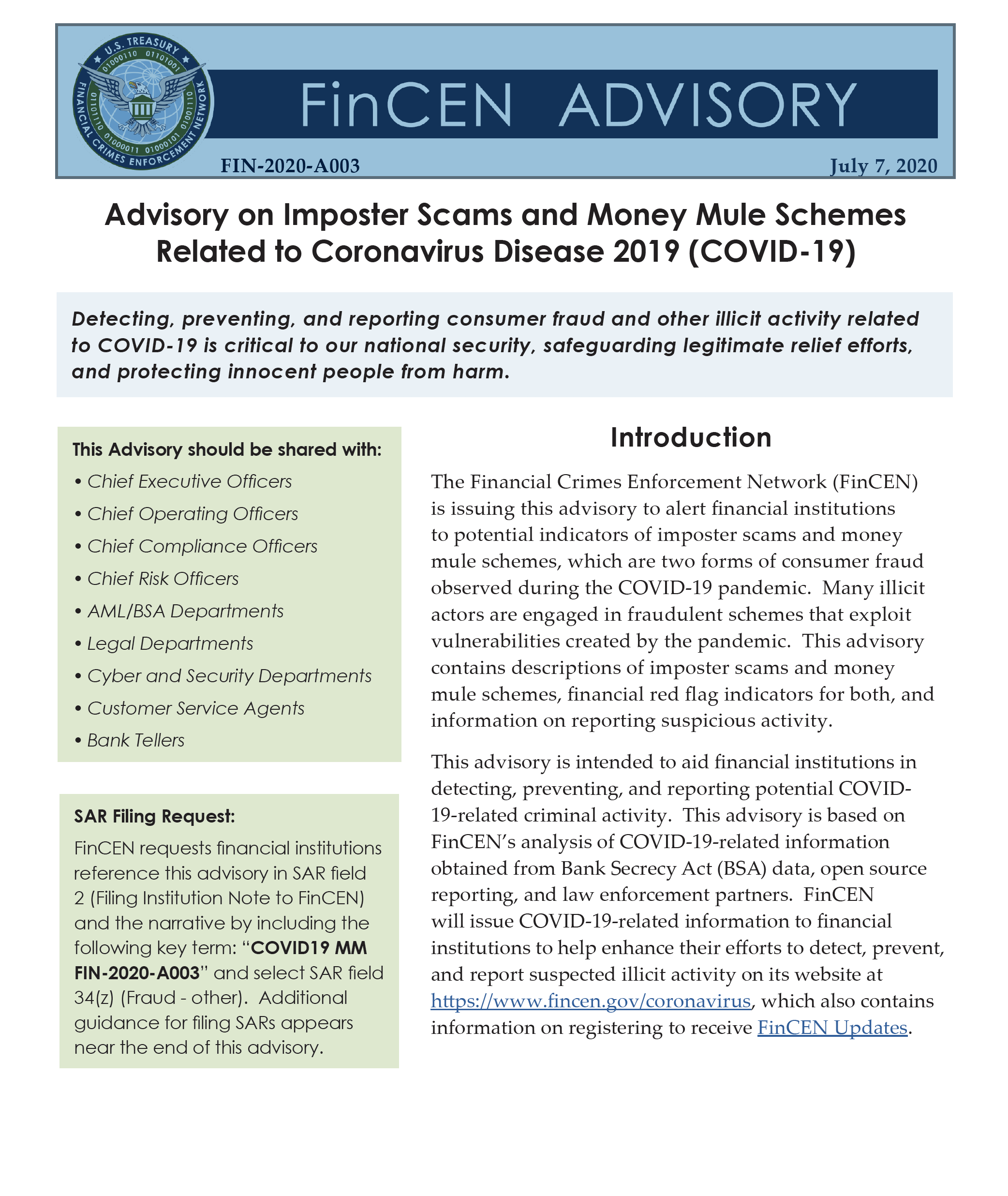 Given the variety of resources becoming available daily for loans, grants, and other crucial aid, it is easy for fraudsters to assume the amenity of entitles such as:
Internal Revenue Service (IRS)
The Centers for Disease Control and Prevention (CDC)
The World Health Organization (WHO)
Other healthcare or non-profit groups, and academic institutions
As noted in FinCen Advisory:
Illicit actors can use imposter scams to defraud and deceive the vulnerable, including the elderly and unemployed, through the solicitation of payments (such as digital payments and virtual currency), donations, or personal information via email, robocalls, text messages, or other communication methods. For example, an imposter may contact potential victims by phone, email, or text to imply that the victim must verify personal information or send payments to scammers in return for COVID-19-related stimulus payments or benefits, including Economic Impact Payments (EIP) under the Coronavirus Aid, Relief, and Economic Security (CARES) Act.

Another instance includes imposters contacting victims and posing as government or health care representatives engaged in COVID-19 contact tracing activities, implying that a victim must share personal or financial information as part of contact tracing efforts. Multiple examples include phishing schemes, where imposters send communications appearing to come from legitimate sources, to collect victims' personal and financial data and potentially infect their devices by convincing the target to download a malicious attachment or click malicious links.