Utilizing AI and Image Analysis to Limit Risk on Check Payments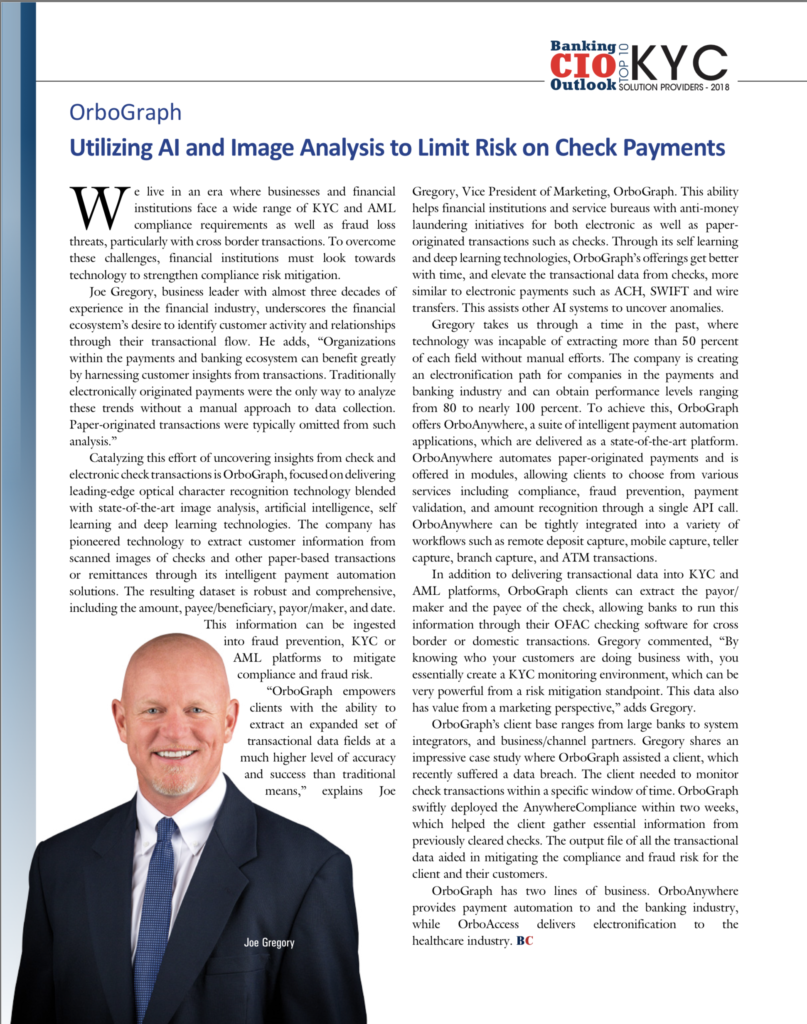 Our own Vice President of Marketing, Joe Gregory, is featured in an article in Banking CIO Outlook magazine (you can read the story here). OrboGraph is proud to be featured as one of Banking CIO Outlook's Top 10 KYC Solution Providers for 2018.
Gregory notes that OrboGraph's embrace of AI and Deep Learning technologies provides a means by which financial institutions can leverage paper transactions virtually as effectively as electronic transactions:
"Organizations within the payments and banking ecosystem can benefit greatly by harnessing customer insights from transactions. Traditionally electronically originated payments were the only way to analyze these trends without a manual approach to data collection. Paper-originated transactions were typically omitted from such analysis.

– Joe Gregory
Gregory goes on to explain how OrboAnywhere, our suite of intelligent payment automation applications, automates paper-originated payments. Offered in modules, it allows clients to choose from various services including compliance, fraud prevention, payment validation, and amount recognition through a single API call.

OrboGraph clients can extract the payor/maker and the payee of the check, allowing banks to run this information through their OFAC checking software for cross border or domestic transactions. "By knowing who your customers are doing business with, you essentially create a KYC monitoring environment," Gregory notes in the article. "Which can be very powerful from a risk mitigation standpoint. This data also has value from a marketing perspective."
---
This blog contains forward-looking statements. For more information, click here.