Deluxe Shines a Light on AI in Banking
At our 2019 Healthcare and Check Payment Technology Conference in Charlotte this past May, we were fortunate enough to hear from Rod Springhetti, the VP Product Management at Deluxe Corporation, as he spoke about AI implementation.
Mr. Springhetti is known across the industry as a leading authority on AI implementation, and his insights were of great value. He took the healthcare "medical lockbox of the future" concept and brought it to the banking space.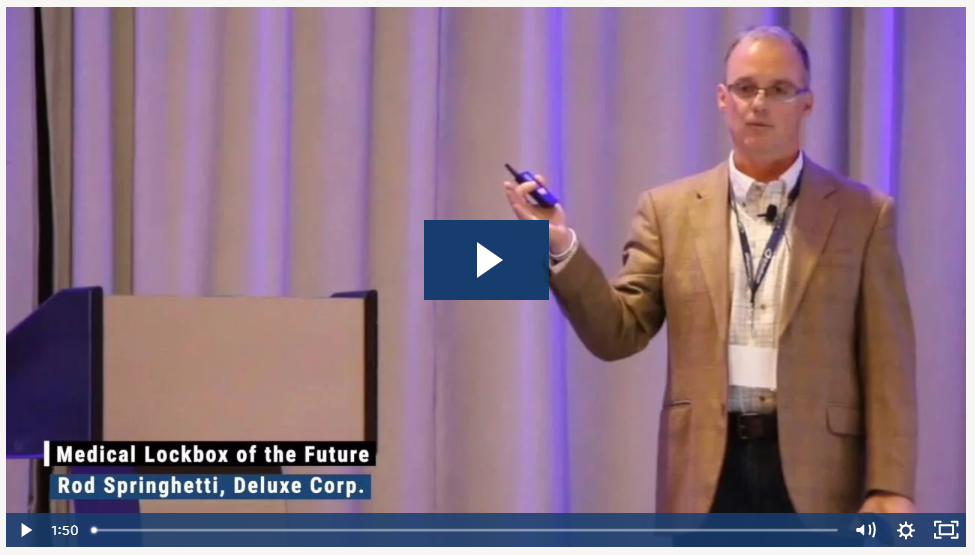 Deluxe Continues Thought Leadership in AI for Banking
Deluxe has just released their Banker's Official Guide to Artificial Intelligence, which is available for download HERE. It's full of the kind of insights and wisdom we've come to expect from Deluxe, the world's leader in check technology.
The guide provides in-depth information on different aspects of AI for banking, covering a myriad of topics including:
What is Artificial Intelligence?
State of AI in Banking
Top Use Cases for AI in Banking
AI for Revenue Growth
Strategies for Success
Choosing the Right AI Resources
Glossary with Frequently Asked Questions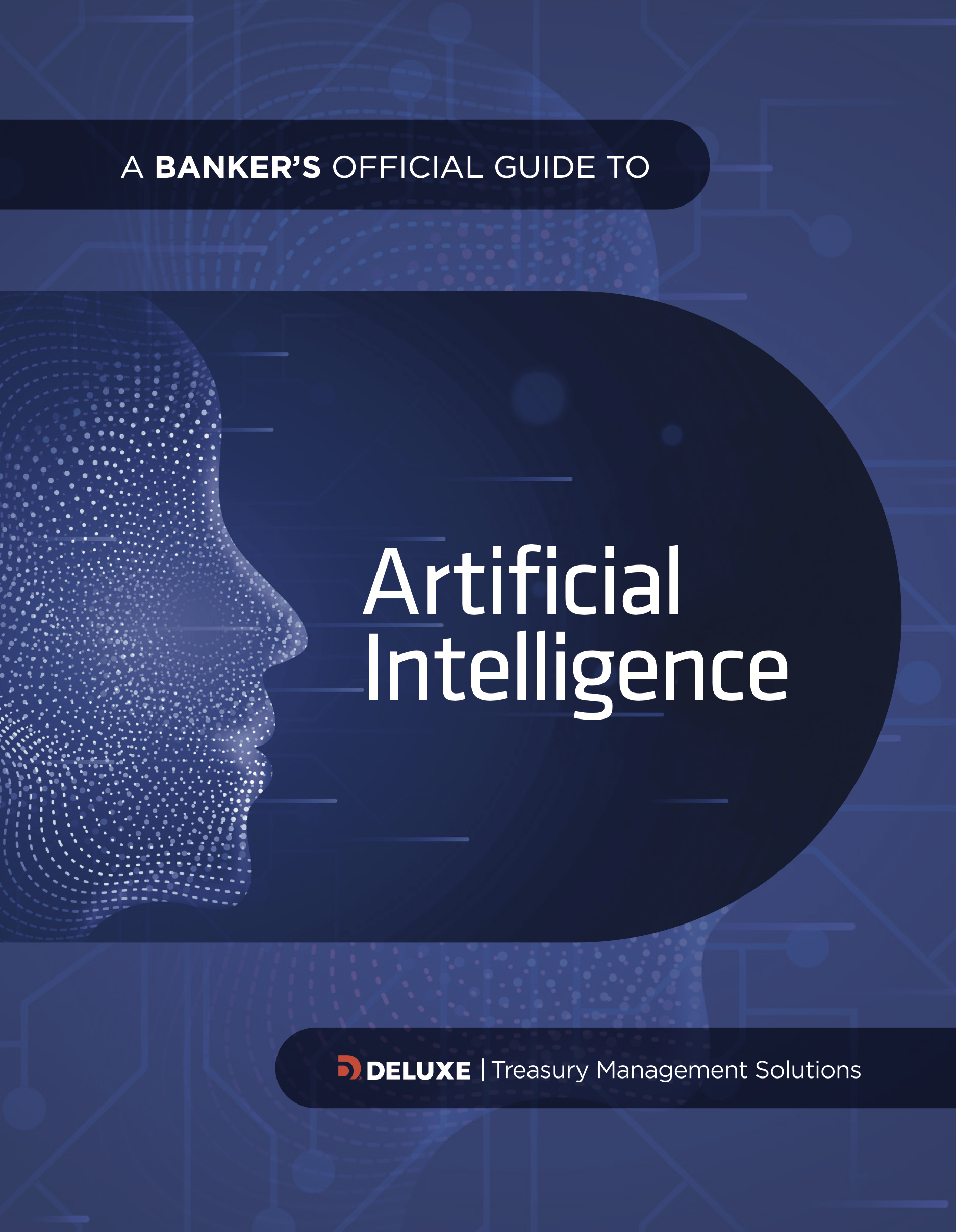 Below are a few highlights from the report.
What is Artificial Intelligence?
The guide does a great job of providing applications of AI and a visualization of different types of AI.
In additional to this, they include benefits for AI for banking:
Transform your customer experience with faster, more relevant information
Inject efficiency into systems and processes
Improve fraud detection and risk management
Gain new insights from previously trapped data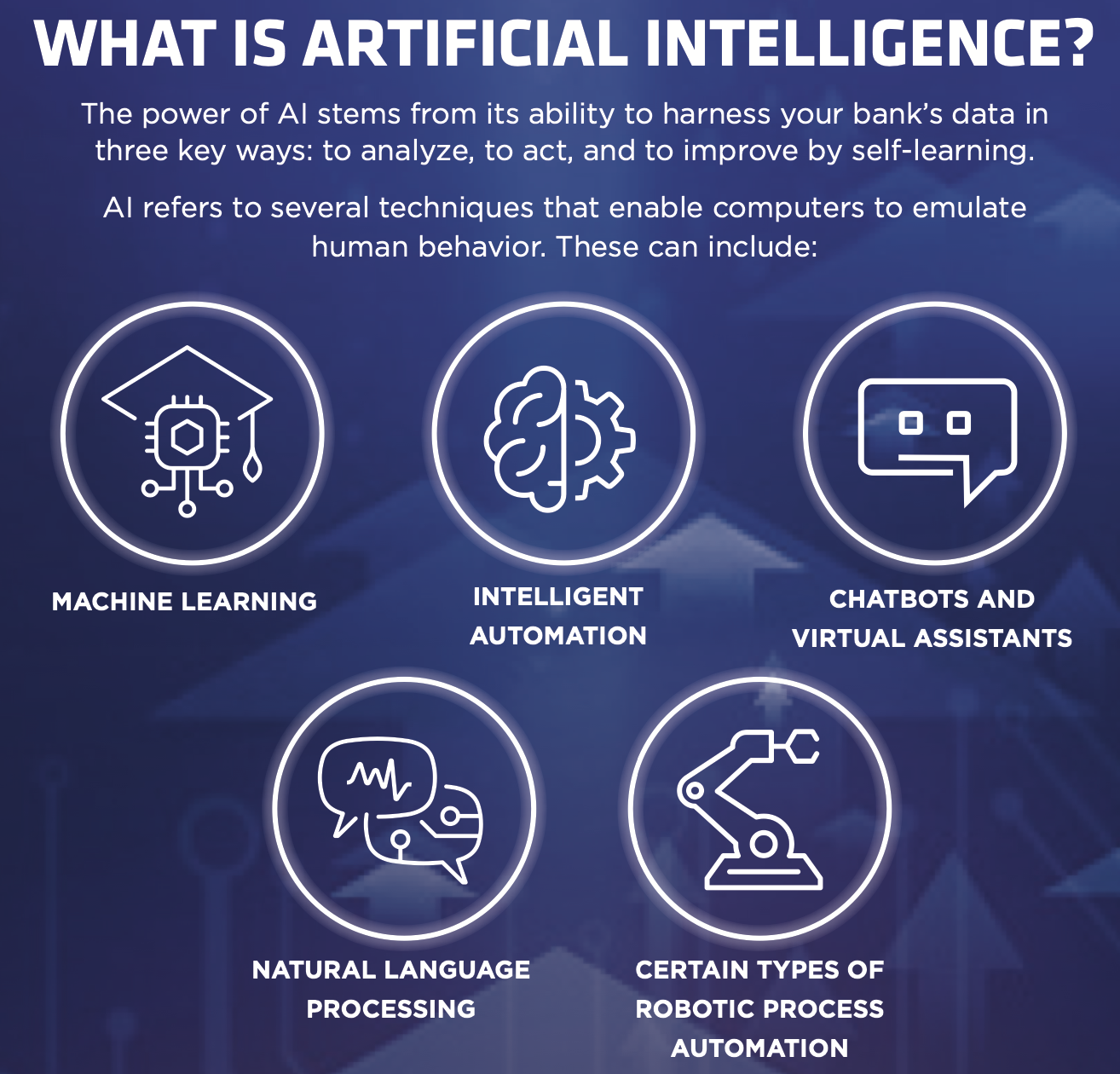 Source: Deluxe Corporation
The State of AI in Banking
The Guide explores ways in which AI solutions coordinate to streamline payment methods and security, but also offers a warning to those smaller institutions that lag behind:
Less than 20 percent of mid-size FIs have plans for AI.

If you ask a banker about technology and innovation, and more than likely, you'll hear a reference to artificial intelligence (AI). Whether it's the promise of algorithms, the complexity of big data, or the dreaded rise of the machines, the buzz about AI makes the finance industry sound like Silicon Valley.

Unlike Silicon Valley, however, the challenge at most banks is turning that talk into action. The biggest risk—especially for mid- sized banks and credit unions—comes from standing still.
The key for the industry is in bridging the gap, ensuring that all FIs have the knowledge, resources, and confidence to move forward.
Use Cases for Artifical Intelligence in Banking
Analysts estimate a $1 Trillion AI opportunity for the industry in the next 10-15 years.
That is a bold prediction! The guide breaks the opportunities down to four categories:
Fraud detection
KYC and AML compliance
Credit and underwriting
The final section to highlight (there is so much to digest!) delineates the key strategies for success:
Where an AI project resides in the organization can make or break its effectiveness. Early adopters in various industries recommend creating an AI Center of Excellence (CoE).
The Deluxe Banker's Official Guide to Artificial Intelligence is enormously valuable and chock-full of easily-digestible information about the AI revolution in banking. As advocates for operationalizing AI in check processing, we encourage you to download a copy as soon as possible.