The New Standard: AI and GPU White Paper
As a subscriber to the OrboNation Blog, you have undoubtedly seen articles involving Artificial Intelligence (AI) and GPUs and how this combination of breakthrough technologies are part of the future for banking. The adoption of GPU hardware is enabling the combination of a "New Standard" for solving the difficult problems of the industry in many areas.
Understanding the New Standard: AI and GPU
OrboGraph's OrbNet AI Innovation Lab has collaborated with Senior IT Consulting Engineer John A. Richards to provide a new resource for our readers: The New Standard of AI and GPU: Successes and FLOPS.
As noted in the white paper:
We are at the dawn of a new age of intelligence, where Artificial Intelligence (AI) and high-performance computing (HPC) are transforming our world. Computer systems equipped with AI can be trained to sense, infer, and in other ways "act human" using silicon technology to create artificial neural networks (ANNs) that replicate the inner workings of the human brain.

For those of you savvy in the field of AI, deep learning, GPU's and CPUs, the use of FLOPS as a subtitle may be amusing. FLOPS is the standard way of measuring of GPU (graphical processing units) performance and represents the number of operations on floating-point numbers which a GPU can perform in a second. As you will read, GPU's are the underpinnings for AI's continued expansion!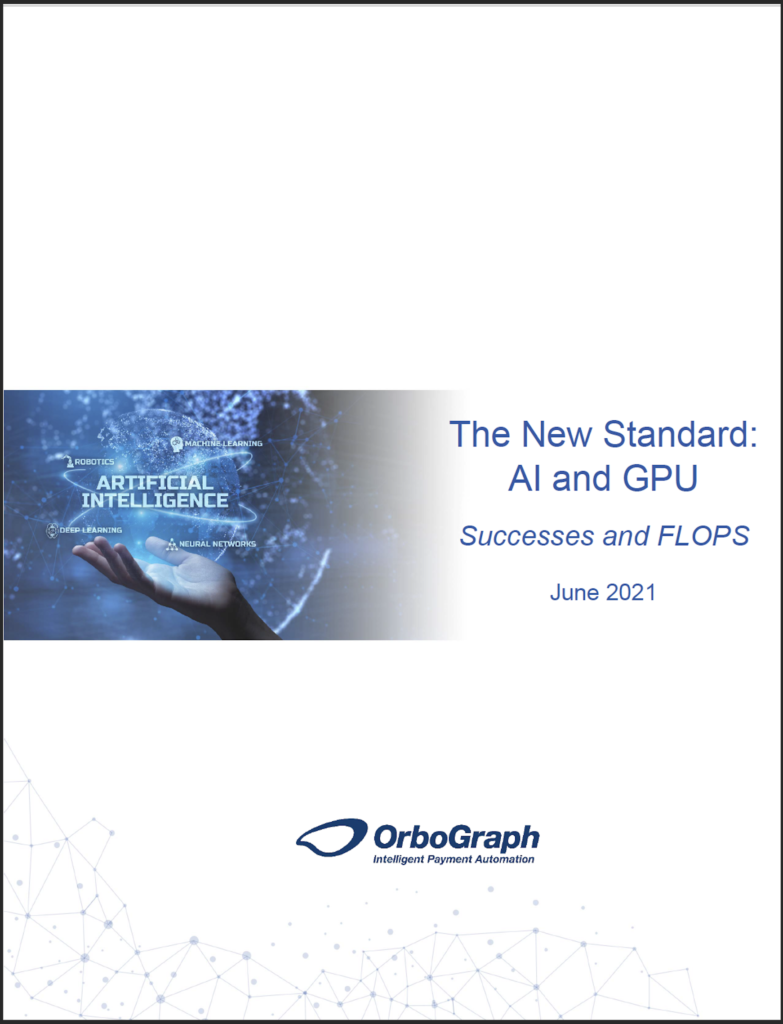 The white paper takes a deep dive into several focused topics, including:
Competing in Today's HIGH-TECH Arena
Focused Review of NVIDIA GPUs
Importance of GPU in Finance and Banking for Risk Management, Customer Service, and Fraud Detection
Four Real World Examples of AI and GPU: Upstart, Swedbank,  Weldall Manufacturing, and Royal Bank of Canada
In-Depth Look at OrboGraph OrbNet AI and OrbNet Forensic AI