Technologies & Market Forces Drive New Fraud Detection Approaches
OrboGraph's dynamic webinar entitled Change is Inevitable - How Will You Respond? -- co-hosted with NICE Actimize -- provided fresh insight into the nature of fraud. The webinar provides information and scenarios to show how fraudsters are becoming more sophisticated in their methods of committing fraud and how incorporating new technologies like Artificial Intelligence and Machine Learning in collaboration other technologies like image-analysis and analytics-based solutions provides the best method of detecting fraud and reducing losses. Watch the webinar below.
Check Fraud Data & Trends: Industry Data and Attendee's Feedback
According to the 2019 AFP Survey, checks lead the way in fraud attempts: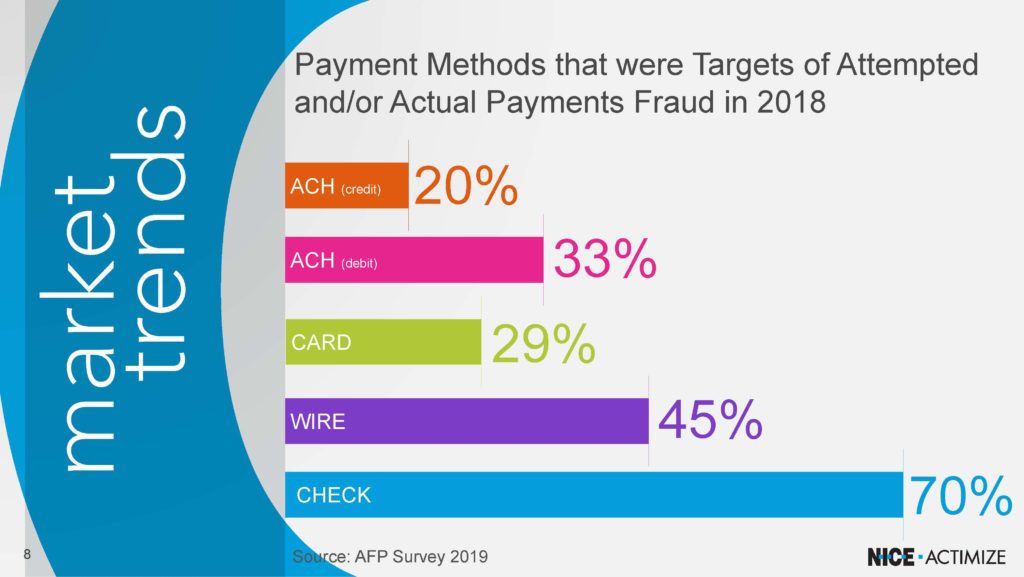 The ABA Deposit Fraud Study also notes that in 2018, check fraud accounted for $1.3B or 47% of deposit account fraud losses. Additionally, the total number of attempted increased to $15.1B from 2015 to 2018.
The webinar participants agreed that multiple factors are converging in the check processing and fraud prevention area:
An uptick in in fraud attempts is measurable, with checks leading the pack
Integration of Machine Learning and/or Behavior Analysis with Image Analysis is bringing efficiencies, deterring fraudsters and preventing losses
It is imperative to protect bank customers better across personal and business accounts.
The data and feedback from the attendees all agree that check fraud is rising and integrating multiple technologies via a collaborative approach is the best method to reduce losses. The key? Banks must prioritize their efforts in adopting these technologies sooner rather than later to combat the rising check fraud trend.
---